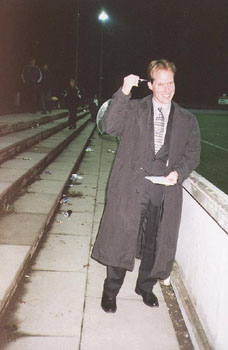 Yes, it was off to Kingston Park again last night to watch our 100%ers continue their reign at the top of the Pontins League Div 2. Since I had been asked to write another report for you I dressed for the occasion by wearing a crumpled raincoat over my suit and carrying a notepad and pen; I didn't have a hip-flask so I had to settle for a couple of bottles of Budvar before the match and, since I don't smoke, the cancerous coughing had to be provided by Gibbo, who is still doing wonderfully in his battle to quit the weed ;-))
Once again there were only enough team-sheets for the early birds, but as you will see, this might have been a good thing. After the arctic battering we received from the elements on the previous outing, it was gratifying to see that nobody had come in less than a jacket, so it was somehow predictable that the overcast sky kept the pressure high and made everyone feel a bit on the warm side (GOD: THERE'S JUST NO PLEASING SOME PEOPLE).
Since it was a bit packed by the stand we worked our way round to the far side; no childishly scanning the upper tier for famous faces for us (i.e. No amount of rubber-necking on the way past gave me even the faintest glimpse of the end of a dreadlock, or wrinkle on a Scottish frown, so I don't care who was there). Steph, Gibbo and John settled down in line with the 18yard box at the Toon end, but your intrepid reporter decided to risk the avalanche of shots that were sure to be raining down on the Scarborough goal and set off in that direction, notebook in hand. The first impression when Scarborough ran out was "Ooh! What a horrid training-top!",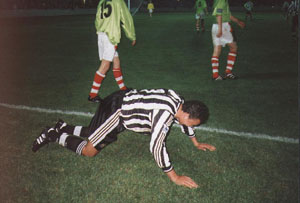 since they were wearing vile flourescent limey/yellowy long-sleeved shirts, but this was replaced by pity when I realised that these were in fact their match-shirts. They certainly made for an odd combination with white shorts and red and white striped socks; it was like playing against bastard mutations created by grafting Borussia Dortmund players onto Mackems. We were also treated to another faint and feeble rendition of "Local Hero" on the quietest tannoy in the world. Our young lions lined up as:
1 Harper
2 Griffin
3 Serrant
4 Hamilton
5 Elliott (c) - moved from right back to let Griffin show us his moves
6 Howey
7 Julio Geordio (hurrah!)
8 Batty - obviously twice the man in the reserves to when on duty with the first team, hence
the number.
9 Robinson
10 Dalglish ("Eeeeeee!" Quiet Gibbo)
11 Brady - left wing again, did I imagine it that he played on the right against Stockport?
I won't tell you about Scarborough cos I didn't know them from Adam, and they can write their own match reports......what do you mean biased? What was immediately apparent from the off was that these guys were going to be no push-over. They kept up a constant barrage of shouts to each other and I swear that their continuous cries of "Squeeze! Squeeze!" featured bizzarely in my dreams last night, but we won't go into that. In fact, according to my handy note-pad, the first move of the game resulted in Harper making a fine save on 2 minutes.....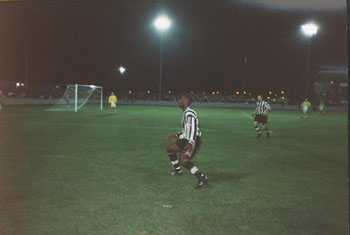 Where was I? Oh yes, early pressure appeared to be from Scarborough, and I began to wonder whether I'd chosen the right end to stand. Batty (Batts, to his teammates) and Hamilton were being overrun a bit, but Julio was pulling out wide down the right and Brady wide on the left, so it looked like we would have a repeat of switching play down the wings and crossing for Dags Jnr and Robinson once we had slowed things down a bit. Unfortunately, nobody told Scarborough and their tigerish tactics of closing up every time we got the ball (to shouts of "Squeeze! Squeeze!") and harrying us out of possession paid off a treat. Elliott was very accomplished at the heart of our defence and put in some excellent tackles, including a rather gruesome one at the halfway point, which was rather reminiscent of Batty's World Cup bicycle-kick-to-head, so he's obviously been passing on his expertise to the young'uns ;-))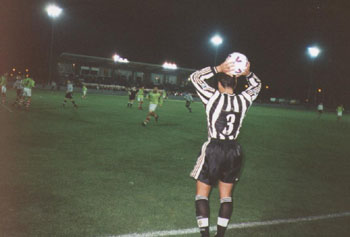 We had shots from Dags, Robinson, Brady, Griffin, Elliott and Julio Geordio in the first half, but all this spoiling play meant that only Julio's was on target. We claimed a fair few corners which were taken well by Griffin, but there were so many flourescent jerseys in the box that nothing came of them. The same was true of the crosses which Julio and Serrant kept pumping n....nobody on the end of them cos they got snuffed out by hardworking Scarborough players tackling back.
Now I don't know whether they read my last match report, but Robinson and Dags Jnr appeared to have changed roles with Robinson going for a lot of high balls and battling for everything, while Dags seemed to take more of the back seat this time. Robinson is also working out or has just started growing or something, because he had much more presence on the ball last night, and was extremely difficult to dispossess. Howey and Batty were pretty disappointing because they showed a bit less enthusiasm than the rest and also got caught on the ball through expecting a less hectic pace than they wee treated to. Batts still taught a few Scarborough players a few tricks and convinced their Number 4 to keep his distance. This bloke was exactly like James Dalton who plays front row for the Springboks; short, bald, energetic and nasty.
Again it was the eerie silence, broken only by "Squeeze! Squeeze!" (you had to be there) that got to you. Elliott was the only one on our side who did much shouting (until Serrant in 2nd half, of which more later) and that soon petered out. The only time you heard much was when Julio was on the ball; he looked very tasty and passed his markers pretty much at will, but was constantly bombarded with calls of "Georgie!" from all the others, regardless of whether they were in a good position or not. He passed back to Batts once, who sent it on to Harper, and you will be pleased to know that he didn't pass it that way again (in defence, I think Batty just wanted to slow the pace down, because for all the enrgy expended, there wasn't much to talk about....bit like a Merseyside Derby).
As I say, not much to shout about in the first half, but the cinder path made a satisfying crunching sound when you walked on it, and there were the Metro trains to watch or the planes taking off at the airport and at least it wasn't so bloody cold this time. Second half, I went back and joined the others to see if we might score and to observe Serrant and Brady more closely.....I had seen enough of Julio and Griffin already. I still had my trusty notebook, although I stopped jotting things down because people seemed to think I was with the press and I didn't want them to see that I had mostly been doodling women's wobbly bits in my boredom in the first half. The first thing we noticed was that Batty was off and they had once again excitingly mismatched the names and numbers on the team sheets, so that "Paul Arnison" was gradually revealed to be David Burt (thanks to the bloke next to me) who wasn't even mentioned on the sheet, but seeing as how he was later credited with the goal, it must have been him. Needless to say, the quiestest tannoy in the world continued to keep us wonderfully informed.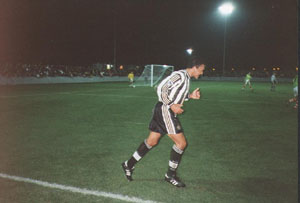 Things were a little more lively from the off and Serrant raced down to our corner before slicing a cross behind the goal; he shouted "Bastard!" very loudly. Things continued to ebb and flow in a pretty frenetic fashion, but we were definitley a bit fitter, and didn't slow nearly so much. Howey was subbed for "Arnison" again, although my neighbour was sure it was Aaaaaaaaron Hughes, and Bjarni Gudjonsson came on for Dags Jnr with number 12 on his back again despite being number 16 on the team-sheet. Things really hotted up at this point, and the Scarborough keeper was brilliant in keeping out some fine strikes from Robinson, Burt and Julio. Serrant came down into our corner again and had another cross blocked; "Arsehole!" he shouted...some parents tutted and said "language, there's bairns about". Steph had by this time noticed a pattern emerge, and so was ready with her camera next time our silken-tongued England U21 came visiting. Sure enough, he flew in again, put in a great cross, didn't shout any naughty sailor words this time, and he dived to send it in a second time when his cross was headed back our way, but tripped and went arse over tit instead. How pleased he was that Steph's camera flashed at this point, catching him in all his glory......he did see the funny side though. Anyway, our relentless pressure paid off and a player with dark hair flashed in a shot which squirmed through their keeper's arse and trickled over the line, which was sad for him, because he had been a star until then. The dark haired scorer was soon caught in a jumping, hugging, clutching, back-slapping huddle of other dark haired players, so we couldn't work out who had actually fired the shot in; obviusly the quietest tannoy in the world was a great help once again. However, the paper says it was Burt, and since he has dark hair and wasn't on the team sheet, they are probably right. Scarborough tried to nick one back putting everyone at us in the last 5 minutes, but we somehow kept them out with some goalmouth antics that made all the Keeganites sigh in fond rememberance. They've also been feeding Bjarni the same porridge as Robinson, cos he appeared a little less like a toddler and showed a great turn of pace. The whistle finally blew with the Toon 1-0 and still 100% at the top of the league....since Scarborough are second, I reckon we can feel pretty optimistic.
Now for the really sad part of the evening. We went out to the carpark and realised that there would be a bit of a delay getting out, so we decided to watch the lads leave the club house. We saw Phileep Albert and Howey heading for the bar and after about 15 minutes, the curly head of Griffin emerged and was swamped by squealing autograph hunters.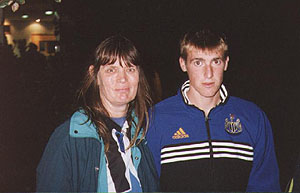 This was nothing compared to the reaction when Paul Dalglish emerged, however, he was immediately surrounded by excited kids with autograph pads and also a 6'3" figure with a crumpled match ticket and a messianic gleam in his eye; yes, none other than our very own Gibbo who had purloined my pen in order to fulfill his task. The picture became even more disquieting when he was joined by Steph with a camera for the "and this is me with Paul Dalglish before he was famous" snap. Yes, as the three happy punters wandered off into the night, a sharp eared listener would have heard the tall figure exclaim, "I've got his autograph!", to which the one with the long hair replied,"Well, I've got a picture of him" while the seedy one in the crumpled raincoat followed up with, "Paul Dalglish held my pen!"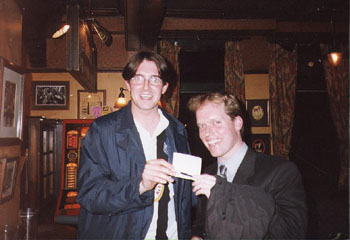 The "Soft One" will be back at Kingston park for the next enthrawling Episode of " Watching The reserves in The Pontins league Division two on a cold Monday night can be fun! " in a few weeks time along with his trusty sidekicks Gibbo, the pen holder and Steph... ace photographer .
What a team!
For more info on the reserves, Visit the Young Magpies Zone