A surreal end to an absorbing season - there was lots of water involved along the way, and my clothes absorbed most of it. Shrewsbury Town finally made it to Tyneside after previous efforts were abandoned due to their coach driver being scared of the dark and the pitch being frozen. A full "R" team turned out to welcome the Champions out for their final kick-about, with Steph, Jonno and Softie meeting for the warm-up, and Jon, Gibbo and Stuart Pearce coming along later.
The Shrews had a proper mini practice game while our lads jogged, stretched and took turns tonking long balls to one another. I am sure that my regular reader(s) (thanks Mum) will no doubt be wandering when I am going to stop rabbiting on about football and tell you all about the weather conditions. Well, it is hard to judge what the weather was up to, since there was a rolling bank of fog in the way. This did keep the temperature at an un-Kingston Park like level, but compensated by saturating your garments with cloying, chill, damp that gradually
leeched away your body heat.The "glory hunters" were out in force, easily identifiable by their quaint decision to wear just a Toon top in this Meterological cul-de-sac, and their disappearance at half time having turned a fetching shade of blue. Unfortunately, the announcer felt it his duty to inflict the World's Saddest Record Collection on us, including a quite hysterically topical airing of "Fog on the Tyne"; how we laughed. He even chose to claim, "I have been told to play this" - oh yeah, we believe you. This was the sort of guy who used to play "novelty records" at a disco just as you were moving in for the kill, and it is impossible to maintain any masculine credibility while dancing to Pinky and Perky. EVEN David Hasselhof would have found this difficult to pull off, and he's widely acknowledged as an expert when it comes to pulling things off.
When the Lads were unluckily forced to come out to play, despite their fervent prayers that the fog would lead to an abandonment, they lined up thus:
1. Matthew Smith - young, big, talks to the defence
2. Paul Arnison - Doesn't get sworn at by senior pros, so must be o.k.
3. Paul Talbot - just call him "knobhead"
4. Jordan Tait - replaces Beharrall in the resorves
5. Stuart Pearce- just calls people "knobhead"
6. Patrick Kelly - new number and now too serious to be called
"Paddy" any more, though does still answer to "knobhead" occasionally
7. George Georgiades - Go! Go! Juli-o!
8. Jamie McClen -looks very alert but more relaxed since his debut
in the 1st team
9. Paul Robinson - must be pleased to get the No. 9 shirt back
10. David Burt - STILL my tip for the 1st team, but not as a striker
11. Garry Brady - my previous tip for the 1st team, I'll get me coat.
12. Chris Woodcock
14. David Broadbent
15. Karl Muir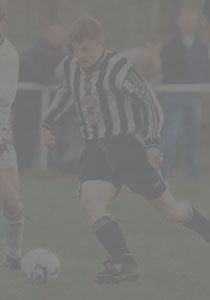 The game started brightly despite the gloom. Their No2, Scott Jackson, was a real live-wire at right wingback, and caused all sorts of trouble down our left, while their No9, Steve Kerrigan, put himself about with gusto. He was a big lad and elbowed Stuart Pearce rather savagely in the face, so I tucked that away in the memory to see when Pearce would exact his revenge for the incident. As it was, the Shrews had the better of the opening exchanges, when Jackson rounded Paul "knobhead" Talbot and centred the ball beyong Smith's reach for their No11, Chris Pountey to send it over the bar from 6 yards out. He clutched his head in horror as we all sportingly whistled and jeered. United put lots of exciting one-twos together and moved the ball about with speed and accuracy, but like the First Team, seemed to have nobody prepared to take a shot. Several promising exchanges petered out into lame and hopeful shots from very tight angles after everyone avoided the direct approach, which is to be expected with only Robinson as a recognised striker in the team. It was Robinson who managed to net the ball before the ref's attention was drawn to one of the wig-waggers who spoiled it for us. The other option was to draw the Shrews into rash challenges, and we had a handful of Stuart Pearce free kicks. We were also treated to several corners which were accompanied by Jonno's rendition of the Wimbledon bugler sounding the charge.
Other than that, the most exciting moment was when Talbot went forward to support Burt, McClen and Robinson, and Pearce yelled "Get out of there!" to young Knobhead, who was leaving Pearce on his lonesome if United lost the ball. This duly happened and it looked a bit iffy for a while. When the situation had resolved itself, Pearce gave his young sidekick (and all the listening bairns) the wisdom of his experience: "Are you f**king deaf? I said come aht!"
Dan Maier should note that this is a true and accurate account of the incident since I wrote it down verbatim with the full agreement of Jonno, Steph, Jon and Gibbo that these were the EXACT words used by Mr Pearce to inspire his erstwhile colleague.
The second half saw Jonno, Gibbo and Softie move behind the goal in the belief that it would prompt six goals again. Jonno even saw to it that he was carrying a chip-buttie and a hot beverage as this had led to a Pearce free kick last time. Sadly, however, it was not to be, and the main difference about standing behind the goal was that it was virtually impossible to see the other end of the pitch in the fog, and the rugby on the other side of the fence seemed a lot more interesting than the bland fare on offer with the round ball. The rows of rugby-supporter heads craning over the fence at the Resorves would tend to support the view that the grass is always greener on the other side, though. Through the fog we could just make out Smith being far more energetic than one likes to see one's keeper having to be, but only through dint of his fluorescent jersey. Burt, McClen and Robinson continued to provide the best Toon play, but it never looked like stretching Glyn Thompson in Shrewsbury's goal who we are meant to be interested in signing; if the Lads had played any better we would have a much better idea as to his ability. Steve Clarke was alone from the management team to observe this prospect, since Ruud was in London signing up Oleg.
To alleviate the boredom, the announcer kept letting us know that, "The Directors, players and staff of Newcastle United thank you for your loyal support at the reserve team matches this season." This was all very nice, but they also printed it on the Team-Sheet and we heard it the first time. The only other incidents were that Pearce was subbed and exited to warm applause on his last appearance in a black and white shirt, and Julio Geordio soon followed after missing what looked like a sure thing. Pountey also managed to miss another Shrewsbury attempt, and Toon were lucky to get away all-square.
The Final whistle was a welcome sound as we applauded the Resorves off the park, but then the announcer informed us that next season we are in the Premier Division. Extraordinary! I just assumed that there would be a Division 1 to the Pontin's League, but when you think that the country is divided into Northern and Southern Leagues, it wouldn't be surprising if there are less Divisions. Hopefully Jacko can educate us on this matter, as I am at a loss but happy to believe it. After all, the Mackems are currently top of the pile above Man Utd and Liverpool, and we owe it humanity to change that at the very least!
It's been a weird old season with an amazing turnover of personnel and variety of opposition, but the black and white stripes have continued to provide that thrill throughout, while the routinely ghastly weather has brought out the Dunkirk Spirit in us all. I hope you will all join me next season when I continue to follow my second favourite team on their march up the League, and bring you "totally trustworthy" weather reports with the odd bit of football thrown in for good measure.
Softie