"E i e i e i o, up the Pontin's League we go!
Yes, it was off to Kingston park for Steph, Gibbo, John and Softie to watch our mighty reserves strut their funky stuff against Big Nose's Welsh wannabes. Early predictions had yours truly picking on Gary Brady to be the man to watch while Gibbo continued to plough his lone-furrow in opting to be the Des Hamilton supporter on the night.
We lined up as:
1 Steve Harper
2 Stuart Elliott
3 Carl Serrant
4 Aaaaaaaron Hughes
5 David Beharall
6 Paddy Kelly
7 David Burt
8 Des Hamilton
9 Paul Robinson
10 Paul Dalglish (these last two were printed wrongly in the programme to help get the kiddies used to a life-time of ineptitude)
11 Gary Brady (keep an eye on this one)
Kingston Park is now open on three sides with the club-house boasting a small stand, which was graced by the buttocks of Ruud, Steve Clarke and Freddie Shepherd last night (with the first two taking notes throughout). Through the three open sides whistles a Siberian blast which goes straight up the back of your shirt if you have been foolish enough to go with bare arms to show your "friends" that Southerners aren't completely soft (of which more later).
The lads ran out to polite applause from the 4.400 faithful, and in the ensuing hush Local Hero could faintly be heard through the elderly tannoy. We had cannily taken up a position on our right wing so that I could observe Brady at close hand (it's a tiny pitch with what looks like a nine foot drop on it, and the players are right up close). Imagine my surprise in finding that my new hero is in fact so versatile that this time he was lining up on the LEFT wing (good bye Gary Speed).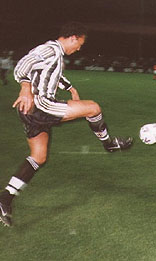 There was the usual frantic first five minutes which were chiefly notable for the eerie silence which reigned pretty much throughout during which all the noise came from the Wrexham keeper. There were some tidy moments from Dalglish and Robinson who were only really having problems with the referee's assistants, and were receiving lots of great passes from Des (see Gibbo, I can be objective as well as objectionable), Brady and Burt. It came as no surprise that it was Brady who ran in to pick up a rebound for our first.
We finished the half by sending everything down the right through the indefatigable Elliott and Burt, resulting in a number of attempts from Robinson and Dalglish, who were chiefly hampered by the tiny pitch which allowed the ball to reach the keeper before it had bounced twice from a through-ball.
At half time Softie decided that Southerners are in fact merely intelligent in choosing to shut out the cold and went and put his jacket on; Gibbo therefore gets all the kudos and the double pneumonia and sod all sympathy from me :-))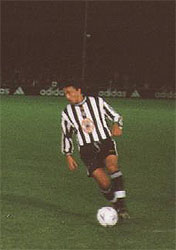 The break was jolly exciting becuase we saw Ruud through the club-house window and what looked distinctly like Bartinnio with a glass of water (how we cheered!). We then found ourselves near to the "tunnel" when the teams came back out and were within punching distance of Ian Rush (admirable restraint was shown by all, but Steph's knuckles definitely whitened).....
The second half saw two early changes with the departure of Robinson and Brady to be replaced by Paul Barrett and Bjarni Gudjonsson (who helpfully wore his age, 12, on his back to ease identification) so one might assume that with two games in three days coming up, we might at least see these two on the bench. I had moved behind the Wrexham goal to observe the expected goal avalanche (and to avoid Gibbo's chattering teeth which were causing a distraction), so I saw some more of the excellent approach play and pace of Paul Dalglish who came close with a couple of efforts.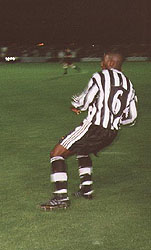 I had moved back round to join the others level with the 18 yard box for the last half hour and watched Dalglish score his inevitable goal, which was a bit of a beauty. He raced into the corner to his left and celebrated like a pro, and was soon substituted for someone whose number I couldn't see, but was either McClen or Talbot. He is certainly first team material and didn't exhibit any animosity towards us for family business.
The end of the game was a bit messy with only one adolescent up front for us, but I was cheered to hear Elliott shouting the orders since his accent is clear evidence that we are continuing our tradition of having short, blonde, cock-er-nees in number 2 shirts.
I do, however, have the regrettable task of telling you about a particularly heinous incident in the crowd......no, not a return of terrace violence (though it might have been one way to beat the cold), but a small section of the crowd striking up a rousing chorus of the Beatles' "Hey Jude" with a slight alteration to "Hey Ruud". Now, no matter how apt the lyrics may be, we really cannot allow this song to take root at SJP since it will be used as a rod to beat our own backs for years to come&ldots;..God, the CHEESINESS!!!
Anyway, two wins in three days, hope we can repeat it for Thursday and Saturday.
Howay the Lads!!!