This is what we want!
At last! After what has felt like a lifetime we finally got a chance to get back down to Kingston Park and cheer on the Resorves. We needed 4 points to win the league so it wasn't going to be finished this particular Monday night whatever, but 3 points in the bag against York City, whose first team are currently struggling along in 17th place in Division 2, would certainly help make it a reality.
With the clocks going forward we had an extra hour of daylight to play with and, as I met Jon and Steph in the Strawberry, bright shafts of watery spring sunlight turned the dancing dust motes into bright flecks of gold as they were disturbed from their resting place on those worn and beer-washed boards as I made my way to the bar. Realising that I had been posessed by Stuart Hall I washed his flowery influence away with a bottle of Budvar and we girded our loins for the encounter ahead.
Now, the uninitiated would look at the bright sunshine and cloudless sky and think, "Oh, what a lovely evening, I think I'll go in shirt sleeves tonight and let the spring breeze ruffle my hair."
Huh! Not us. Thermal underwear, jumpers, fleeces, goose fat, balaclavas, hurricane matches and distress flares. We've been to Kingston Park before and know that the normal meteorological laws have no hold there. We've been wondering whether KP is perhaps haunted by the undead spirits of the victims of some massacre or other, and then we realised that it was probably the massacre by Middlesbrough and we'd seen it with our own eyes.
We were joined at KP by the redoubtable Jonno, resplendent in his latest purchases of seal-skin boots, elk-skin jacket, snow-shoes and huskies. A look around revealed that we were in good company; contrary to the press reports we noticed that Duncan was there, 70's cowboy detective McCloud and also KEEGAN! Well, o.k, in the interests of accuracy I suppose I should admit that the Duncan in question was Mr M Duncan from Wallsend, the Reserve official, and that McCloud was not Hollywood actor Denis Weaver but the refs assistant Mr D McCloud from Crawcrook. If you really want to split hairs then the Keegan in question was John Keegan, one of the York City subs, but he's doing pretty well to get there as a man who has already carved a name for himself by writing such seminal works of military history as "The Face of Battle" and "Six Armies in Normandy", so I feel that credit is due.
The real celebrities on display were Ruud (hiding in the warmth of the commentary box again), Steve Clarke, Freddie Shepherd and Griffin, who should be admired for coming along to watch the lads he was playing with until recently. Someone else to be admired is Paul Robinson's lass, but that's another story&ldots;
The bullish Toon lined up with only two substitutes so everyone was to be under no illusion that they would be subbed to make an appearance on either Saturday or Monday:
1. Lionel Perez: Oh arse! No, wait a moment, the announcer tells us he has been replaced by Peter Keen - "Huzzah!" Cried the R Team.
2. Paul Arnison: super-sub to make a start
3. Paul Talbot: following in the footsteps of Pistone and Serrant
4. Paddy Kelly: keep an eye out for this one
5. David Beharall: easier to pick out now that Burghall isn't there to confuse matters
6. Stuart Pearce: no introduction necessary; missed the warm up again
7. David Burt: so he hasn't been sold and still one of my tips for a 1st team place (along with Hughes, Dags Jnr, Brady and Julio Geordio - best ignore me folks)
8. Jamie McClen: Jonno has it on authority that this lad is going to make the grade
9. Paul Robinson: nice to see him back in the saddle after the appendix operation
10. Andreas Andersson: San Siro, SJP, Stockholm and er Kingston Park
11. Gary Brady: will the knock back affect his game?
Subs:
12. Jordan Tait: I'm afraid I've never heard of him, but next time he appears I shall knowledgeably say "he was on the bench against York City"
13. Chris Woodcock: must have come through the juniors because he was always included in Championship Manager 2 (don't snigger, it's a mine of information!)
No sign of Julio, Hughes, Ketsy or Coppinger:- make a note in your team selection for Loony's competition!As usual, I shan't bother to pretend to know anything about the York City team, although the name Steve Agnew rings a bell and Buff has told us all about Mr Mimms the goalkeeper. Their forwards, Gordon Connelly and Rodney "You Plonker" Rowe, both had an entertaining time and they had a pair of Roy Keane's at the back who kept half the lads hobbling and called the shots for their own side. In fact, York City are without doubt the noisiest group of individuals I've ever come across. They screamed advice at each other throughout, including "Squeeze! Squeeze!", so they remember playing Scarborough as well, and were incoherently hoarse in the last half hour.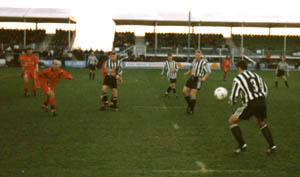 The match was actually very exciting with BOTH teams going for the win which makes a welcome change from the standard Resorves set-up where the opposition come to test their first-string keeper and defenders. It was end to end stuff with City making all the noise but United making the more threatening runs. McClen and Burt linked extremely well in midfield and Beharall and Pearce filled the centre of defence effectively whilst Arnison and Talbot tried the full back roles with mixed success. Talbot seemed a bit lost at times but kept at it throughout. The real eye-opener, though, was Paddy Kelly who was the holding midfielder. Several times he ghosted right through the City team and packed a powerful shot.
Robinson was out to impress as always, and threw himself into the task with gusto. He was repeatedly caught with high boots and kicks to the back of his ankles but didn't slacken off once. Typical of his play were the three occasions he chased a lost cause and managed to keep the ball in play for one of them, didn't give the City defenders a rest all evening.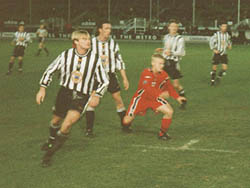 Andersson, on the other hand, continued his efforts to confuse the onlookers with his mixed signals. He was actually jumping for high balls and putting himself about a bit. He's definitely not comfortable with headers, though he has had another few inches shorn from his hair, so he must have increased his chances of controlling it if it ever comes his way. He does that amazing jump with hunched shoulders and shut eyes which is comically reminiscent of a small boy having to put on a prickly jumper. This unorthodox style meant that he failed to connect with more than a quarter of those he contested, but it is encouraging to note that daylight could be seen between his boots and the ground in these situations - the fact that daylight could also be seen between his head and the ball shows the area where improvement is needed. He also continues to show a serious aversion to getting anywhere near a goal-scoring position, preferring to pull out wide or hang back; obviously spent too much time with Mr Shearer.
The first half ebbed and flowed as the increasingly bitter wind grew in strength (needless to stay it only started a few minutes after we first leant against the hoardings) and the play was always a bit patchy, with good play always being broken by wayward passes, until Connelly raced onto a through ball, left Pearce for dead and welted it first time into the back of the net. It was an awesome strike and thoroughly deserved the round of applause from the Toon fans. It also added a bit of a spark to proceedings as United immediately counter-attacked with Paddy Kelly turning up on the end of some neat interplay with a Hamman-style belter which left Mimms with no chance. The half ended 1-1 with no more particularly memorable play but a City player had been down for a few minutes which had called on the need for the St John Ambulance crew to do their thing.
The second half began at the same high tempo and some robust challenges began to add a bit of needle to proceedings. United now had the wind behind them and we began to make it count as we kept Mimms's hands warm with several long range shots from Pearce, Kelly, Beharall and Robinson. We also had a marginal offside decision and hit the post a couple of times. Unfortunately, it was City who scored with a typical break when Rowe was played on side with acres of space and went one-on-one with Keen to slot it coolly home.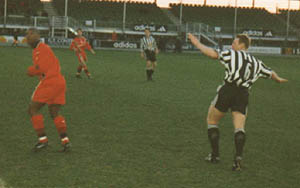 Down the other end we soon had virtually every player in their box when a flick on from Andersson found Robinson on the other side of the box. He somehow managed to bend his foot round it as he fell out of play over the line and loft it over the keeper into the far corner from the narrowest of angles. He celebrated a great effort with obvious delight and received rapturous applause from the crowd. Things got quite frantic then, and I also noticed that Freddie Shepherd departed with several besuited gentlemen who were hopefully discussing a price for our Swedish striker. Burt missed several minutes with cramp and both sides had free kicks that failed to hit the target despite ours also being pressaged by the excited buzz of the crowd as Psycho stood over the ball.
The final whistle signaled the end of a thoroughly enjoyable match and the announcer informed us that the official attendance was exactly 900. It would be nice if we could clinch this league at the next home game against the Blades on 12th April after the FAC Semi, and hopefully we'll have a full house to make some noise when it's all done. The only slightly sour note on the evening was watching the bewildered and frightened looks on some of the smaller children's faces as they were trampled by Steph as she rushed through to get ANOTHER picture of Ruud. The papperazzi, eh, no respect for anyone.