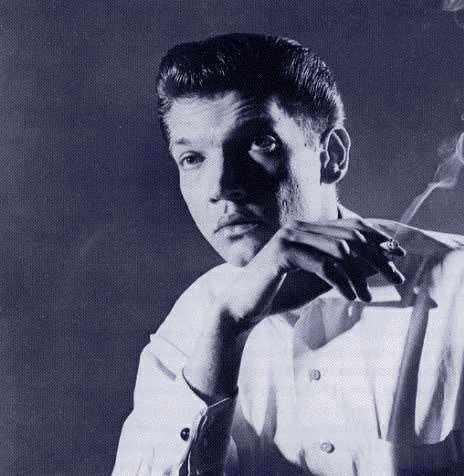 Above The Timberline: The Music Of Bob Graettinger - by Chris Blackford
During the mid-40s, leading US big band conductor, composer and arranger, Stan Kenton, was promoting his own and Pete Rugolo's "progressive jazz". The huge success of this accessible large-scale Swing with elements from the romantic region of European classical music - see The Very Best Of Stan Kenton (Empress RAJCD 906 CD) - paved the way for his more ambitious late 40s/early 50s "Innovations in Modern Music", mostly realised by a massive 40-piece jazz orchestra with sizeable string section. For this project, Kenton championed the work of US jazz saxophonist, composer and arranger Robert (Bob) F. Graettinger (1923-1957), and in doing so unleashed upon his audiences some of the most advanced and original jazz influenced pieces ever to see the light of day. Needless to say, Kenton quickly lost the support of most fans, while attracting the scorn of the conservative jazz critics.
Graettinger's work for Kenton's orchestra is collected on City Of Glass (Capitol Jazz 7243 8 32084 2 5 CD). Where Copland's Music For A Great City (1964) suite is primarily a eulogy to New York, scattered with jazz inspired rhythms and brass to suggest its bustling, frenetic ambience, Graettinger's City Of Glass suite (here performed in its 1951 version) evokes a more troubled vision of an unspecified metropolis - much in keeping with the brooding, frequently violent, urban underworld of Hollywood films noir of the time. 'Entrance Into The City' and 'The Structures', its two-part first movement, is a turbulent fanfare of searing strings and piercing brass, where swing time makes sudden appearances and vigorous pizzicato seamlessly becomes a delicately plucked guitar. Swing rhythms maintain a lasting presence in 'Dance Before The Mirror', driving the swirl and blaze of mutated big band horns. 'Reflections', the closing movement, signals a neoclassical lyricism, its strings and woodwinds swarm then explode into a final densely textured fanfare with the brass, before melting slowly into an urban darkness.
Each movement of City Of Glass is not much longer than a pop single, though brevity requires that each piece quickly attains symphonic proportions. This Modern World (not titled as such, and re-ordered here), the other work in short movements, reads like a mini-concerto ('A Horn') plus several intricate pieces for predominantly brass and woodwind ensembles; the adventurous contrapuntal and harmonic scoring still seems remarkably modern - 'Some Saxophones', 'A Trumpet' and 'A Thought', while for larger forces, wouldn't sound out of place on a Rova Saxophone Quartet CD.
Perhaps the most surprising track on the disc is Graettinger's subversive arrangement of the Matt Dennis & Tom Adair ballad 'Everything Happens To Me'. The charming, comic-romantic lyrics, sung beautifully by June Christy, are given an almost surreal tweak by audacious, yet subtly judged, juxtapositions of neoclassical strings, chamber jazz romanticism and splendidly jarring woodwinds. Another song, 'You Go To My Head', presented in an instrumental version here, finds its trombone theme competing against a tense siren-like brass and woodwind figure, until the latter falls away sharply and the melody emerges in all its delightful, luxuriant warmth.
'Thermopylae', Graettinger's earliest piece (1947) for Kenton, adopts a similar tension and release structure where a wistful theme soars over a formidably dense trumpets and trombones dominated texture; 'Incident In Jazz' unites toe-tapping big band Swing with swooning, stratospheric strings. Then the orchestra's 16-strong string section gathers for the short but powerful 'House Of Strings', its bleak, post-romantic melodic sweep and savage atonality recall Bernard Herrmann's later strings-only score for Psycho (1960). It's the only piece here making no reference to jazz.
Given the striking originality of Bob Graettinger's work, one would expect him to be a much celebrated figure in the annals of jazz. Sadly, not so. In fact, I've yet to find a jazz encyclopedia that even allocates him an entry. It seems that the work of this former student of composition at Westlake School of Music in Los Angeles has nowadays become merely an obscure adjunct to the career of Stan Kenton. Although Kenton was the prime champion of Graettinger's music, and Graettinger composed and arranged these pieces with the playing styles of Kenton's band members in mind, it really is time to recognise Graettinger in his own right as one of the most important composers in post-war jazz. He certainly deserves to be as highly regarded as say, George Russell.
In June 1993, composer, arranger and conductor Gunther Schuller (inventor of the term "third stream" in the 50s to describe the meeting of jazz and classical music) and Ebony Band presented a programme of Graettinger, Pete Rugolo and Franklyn Marks pieces at Muziekcentrum Vredenberg in Utrecht and Beurs van Berlage in Amsterdam. Recordings from these concerts were issued as Robert F. Graettinger: City Of Glass (Channel Crossings CCS 6394 CD, 1994) and feature the previously unperformed (and possibly unfinished) Graettinger pieces 'Graettinger #3' (1950) and 'Untitled' (1948): the first a work for strings akin to 'House Of Strings' in its whorl of biting modernist dissonance and post-romantic melodic gestures; the second, minus strings, has a Stravinsky-like polyrhythmic vitality that culminates in a blaze of big band jazz. The disc also contains City Of Glass I (1947), an earlier version of his ambitious suite, later recorded in 1951 by Kenton's aforementioned 40-piece Innovations In Modern Music orchestra, as well as the 1951 version itself, here titled City Of Glass II; the 1951 version is nearly twice the length of the 1947 version with the result that its tempestuous peaks can be arrived at after lengthier labyrinthine development. Also present are 'Incident In Jazz' and 'Thermopylae'; plus Graettinger's splendid arrangements of Vernon Duke's 'April In Paris' (1947) and D. Raksin's 'Laura' (1948), both of which showcase Graettinger's audacious, angular treatment of thematic material. Sadly, his other important suite, This Modern World, is not included in this collection.
Perhaps the most noticeable difference between the Kenton and Schuller readings is the fiercer attack of the former, though it must be said the compressed, rather trebly sound quality of the old Kenton recordings does add a harsher edge to the density of the music. A piece like 'Incident In Jazz', with its dramatic shifts in tempo, points up the differences in approach with Kenton's band achieving a more piercing potency in the brass and reeds and a dizzying swirl in the passages for strings. Likewise the Kenton recordings of City Of Glass possess a congested, nightmarish ambience less evident in the Ebony Band performances. Of course, Kenton's band featured jazz musicians of the calibre of Maynard Ferguson, Shorty Rogers, Art Pepper and Shelly Manne, whereas Ebony Band, although supplemented here by guest "classically trained" jazz wind players, essentially comprises members of the Royal Concertgebouw Orchestra, who arguably don't possess quite the same wild gleam in the eye as the seasoned jazzer. In other words, while Schuller's band certainly convey a sense of idiomatic collision, in their pursuit of technical accuracy they sometimes take things a touch too respectfully. The difference is best summed up by Art Pepper, who in describing a performance of City Of Glass concluded: "we'd played the shit out of this thing. . ." Interestingly, it's on the Rugolo piece 'Conflict' where Ebony Band deliver the sharp dynamic contrasts with the greatest impact. These minor quibbles apart, this is a fine disc and a laudable tribute to the work of Bob Graettinger in particular. A real treat to at last hear these challenging pieces, brimming with timbral interest, recorded in good quality stereo.
Bob Graettinger's radical polystylistic soundworld, with its polyphonic density and bracing atonality, while drawing on ideas previously explored by the likes of Ives, Stravinsky, Copland and Schoenberg, still remains truly distinctive. It also anticipates the radical polyphonic density of jazz influenced big bands like Globe Unity Orchestra, London Jazz Composers Orchestra, and the various eclectic ensembles of Simon H Fell, though Graettinger's music favours notation over improvisation. He died aged only 34, a brilliant young composer tragically robbed of revealing his full potential, but who left some exhilarating compositions. R
This piece is taken from an article first published in Rubberneck 30, December 1999, and is presented here with additional material (January 2000).
Text copyright © Rubberneck; photo © Kenton Archives