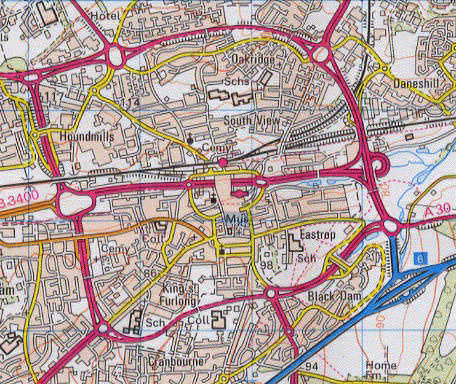 Secret Basingstoke
"Suppose a technician in hospital maliciously sabotages a kidney machine so that the next person to use it will not have his life saved. Why should this act be more wrong if he happens to have looked at a list and seen that the next person to use the machine will be Mr Hedley-Smythe, proprietor of a hotel in Basingstoke?" (Jonathan Glover, Causing Death And Saving Lives, Pelican/Penguin Books 1977)
INTRODUCTORY NOTE
Basingstoke has become a byword for banality - yet a banality rich in comic possibilities. It seems that a British stand-up comedian need only utter the word 'Basingstoke' to cause hilarity in his/her audience; or a reputable philosopher like Jonathan Glover can raise a smile from an earnest reader by mentioning this Hampshire town in a serious study of contemporary ethics. As London, Liverpool and Manchester are supposedly 'cool', so Basingstoke is as far removed from a state of 'coolness' as one could possibly imagine. Which is one reason why a hugely popular satirist like Douglas Adams should refer to "the Basingstoke roundabout" (singular) in The Hitch Hiker's Guide To The Galaxy. Of course, Adams' reference is not merely a gibe about banality but, as anyone who has fallen foul of its miles and miles of circuitous ring-roads will tell you, doubtless a knowing comment on the town's roundabout problem. You see, there are just so many roundabouts round here that somebody nicknamed the place "Doughnut City".
But things might have been different, so very different, had world famous novelist Jane Austen (1775-1817) been born in Basingstoke, and not in sleepy Steventon a few miles up the road, where she lived for the first 26 years of her life; her parents are buried in the village churchyard near the ancient yew. Sweet Jane, whose works are now the hottest literary property in Hollywood and British television, surely your cultural prestige would have saved the denizens of Basingstoke from those ruthless 1960s planners whose diabolic schemes demolished a characterful market town for a soulless urban sprawl.
Secret Basingstoke is an ongoing personal response to the above, based on my having so far spent about 30 years (on and off) in Basingstoke; an attempt, through photographs, to reinvent a town notorious for its nondescriptness as a place where mystery and intrigue still linger, often in the unlikeliest of locations and in the tiniest of textural details...
Chris Blackford, Basingstoke, December 1999
NB: All photographs in Secret Basingstoke were, of course, taken in Basingstoke, except where stated. Feedback from viewers is welcomed, and if you are engaged in a similar project where you live, perhaps we could link our sites (email address on home page).
all photographs copyright © Chris Blackford
1. tones and textures
2. dead of night