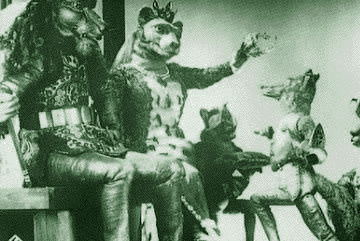 Animal Magnetism: The Animation Of Ladislaw Starewicz
Ladislaw Starewicz: Selected Films
Dir. Ladislaw Starewicz (Connoisseur/Academy Video, CAV 028, 133 mins, Black & White/Tinted, UK VHS PAL)
Ladislaw Starewicz (1882-1965) began a lifelong devotion to animation more or less by chance. An early obsession with entomology led to a desire to film his subjects. Unfortunately, the heat from his studio lights caused the poor creatures to expire. Starewicz's solution to this problem was to construct detailed models of insects which he could then manipulate at will, a process which fired his imagination. Soon he was experimenting with stop-motion cinematography, employing all kinds of puppet creatures as characters in his short films, sometimes mixing them with live-action shots of members of his family. Sadly, only a small number of his films have survived.
His earliest films, which were first seen in his native Moscow 1912, were instantly successful. In fact, he was always able to make a decent living from his work, funding outlandish research and new equipment with the money he earned from making advertising films. Resisting the lure of Hollywood, he set up his own small studio on the outskirts of Paris, where he enjoyed complete artistic control over his work, roping in family members to make the costumes for his numerous puppets.
This collection of Starewicz's work contains four shorts, plus his only feature-length animation, The Tale Of The Fox (above photo). First up, is one of his earliest, The Cameraman's Revenge (1912), an account of the various shenanigans of two couples seeking to inherit a pot of foaming beer. A parody of early melodramas, its insect stars create a bizarre atmosphere of winsome charm and mockery. Starewicz's attention to detail is exquisite; the nimble grace of a dragonfly dancer pirouetting on a stage; a grasshopper (?) riding a bicycle, dismounting in one casual movement; their carnal canoodling is tender, yet repulsive. Never sentimentalised, these creatures retain their insect strangeness, though their emotions are recognisably human. The surreal, absurd poetry of it all is a joy to watch.
More sophisticated in terms of its choreographed set-pieces is Town Rat, Country Rat (1926); Starewicz having now settled in France. Again, the subtlety of the gestures - this time put to hilarious use as slapstick comedy - is marvellous. A country rat recalls his somewhat decadent experiences in the big city. More than one rat's tail here assumes sneaky phallic proportions as Starewicz relishes the opportunity to indulge in ribald innuendo amongst the brilliantly staged pratfalls and dance routines.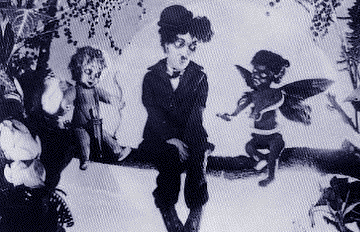 In some respects The Mascot (1934) is a surer technical than narrative achievement, where Starewicz skilfully matches live-action and rear-screen projections with stop-motion animation. The tale of a toy dog's adventures in pursuit of a juicy orange for a young girl at times veers towards the sentimental, but Starewicz is careful to balance this tendency with memorable sinister and sadistic touches. In his sleevenotes, Leslie Felperin rightly claims that this film anticipates the eeriness of Jan Svankmajer's animations; the grotesquerie on offer pre-echoes Tim Burton's work, too.
Love In Black And White (1923-27) is less concerned with this sinister element, preferring to satirise Hollywood genres by basing puppets on well known stars, Tom Mix (western), Charlie Chaplin (comedy) and Mary Pickford (melodrama). The inclusion of black puppets is an interesting feature, and the knockabout satire generally avoids racial stereotyping.
Starewicz's most ambitious film closes the collection. The Tale Of The Fox (1930-31) (approx 65 mins) displays his love of folk tales, in this case the one about that inveterate prankster, Reynard the fox. 10 years of preparatory work went into it. Subtle characterisation is once again achieved by stunning attention to gestural detail, enhanced by superb costumes, sets and lighting. Apparently, the final crowd scenes included up to 100 characters on-screen at the same time, and one three-minute sequence involved 273,000 different movements; as Felperin cutely suggests, "an achievement on the same level as staging Ben-Hur in a shoe-box." Moreover, Starewicz's puppet protagonists all convey a range of engaging emotions, while retaining their bestial vigour. Undoubtedly the work of a seminal animation genius, and one of the great idiosyncratic artists of the century. (Chris Blackford)
This piece was published in Rubberneck 24, June 1997
Text © Rubberneck; photos © Argos Films and the British Film Institute