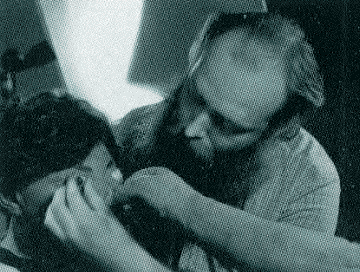 Down To The Cellar: Svankmajer On Video - by Chris Blackford
Volume 1
Dir. Jan Svankmajer (Connoisseur Video CR057, 70 mins, Black & White and Colour, UK VHS PAL)
Volume 2
Dir. Jan Svankmajer (Connoisseur Video CR058, 65 mins, Black & White and Colour, UK VHS PAL)
Alice (1988)
Dir. Jan Svankmajer, with Kristyna Kohoutova (MJ011, 82 mins, Colour, UK VHS PAL)
Two collections of animated film by the Czech surrealist, Jan Svankmajer (b. 1934), offering a representative selection of his work from the earliest in the mid-60s to the most recent in 1990. Volume 1 commences with Dimensions Of Dialogue (1982) influenced by the trompe d'oeil Mannerist paintings of Archimbaldo, and including some sensuous and sadistic claymation. The Flat (1968) features live action and pixillated objects in the surreal tale of a man trapped in a room by recalcitrant furniture, etc. Echoes of Sartre's ontological concept of "the viscous": we want to control objects but they frequently control us! Also, playful references to Magritte and classic dada cinema. The Last Trick (1964),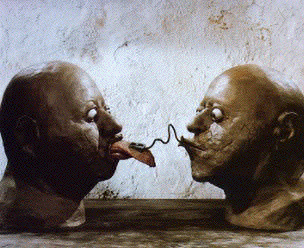 Svankmajer's first film, recalls his experience at the puppet theatre in Prague, making effective use of rhythmic montage.
Down To The Cellar (1982), his most autobiographical film, further develops one of his key themes - childhood. Live action and sinister objects create a disturbing evocation of childhood beset by loneliness and vulnerability, as seen through the eyes and imagination of a young girl. 'The cellar' is, of course, a familiar metaphor for the unconscious mind, and Svankmajer frequently explores the vivid fears and desires that surface in our dreams and fantasies, taking perverse delight in pursuing them to grotesque or absurd ends. Finally, Virile Games (1988) launches a cynical attack on football machismo. Cut-out players traverse the field with a strange balletic precision. Scores correspond to the number of fatalities. Consequently, collapsing clay heads and stray eyeballs figure prominently, intercut with crowd footage. Svankmajer at his hilarious, macabre best.
"Objects have their own passive lives which they've soaked up from the situations they've been in," says Svankmajer. "All that remains is to find the key that will make them talk." This belief lies at the heart of Svankmajer's work and informs Jabberwocky (1971) one of his supreme achievements which opens Volume 2. Lewis Carroll's poem is the basis for this mesmerising and sadistic depiction of the end of childhood through the toys and costumes in a Victorian nursery. Johann Sebastian Bach (1965) is a more abstract synthesis of music and architectural texture, and Punch And Judy (1966) uses the familiar narrative to convey the existential tragedy of human conflict. Superb editing intensifies the drama. In Leonardo's Diary (1972) the Renaissance master's portrait and fantastical sketches are updated in a fine example of drawn animation in juxtaposition with contemporary sporting footage. The Sedlec Ossuary made from the skeletons of over 50,000 Black Death victims is an astonishing sight, but unfortunately the accompanying jazz soundtrack (not of Svankmajer's choosing) is wholly incongruous.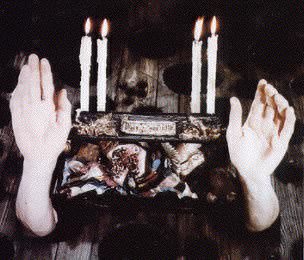 Nevertheless, The Ossuary (1970) is still a poignant work. The Volume closes with The Death Of Stalinism In Bohemia (1990),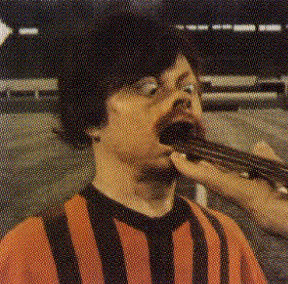 Svankmajer's savage satire and condemnation of the dictator's influence in Czechoslovakia. This was the film-maker's first piece after the "velvet revolution" in his homeland. Absolutely essential viewing.
Alice (1988) was Jan Svankmajer's captivating feature debut, a combination of live-action and animation inspired by Lewis Carroll's Alice In Wonderland, though heavily seasoned with the sinister tendencies of the East European surrealist animation tradition (Starewicz, Borowczyk, Lenica et al). Wisely, Svankmajer avoids the possible temptation to merely re-present Carroll's story; instead, he selects a few key narrative elements and characters, and then allows his own bizarre imagination to have its say.
An impatient, hyperactive, time-obsessed White Rabbit assumes a central role, leaking sawdust and unwittingly leading Alice (Kristyna Kohoutova) further into the labyrinthine strangeness of Svankmajer's Wonderland. Among her encounters is a roomful of burrowing socks, a gaggle of snapping, Bosch-like skeletal fiends, and arguably the definitive filmic presentation of the Hatter's tea party. In this marvellous episode, Svankmajer's cunning use of verbal and visual repetition reaches a deeper level, stretching humour to the point where it becomes more a tragedy of absurdity, as the ludicrous characters are destined to repeat their insane ritual. Flann O'Brien's prose seems particularly relevant here: "Hell goes round and round. In shape it is circular and by nature it is interminable, repetitive and very nearly unbearable."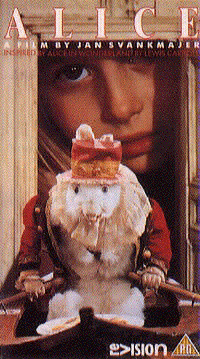 Svankmajer's Alice is no attempt at charming Victorian whimsy, or slick Disneyfication - the twin curses of most screen adaptations of Carroll. His sets, and the many objects that 'inhabit' them, frequently have a well-worn, even grubby appearance, which creates that appealing, unsettling quality. A roving camera and abrupt editing ensure that the rows of murky jars and pots stacked on shelves don't reveal too many of their secrets. After all, a master surrealist like Jan Svankmajer knows only too well, that it's not always what we see but what we glimpse, or imagine to be there, that haunts the mind.
OTHER FILMS BY JAN SVANKMAJER
Fantasia In G-Minor (1965); A Game With Stones (1965); Et Cetera (1966); Historia Naturae, Suita (1967); The Garden (1968); Picnic With Wiessman (1968); A Quiet Week In A House (1969); Don Juan (1970); The Castle Otranto (1973-77); The Fall Of The House Of Usher (1981); The Pit, The Pendulum, And Hope (1983); Faust (1994); Conspirators Of Pleasure (1996)
Parts of this piece were first published in Rubberneck 13, May 1993, but are published here with additional material. (February 1999)
Text © Rubberneck; photos © Argos Films and the British Film Institute