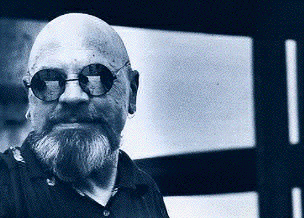 Third Ear Band: Alchemy & Improv - by Chris Blackford
Few writers would think of including Third Ear Band in a history of British improvised music, though improvisation has been at the heart of their distinctive music-making for over 25 years. Formed in 1968 by percussionist Glen Sweeney (pictured left) and Paul Minns (oboe, recorder) from the earlier psychedelic group, The Hydrogen Juke-Box, Third Ear Band were one of the most original groups to emerge during the stylistically eclectic progressive era, making their debut in 1969 with the extraordinary Alchemy (Drop Out, DO CD 1999). Other members were Richard Coff (violin, viola), Mel Davis (cello, slide pipes), plus brief appearances by DJ John Peel (jaws harp) and violinist Dave Tomlin. The eight improvisations follow a similar pattern; Sweeney says in his notes that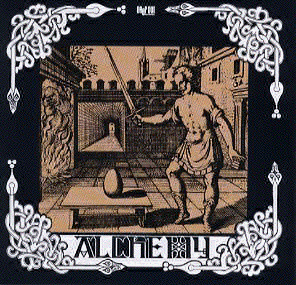 TEB pieces are "as alike or unalike as trees": a phrase that critic David Ilic would later borrow to describe the improvisations of AMM. TEB were no less intense - a remarkably focused group of improvisors who also eschewed overt soloistic virtuosity in favour of a closely-knit collective identity. Sweeney's hand drums supplied the strict, almost primal pulse from which a harmonic tapestry of woodwinds and strings was finely woven, but seldom in the pastoral vein this particular instrumental grouping suggests. Minns' oboe tone and phrasing could sound as flinty, as bleak and aggravated, as the soprano saxes that Evan Parker and Trevor Watts were wielding in other UK improv circles. In this respect, Minns continues to be an overlooked and unsung talent in British improvisation of the late 60s/early 70s; moreover, it's hard to think of anybody else (other than Watts, who occasionally played oboe with SME) who was extending the oboe's timbral vocabulary outside contemporary classical music - Robin Miller, who recorded with King Crimson, Roxy Music's Andy Mackay, and Paul McCandless of jazz group Oregon were all rather conventional oboists. The track titles on Alchemy reflected the classical Indian and ancient mystical influences; the strings droned and meshed, creating a disorientating swirl of sombre colours.
Third Ear Band (sometimes called Elements) (1970) (Beat Goes On BGOCD89) develops these ideas through four longer improvisations. Ursula Smith had now replaced Davis on cello and the group were sounding increasingly cohesive. The opening 'Air' features Minns' characterful oboe achieving a blend of plangent melodic and strident non-idiomatic gestures in dialogue with the string players' textural arco smears and scrapes. While 'Earth' explores a lively folk motif (echoes of a Cossack dance) through accelerated pizzicato, 'Fire' explodes into a frenzy of wailing woodwinds, high-pitch searing strings and pulsating percussion - more concerned with vertical density than linear development, and in its own way as cathartic as Peter Brötzmann Octet's seminal Machine Gun. Finally, against droning strings bathed in aquatic sound effects and Sweeney's underlying pulse, 'Water' has Minns weaving another memorable melody full of elegiac poignancy. Third Ear Band is one of the group's most satisfying works.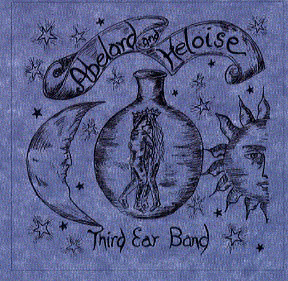 Also in 1970, TEB were commissioned to compose and perform the soundtrack to a German TV film about the French scholastic philosopher and theologian Pierre Abélard (1079-1142) and Héloise Fulbert (1101-1164), the niece of Abélard's employer, Canon Fulbert, at the cathedral school of Notre Dame in Paris. Abélard and Héloise were introduced when the Canon hired Abélard as Héloise's tutor, but soon the two fell passionately in love. When Héloise became pregnant and bore a son, the lovers were secretly married to appease the Canon, yet the latter's ill-treatment of Héloise led Abélard to spirit her away to a convent at Argenteuil. Thinking that Abélard planned to abandon Héloise, the Canon hired thugs to castrate Abélard. Later, Abélard became abbot at Saint-Gildas-en-Rhuys at Brittany and appointed Héloise the abbess of a convent in the same region. The details of their doomed relationship are chronicled in Abélard's autobiography and in the letters between Abélard and Héloise.
Not having seen this film, I can't say how successfully TEB's music underscores the visuals, though as a work inspired by the aforementioned tragic love story it seems particularly appropriate. Long unavailable, the re-emergence of Abelard And Heloise (Blueprint BP310 CD, 1999) constitutes an important addition to the group's published discography. Again featuring the superb quartet of Sweeney, Minns, Coff and Smith, a sombre, sometimes archaic soundworld is sensitively evoked, though happily the group resist any possible temptation to medievalise their music especially for the film; as previously suggested, the Third Ear Band sound already possessed traces of early musics, from the East and West. That characteristic plaintive tone of Minns' oboe - often akin to the keening, nasal tone of the Egyptian reed-flute, the nay - is to the melodic fore on the first and longest of the six pieces (the soundtrack lasts for nearly 37 minutes) which gathers pace as Sweeney's hand drums lay down strict pulse beneath the modal curlicues of the double-reed and the folk inflections of Coff's fiddle. However, unlike most TEB pieces, on this one Sweeney's input is intermittent, allowing the oboe and strings to acquire an occasional pulseless contemporary classical profile, such as the closing phase where the double-reed's longer tones are superimposed above string glissandi. The second piece begins with an almost pastoral mood which is suddenly disrupted by acerbic string drones, while the third sets off at a cracking pace, propelled by jarring string ostinati. This is followed by two pieces where the improvising moves in more abstract directions, purposefully exploring sharp-edged textures and sustained tension, before the final piece admits a piercing ray of melody into its darkly expressive interior. As soundtracks go, Abelard And Heloise is about as far removed from conventional Hollywood scores as one could expect, offering nothing in the way of tangible themes and variations, yet instead establishing a bold and often barbarous atmosphere which grips the attention and fires the imagination. This important, highly individual film score still awaits widespread recognition.
TEB's skill at creating unusual and unsettling moods also proved to be an ideal accompaniment to acclaimed film director Roman Polanski's visually arresting, if gruesome, account of Shakespeare's Macbeth (1971). Ursula Smith exited, Paul Buckmaster, Simon House (of High Tide) and Denim Bridges arrived, thoughtfully blending electric guitars and VCS3 synth within the well established acoustic TEB soundworld. As with Abelard And Heloise, it's heartening to discover that the group had once again been hired for 'their sound', which remains uncompromised on Music From Macbeth (1972) (Beat Goes On BGOCD61; reissued again in 1999 by Blueprint BP312CD), if slightly more melodic than usual. Lighter cues, like the song 'Fleance' - mimed in the film by a young Keith 'Cheggers' Chegwin; UK readers will know who this cheeky chappie is - and 'Court Dance', approximate to renaissance-meets-folk rock with Minns' oboe and recorder providing melodic embellishment, while a brooding 'Dagger And Death' calls for non-idiomatic textural improvising using synth, guitar and strings. And yet, surprisingly little of TEB's music actually appears in the film; it was used sparingly, yet most effectively, to emphasise the brutal pre-Christian ethical and supernatural aspects of the narrative. Consequently, it's well worth investigating this accomplished, atmospheric soundtrack in its entirety.
Having achieved an international profile for their work on Macbeth - with more suitable commissions one suspects that TEB would have built up a distinctive body of soundtracks akin to Popol Vuh's for Werner Herzog - the group then faded into obscurity, performing only sporadically during the late 70s to mid-80s. But in 1972 Sweeney resurrected the Hydrogen Juke-Box name (borrowed from Allen Ginsberg's poem Howl) for a collection of eight songs recorded in Kent with Mick Carter, Brian Diprose and vocalist Jim 'Gipsy' Hayes. These didn't see the light of day until issued by Italian label Materiali Sonori in 1991 as Prophecies (Materiali Sonori MASO CD 90018). Like TEB work they're founded on strong rhythmic material, the vocals emerging chant-like (almost rap-like) over the electric bass and drums. Carter's psychedelic guitar runs are sometimes reminiscent of Steve Hillage, particularly on the Gong style groove of 'AB-RA-KA-DAB-RA'. Though nothing here really grips the attention, it's still sure to be of interest to TEB aficionados.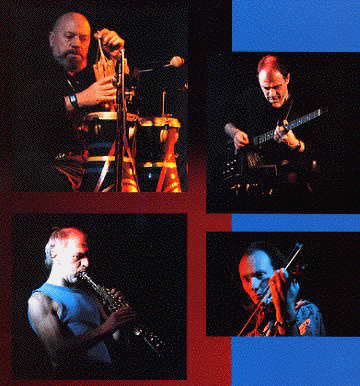 1988 saw an unexpected TEB 'reunion' gig in Italy - Sweeney and Minns now joined by Allen Samuel's spine-chilling violin and Mick Carter's mostly low-key, ambient electric guitar. Live Ghosts (1988) (Materiali Sonori MASO CD 90004) revealed a cohesive group still capable of producing absorbing and atmospheric improvisations with a hypnotic rhythmic base. 'Live Ghosts' and the extra studio improv, 'Necromanticus', showcased the subtle and expansive shades that Carter's guitar was contributing. By late 1989, Paul Minns had bowed out; also Samuel. Magic Music (1990) (Materiali Sonori MASO CD 90016) introduced Neil Black's microtonal MIDI violin, and the soprano sax and flute of Lyn Dobson (formerly with Soft Machine). Dobson brought a flowing, often lyrical free jazz dimension to the existing ethnic pulse; Sweeney affixed the label "free ragas". Brain Waves (1993) (Materiali Sonori MASO CD 90045) maintains this line-up but adds more detailed MIDI guitar and violin soundscaping, even two songs/chants. The album clearly demonstrates that while the Third Ear Band sound continues to evolve, the group remain true to a sensitive improvisatory approach which has always been the basis of their original and uncompromising work.
No date(s) or venue(s) given for the previously unreleased performances on Live (Voiceprint VP 157 CD, 1996), though the Sweeney/Carter/Dobson/Black line-up suggests the festival gigs of 1989, prior to Magic Music of 1990. Live features pulsating versions of 'Sun Ra Raga', 'Third Ear Raga' and 'Behind The Pyramids' (here titled 'Pyramid Song'), all from Magic Music, and 'Live Ghosts' from Live Ghosts (1988). 'Hymn To The Sphynx', new to me, is a promising jazz influenced raga, yet marred by fade-in/fade-out editing. Most powerful is the version of 'Egyptian Book Of The Dead' from the 1969 debut Alchemy - an engaging collision of ethnic, free jazz and noise improvising with Dobson's fiery soprano in fine fettle.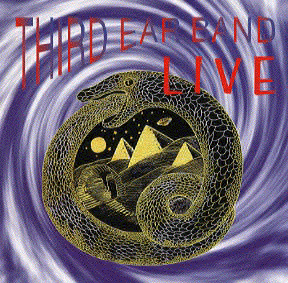 Also by the Sweeney/Carter/Dobson/Black line-up is Magic Music (aka New Age Magical Music, Blueprint BP257 CD, 1997), a collection not to be confused with the earlier Magic Music (1990), released by Materiali Sonori. Like the aforementioned Live, on Blueprint's sister label Voiceprint, New Age Magical Music comes with no information about recording/performance date(s) or venue(s), though stylistically the five pieces are in a similar vein to the lyrical free jazz, ethnic rhythms and expansive electronic soundscaping of Magic Music (1990) and Brain Waves (1993), suggesting that they were recorded around that time; they might even be taken from the group's late 80s festival gigs, presented here minus audience reaction. The sleevenote is an abridged version of Sweeney's mystical musings first published on Alchemy (1969). 'Gog And Magog', the opener, seems to be an alternative (earlier? later?) instrumental version of the Dobson-sung 'Midnight Drums' which appeared on Brain Waves; Sweeney's hand drumming marks time while Dobson's sax meanders moodily against a backdrop of spectral electronics and occasional bursts of electric guitar. Pace quickens and intensifies for 'Flight Of The Coven' as Sweeney propels a rush of backwards guitar, high register soprano sax and skittery violin figures. A similarly mercurial mood is whipped up for the rather twee-titled 'Dance Of The Elves', where once again individual gestures melt into the spacious sound design. 'Atlantis Rising' is slower, majestic in its introductory soprano and violin drone-blend and, as drum and choppy guitar/violin rhythms kick in, moves with more of a dance-like precision than the previous track. Dobson's serpentine soprano fashions a colourful freebop. The closing 'Midnight On Mars' is a further reminder that even with deeply embedded ethnic (in particular, Indian ragas) and psychedelic influences, Third Ear Band improvisations still possess sufficient raucous energy, rough edges and polyrhythmic intensity to steer clear of those all too familiar polite and characterless New Age/World Music eclectic concoctions. Despite its confusing title, lack of sleevenote information, and light running time of 35 minutes, New Age Magical Music will take you on an invigorating, pulsating journey. R
POSTSCRIPT
This piece is based on a review article first published in Rubberneck 22 (June 1996). It is published here in an amended and extended form and will continue to evolve as more Third Ear Band material is released (latest update - January 2000).
Text © Rubberneck; photos © Materiali Sonori and Demon Records; sleeve artwork on Abelard And Heloise and Live © Caroline Looker