20th Century Treasures: the Rubberneck Reviews Team choose their favourite works of the past century
John Cage, Williams Mix (1952); issued as part of the set, 25-year Retrospective Concert Of The Music Of John Cage (Wergo 6247-2 3CDs)
Williams Mix was, I believe, the first tape composition to be made in the US. The industry and application necessary are still astounding: it took three people (John Cage, David Tudor and Earle Brown) nine months of editing to produce a piece of little over four minutes. Derived from 500-600 separate sounds, organised first in six sonic categories (city, country, electronic, manually-produced, wind-produced, amplified small sounds), then classed by their attack and decay characteristics. Its score is the full-sized template for editing the fragments. At its New York premiere in 1958 it polarised the audience spectacularly and the Avakian recording made on this occasion is followed by over a minute of sustained booing and bravoing, at times as densely rich as the music itself. And what of the music? Like so much of Cage, it takes care of itself. Non-objective, apparently formless and devoid of development, yet never less than enthralling. (Chris Atton)
Einstürzende Neubauten, Kollaps (1981) (Zickzack EFA 2517 CD)
When I saw EN support The Birthday Party at London's Lyceum in 1981(?) my eyes were opened to a new world where noise was music, music was noise, and aural alchemy was achieved. A few months later I scored Kollaps at an exorbitant price (£6.99!), and even though I was initially unimpressed with a lot of its more subtle experimentation, I grew to love every inch of its mystery, power and humour. The back cover parody of Pink Floyd's Ummagumma sleeve shot depicts the band surrounded by their 'instruments' (pneumatic drill, broken guitar, tools, springs, megaphone, etc) in front of the Olympic stadium built for the 1936 Games. The combination of work ethic and avant-garde expression contained in this record has sustained me for years and never fails to inspire me to think, create and listen. Although it's not their best, it was the first I heard and is that rare thing in life: a clanging, discordant epiphany. (Jim Barker)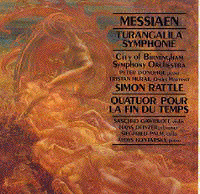 Olivier Messiaen, Turangalîla-Symphonie (1948); City Of Birmingham Symphony Orchestra; conductor Simon Rattle (EMI CDS 7 47463 8 2CDs)
I first encountered Messiaen's music as a teenager during a college 'Music Appreciation' class. The piece was Couleurs de la Cité Céleste (1963), and unlike anything I'd heard before: the notion of a composer creating a distinctive soundworld had entered my head - thereafter would become an obsession. Turangalîla-Symphonie came later and on a larger scale. 10 movements lasting nearly an hour and 20 minutes, it draws particularly on Messiaen's study of Hindu modes, Balinese gamelan and, of course, birdsong, to produce an epic sound-vision of superhuman joy and transcendent love. Themes are grandiose yet succinct, tone-colours exotic and radiant, energised by an ecstatic rhythmic vigour (Scriabin's visionary Le Poème de l'extase (1907) and Prometheus (1908-10) are obvious precursors). Turangalîla shows that 'difficult music' can also be overtly emotional. I saw CBSO and Simon Rattle perform it in 1991, and this remains my most emotionally intense and exhilarating concert experience. (Chris Blackford)
Christian Wolff, Burdocks (1972) (Wergo 60063 LP)
Burdocks is for me one of the unsung masterpieces of American Experimentalism. Written by perhaps the least well known of the 'New York School' and first performed by the Scratch Orchestra in 1971. There's only one commercial recording of this piece and I've never heard it. This doesn't matter; Burdocks' very nature denies the definitive performance. It consists of 10 sections: all or a selection can be played in any order or combination by 'orchestras' of varying sizes. Instrumentation is not specified and musical material is often left up to the performer; the notation, either through instruction or suggestion, determines how the piece is performed. Wolff's notation is not as pretty as much of Cage's or Cardew's work, but the manner of its writing encourages a creative dialogue between performer and composer absent in similar music. Performances often mix deadly seriousness with anarchic humour and theatrics, but it's the careful balance of formality and freedom in the score which allows apparently contradictory extremes to sit together without incongruity. (Bruce Coates)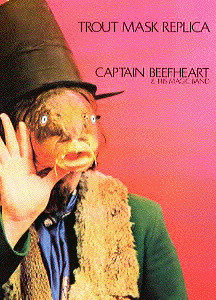 Captain Beefheart & His Magic Band, Trout Mask Replica (1969) (Warner Bros 759927-196-2 CD)
30 years after the fact, this album still stands as one of the most original and unusual artefacts conceived during a particularly fertile era in American popular music: polyphonic, polyrhythmic, with its fractured feel built from a rhythmic sense, it's a perennial source of inspiration for both avant-garde and out-rock musicians. Though Beefheart's voice, lyrics and persona dominated the mix - and his claim of sole authorship notwithstanding - the music was composed (i.e. put together according to aesthetical principles) by a group effort, mostly by the hard work and ingenuity of legendary drummer John French (aka Drumbo) and guitarist Bill Harkleroad. Considered too weird in its time - with its mix of raw Delta blues, the jazz influence of Coleman, Dolphy and Kirk, and the vivid, pictorial nature of the texts - Trout Mask Replica, when compared to today's mainstream, is just as weird. (Giuseppe Colli)
Lennie Tristano, 'Intuition' & 'Digression' from Crosscurrents (1949); CD reissue titled Intuition (Blue Note BNTE 527712 CD)
'Intuition' and 'Digression' are the first recorded examples of group free improvisation. In 1949, Ornette Coleman was a struggling r 'n' b musician, Joe Harriott was playing in dance bands in Jamaica and Jimmy Giuffre was a Herdsman. Evan Parker was five.
Lennie Tristano had a reputation as a virtuoso pianist, jazz teacher and theorist. A tight-knit group of his pupils comprised this group: Lee Konitz, Warne Marsh, Billy Bauer, Arnold Fishkin and Denzil Best. And he was not afraid to experiment. For these tracks, he instructed his group to start playing with none of the accepted jazz structures - no pre-set chord sequence, melody, key centre, soloists or duration. The results are endlessly fascinating; melodic and short (less than six minutes in total). Tristano is clearly the leader, but the group ethic prevails. This is certainly not "playing without memory"; the players strive to harmonise with each other wherever possible. These were the tentative opening shots of a revolution. (John Eyles)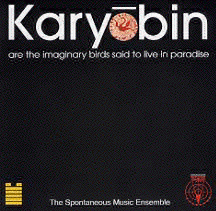 Spontaneous Music Ensemble, Karyobin (1968) (Chronoscope CPE2001-2 CD)
Karyobin is a gem from 1968. Look at the line-up. The impeccable Evan Parker (saxes), already showing the trademarks of his emerging virtuosity and split second reflexes. Derek Bailey (guitar) beginning to carve a new language from the vocabulary of the jazz and function musician of only a few years previous. Kenny Wheeler (trumpet), the most conventional player here yet with a fluidity of invention that does full justice to the company he keeps. Dave Holland, shortly to leave for the States and Miles Davis, underpinning the proceedings with his quicksilver lyrical bass. And, of course, the group's convenor the late great John Stevens (drums), who committed himself to the pursuit of freedom and beauty in the darkest corners. This is jazz on the cusp of free improvisation, and it is the spirit of collectivity and the ascendance of spontaneity over tradition that makes it such a landmark. (Gus Garside)
Joe McPhee, Topology (1981) (hatART 6027 CD)
A pivotal record in my development as a listener, this 1981 recording ended an obsessive fixation solely with free jazz by opening my ears to the possibilities of non-idiomatic improvisation, composition and electroacoustics. There was of course still enough visceral blowing on the disc to satisfy on that level, though I now began to appreciate how graphic notation can bring coherent form to improvisation. A strikingly variegated palette of sounds and emotions are employed by a judiciously assembled cast of multinational improvisors including Irène Schweizer, Radu Malfatti, Pierre Favre and André Jaume. Many startling juxtapositions stand out - McPhee's graceful themes floating above Raymond Boni's industrial-strength guitar, screaming post-Ayler overtones underpinned by delicately bowed strings and an overall mood of contemplative introspection continually stalked by terrifyingly abrasive collective improvisation. It sounds as bold and fresh today as I imagine it always will. (Fred Grand)
Sun Ra, 'Dance Of The Cosmo-Aliens' (1978) from Disco 3000 (Saturn CMIJ 78 LP)
Bolstered by the march of science and technology, modernity has often tried to fashion the world and paint visions of the future in its own image. In early 80s sci-fi programmes like Buck Rogers, rare dancehall footage showed discotheques swinging to the sound of rock guitar. However, in 1978, Sun Ra brought back from one of his spaceway travels dance music that really is from the future - from a disco in the year 3000. Technically speaking, it is not a 20th century treasure at all. Alien voices chatter in revelry nearby, as Ra's intergalactic keyboard clusters provide momentum for the bug-eyes on the dance floor. It all sounds just a little spooky, but one listens in wonder to the sounds from a distant planet - as if we've been afforded a rare privilege to hear something secret. And only when the Arkestra played Jewish weddings was the dancing more feverish. (Mark Greenaway)
Hildegard Westerkamp, Transformations (1996) (Empreintes Digitales IMED 9631 CD)
Hildegard Westerkamp is famous for her soundwalks - audio recordings documenting a particular place at a particular time of day. Found material - out of which, using studio-based manipulations, she fashions a unique sonic event. Thus, the environment is reshaped, subjectivised, revealed anew. This extraordinary CD contains several examples of her work.
'Kits Beach Soundwalk' begins with a description of what we can already hear: waves lapping in the foreground, bird calls, back-ground city roar. Then Westerkamp demonstrates some of her filtering and equalising techniques. By employing several ellipses, literal description is transformed into one dream narrative after another, each illustrated with variations on the multiple, random clicking noises made by barnacles. Eventually, the city is allowed to return (in the guise of a flapping, flailing, playful monster). Westerkamp reveals the subtle, interactive music in the hidden or unheeded sounds which surround us. She has changed the way I listen to music, and what I consider music to be. (Brian Marley)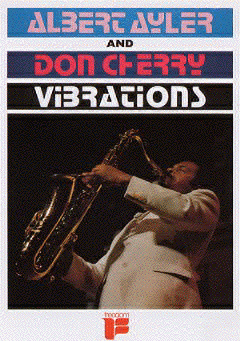 Albert Ayler & Don Cherry, 'Ghosts' from Vibrations (1964) (Freedom FCD 41000 CD)
Early 80s and the post-punk turmoil in rock music had left me floundering. A little of it still made sense but I was bereft. A music lover with little or no music to love. My bent was against all mainstreams and somehow the notion of free jazz and improvised music took hold as a possible source of contentious wonders. Risks had to be taken.
What sort of music does Albert Ayler play? Don Cherry, I've heard of him. I'll chance it. Vibrations. First track 'Ghosts', one of two versions on the record. It was the second, longer take that set me reeling, embarrassed almost by its effusion. The theme was curious, stately but jagged, Ayler and Cherry in almost-unison. Then the tenor solo. A moment of astonishment. A declamatory barked anguish that seemed, simultaneously, tilted towards celebration. Even now, having heard Brötzmann, Wright, Gayle, etc, it still strikes me as unique in its honesty, its naked human need to communicate. The truth was marching in. (Declan O'Driscoll)
Sun Ra, The Magic City (1965) (Evidence CD ECD 22069-2 CD)
As someone who came to Ra after childhood interest in Egyptology and space travel(!) I got this on its 1976 vinyl reissue; it's stayed a firm favourite. You could argue that this 27-minute marathon is too 'stand-alone' in Ra's galactic repertoire to qualify as epoch-making, but it's got the lot. Mostly improvised, it opens with solo piano (slightly Bartok), juxtaposing: wild electric clavioline with arco bass (the incomparable Ronnie Boykins); snappy, echoed drum breaks, twittering woodwinds, droning bass clarinet. As the intensity builds, a collective wail sets off several minutes of extraordinary reed duos and solos before the finale. In 1965, it was hard to find, wrongly given as 1960, and utterly radical. In retrospect, it prefigures so much: orchestration of collective passages by minimal directions, individual virtuosity, new textures, studio technology. All Ra's pieces were paragraphs of one cosmic newspaper, he liked to say: this is from the front page. (Gerard F Tierney) R
First published in Rubberneck 30, December 1999
Text © Rubberneck