Byker Grove Books:
Nine Byker Grove books have been written and published by BBC Books covering the 1989-1992 series. Below are the summaries taken from the covers of first three books:
Byker Grove: Adele Rose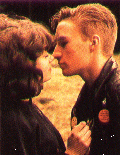 Julie Warner seems to ahve it all. She's pretty and clever and lives in a comfortable house in Wimbledon. But when heer dad's work takes the family up to Newcastle her safe little world falls upart. Julie hates Newcastle. Everyting's so different - it makes her feel like an alien from outer space.
Then she goes to BYKER GROVE, a wonderful old house where kids can do what they want. Before she knows it, she's met charming Cas, slow-on-the-uptake Speedy, spoilt Donna Bell, understanding Hayley, wideboy Winston, gutsy little Spuggie, and lots of others.
But the person who really draws Julie back is good-looking, moody Martin Gillespie. He spells big trouble but somehow she can't keep away...
Heartbreak For Donna: Carrie Rose
Donna is thrilled to bits when her mum moves back to Newcastle and so back into her life. As she looks forward to her fifteenth birthday party, she is soon convinced that her parents will get together again soon.
The only clouds on the horizon are Lisa, her dad's girlfriend, and Nicola's attractive Danish boyfriend Jan, who makes Cas seem juvenile and boring.
Being Donna, she soon causes a rift between her Dad and Lisa and manages to snatch Jan off Nicola. But just as Donna is walking on air, her entire world collapses and she learns the hard way that dirty tricks have a habit of rebounding back on you.
Life for Gill is also full of changes as he moves into a seedy squat and his girlfriend Julie changes her image and becomes a rebel in black leather. Fraser finds a new friend, a would-be DJ, P.J., who involves him in the world of pirate radio. And fed up Spuggie storms out of BYKER GROVE to join their hated rivals, Denton Burn.
Turning On, Tuning In: Don Webb

When you're fifteen and you enter a competition with a friend to sing on the backing track of a youth club's record, the last thing you'd expect to happen is to be offered a recording contract. But that's just what happens to Marilyn Charlton, the newest member of BYKER GROVE.
Soon Charley and Hayley find joy and heartbreak combined when they meet Steve Rottega, local medallion man. Charley also finds that she is falling in love with Robert, even though their interests are worlds apart as Robert struggles to walk again after a serious footballing accident.
There's also the mystery of Spuggie's strange friend and Duncan's obsession, and Gill and Julie in love again, and the brooding presence of Carl, who casts a dark shadow over the kids of BYKER GROVE.