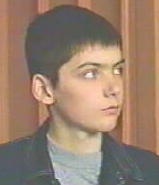 Ed: Grant Adams
Ed was first seen in episode 10 of the 1993 series and left episode 12 of the 1997 series. He was first seen with Alfie when they were both involved in a go-karting competition where Dale was the driver. However, sabotage from a jealous Barney & Frew caused the go-kart to fall apart just before the finish line.
Ed again reappeared in the 1994 series and he with Alfie provided light comic relief whilst Alfie's family went through a troubled time after Alfie's father's remarriage. Ed also had a collection of strange animals that were released in the Grove by Aaron and Patsy as part of their animal rights movement.
Ed joined Gary's Grove Patrol group towards the end of the 1994 series and played an important role in capturing the Runt (Terry).
In the 1996 series, Ed tried his hand, or rather his feet at Ball Room Dancing in an effort to spend some time with Cher although he soon lost interest in her after the dancing had finished. Ed also became a mouse when the Grove entered a TV game show.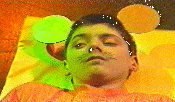 Alfie and Ed provided an entertaining comedy duo in 1996, especially the time when they went for a driving lesson with Alfie's dad and Alfie accidentally ran over Ed. Ed's condition was not serious, but Ed decided to milk the situation for all it was worth and he had Alfie run around for him everywhere. Alfie soon discovered Ed's paralysis was fake and forced him to admit it by leaving him supposedly helpless on the bay.
Alfie soon forgave Ed after they went on a camping trip with Alfie's dad and they were soon back into trouble after Jack and Philip found the alcohol they'd hidden ready for the party in the "Kids Only Room".
In 1997 Ed became a competition fanatic and entered the Grove in the new soft-drink competiton where the Byker Grove Team won. Ed also supported Alfie after the trouble with Leanne and it was Ed's advice to Alfie which resolved the situation.
Alfie and Ed's long friendship came to an end in episode 11 after Ed decided that he no longer wanted to come to the Grove and had joined as a volunteer at the local city farm, the pair said they final goodbyes during the sleepover.