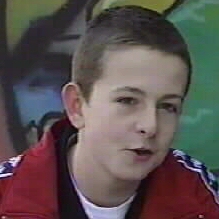 Terry: Chris Woodger
Terry was first seen in the 1994 series of Byker Grove as the unpleasant and vicious "Runt" who terrorised the kids at Byker Grove. Terry and his gang stole Barney's computer and video games, terroised Marie, beat up Aaron and fire bombed the Grove.
(Unfortunately I have no information on the 1995 series of Byker Grove so there is gaps in this character's details).
In 1996 Terry seemed to have calmed down somewhat and became friends with Karen where he led her away from her safe world of helping out at the Salvation Army hostel. On their first real date Karen was forced to sprint out of a restaurant after an expensive meal without paying for which she was almost caught. And another time, Terry took her "Metro Surfing" which resulted in him getting banned for a spell from the Grove, bruised ribs, and Karen left to do some quick thinking and lying to get out of trouble herself.
Terry however, revealed something of his better nature in helping Mat who was the victim of racial hatred. After initially resenting his presence at the Foster Home, Terry sympathised with his plight and offered him some sound advice.
Karen became concerned for Terry and Ben's welfare after Terry's father was released from prison and seemed to be leading Terry intio trouble again. After some detective work, Karen discovered that Terry's father was using him to sell drugs; eventually she caught up with Terry who was in the middle of a "deal". She grabbed his bag and was chased by Terry onto the street where she ran out on the road and was hit by a car.
She was taken to hospital where her situation improved. Terry eventually went to see her, after expressing his guilt to Lou and the two made up and Karen forgave him.
In 1997 Karen and Terry's relationship ended after the pool competition where Karen was Terry's rival in the final round and she deliberately potted the black in order to let Terry win. Terry was enraged and refused to accept her apologies.
Ben was partially responsible for Terry and Karen's break up and also angered Terry by shadowing him everywhere as he had no friends of his own age. Eventually though, after Terry's outburst Ben made friends with Jack and Phillip and also worked quite hard to attract Terraise attention.
Brigid began to attract Terry's interest in episode 6 after he spent some time with her at the Grove after Leanne failed to meet her there. Terry managed to get Brigid to admit she still cared for Rob and he arranged a meeting for the pair outside McDonalds. Unfortunately there was a misunderstanding as to which McDonalds was the meeting place and Brigid was left alone waiting outside McDonalds, however Terry turned up to try and explain the situation and walked her back home after Brigid decided she didn't want to see Rob.
Brigid was totally humialated once the truth had been revealed about Alfie and Leeanne and she set off on a marathon run to clear her head. But, because she hadn't been eating properly she collapsed and was taken to hospital minutes after Terry, Rob and Terraise arrived on the scene.
On Brigid's return home Terry came to visit her and began showing an interest in her well-being that was above that of concern. After the disastorous party for her at the Grove the two started to have a heart-to-heart conversation but it was interrupted after Terry had to leave after Ben's accident. Rob took over and by the time Terry came back Rob and Brigid had decided to give their relationship another chance.
This, however didn't stop Brigid from inviting Terry to the cinema with them and on the night of the sleepover, Brigid "accidentally encountered" Terry on the roof. After they shared a kiss, it became evident to them that they'd have to sort the situation out.
The pair met frequently and aroused Rob's suspiscion when he saw them together on a bus. Brigid's double relationship came to an end after she realised that Terry was unsuitable for her when he brought Rob along to their arranged meeting at the Newcastle college open day.
Terry had also starting his bike repair business with Rob and began supplying the others will bike parts that he'd "acquired" illegally on the Bike Track.
Brigid tried hard to build on her relationship with Rob, but was constantly under threat from Terry who threatened to tell Rob about their relationship. Rob and Terry went to the Bike Track where Terry stole other kid's bike parts whilst an unknowing Rob cycled around. Eventually Rob and Terry were chased by some BMX bikers, Terry managed to escape and left Rob to face the music.
After the inevitable beating, Rob arrived at the Grove where he searched frantically for Terry. On finding him the two fought, so that Rob was beaten up twice in one day. Rob and Brigid's relationship improved after Terry left home to avoid the BMX bikers, and she admitted her relationship with Terry and they agreed to put it behind them and look to the future.
Terry had no option but to flee Newcastle after the BMX bikers arrived at the foster home after Rob had given them the address. Luckily, Terry wasn't alone for long as he met up with Flora and the pair became close after spending the night in the caravan.
However, his new relationship with Flora offered little comfort as Flora's headaches grew progressively worse and Flora was rushed into hospital after suffering an epeleptic fit; it was discovered that Flora was suffering from a brain tumor.
However, Flora didn't let the cancer beat her without a fight and she began a course of varied treatments in the hope of slowing down the development of the tumor.Terry supported and encouraged Flora to keep her morale high, but it was too late and Flora met her death with dignity after arranging her Funeral party with Alfie at the Grove.
Rob later forgave Terry in light of the troubles with Flora and helped Terry break into the shop where Flora's personal things were being stored.
Terry also offered advice to Karenwho felt hurt that her mother cared more about her "good causes" than of her, but after talking to Terry at Flora's funeral she joined her mother's side at the protest.
It is posible that Chris Woodger will make a minor guest apperance in the 1998 series of Byker Grove as a final conclusion of his character.