Tour of the Grove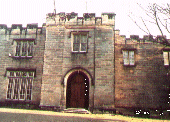 Front Door
The front door of the building isn't actually used as the real front door - it's used for scenes involving arrivals and departures. The Security Office/Reception situated at the side enterance is used as the Front Door.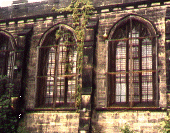 The Chapel
The chapel was a later addition to the site, built some time after 1453. It doubles as the games room and for scenic construction. It's also the place where party scenes are shot. To the rear of the chapel is the scene room where many of the smaller sets, such as the cellar, are built using "flats" which can be quickly put together for - and quickly folded away for storage after use.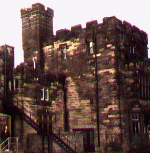 The Tower
The orignal part of the building dating back to Roman Times. All the production offices are located on the first floor.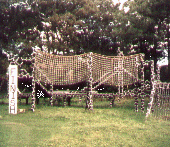 The Adventure Playground
The Adventure Playground provides a backdrop for the rear exterior shots of the Grove.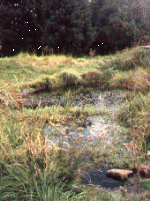 The Pond
The props department used so many frogs while shooting a scene with Spuggie they decided to build a pond in the Byker Grove grounds to rear TV trained frogs in case they're needed again!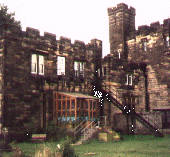 Rear Exterior
Behind the conservatory is the General Room, the place where most things happen in Byker Grove. It has a set built within the actual walls - the windows are dummies with painted backdrops representing the exteriors. This is to avoid complications of matching interior and exterior lighting conditions.