PICKETT-HAMILTON FORT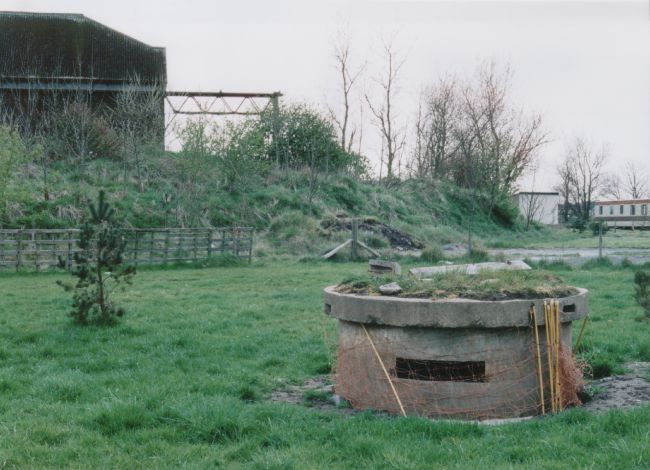 The idea behind the Pickett-Hamilton fort was that of surprise. Designed to be manned by two gunners (although in pre-hydraulic operation it took four men four seconds to raise the fort to its operating position), the whole affair was lowered into the ground and accessed by the drain-like hatch in the roof. It would be raised in the event of an attack, - or so the theory goes. In reality, manning such a device would have been near impossible when flying ops were "on", as the two or three forts planned for aerodrome installation would disrupt the aircraft in action.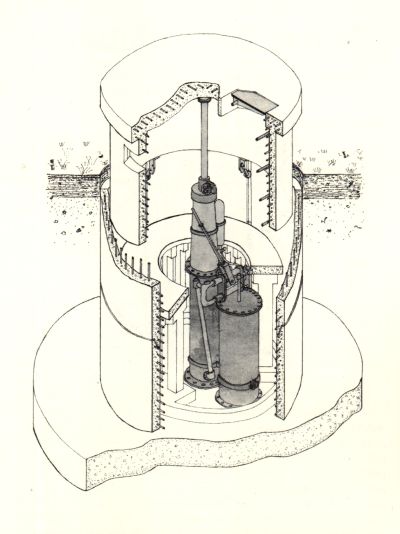 The cutaway sketch on the right illustrates the mechanism by which the PH fort is operated. The hydraulic unit - adapted from a proprietary garage lift - sits on a concrete bed, and is operated by a lever at gun- level. The hydraulic unit superseded an earlier, purely mechanical mechanism.
Records show 335 Picket-hamilton installations completed at aerodromes all over the UK, by which time they had been decreed useless by Bomber Command! Each PH fort cost approximately £240 to build. Although maintained ready for use, in March 1942 resources (personnel, armaments) were officially re-allocated to other means of aerodrome defence. Further problems included the possibility of having to ferry ammunition into the fort across a potential battleground, and - more mundanely - the natural ability of the PH fort to act as a sump; continuous pumping being required at many installations.
This particular PH fort is behind hangar "C1", adjacent to the Silloth Lido holiday village.
---