NEWLANDS SCHOOL & SURROUNDING AREA LOOKING SOUTH-WEST.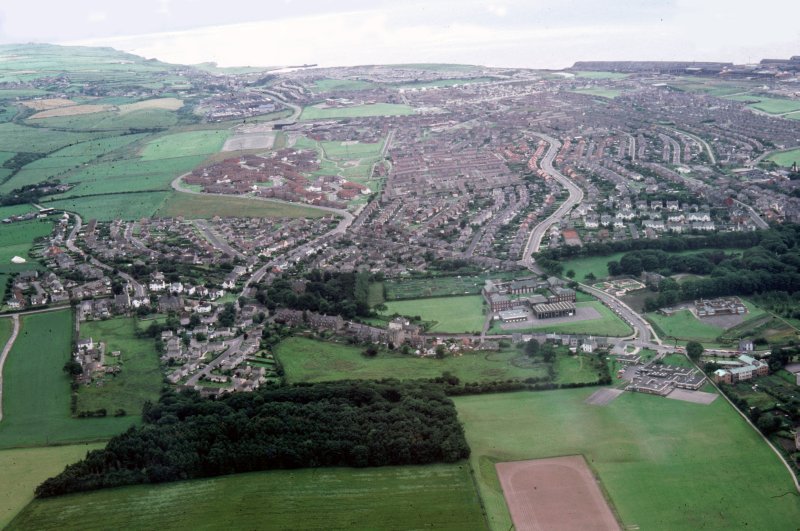 Starting from the LHS centre of the picture (and going clockwise), one can make out Ellerbeck woods - or 'Poor House woods' at the end of Ellerbeck lane, with the extreme LH of the picture bounded by the road in to Schoose Farm. The houses of Chaucer road, Milton drive and Moorfield avenue fill in between Ellerbeck lane and Ashfield road. Beyond Ellerbeck, Low and High Harrington merge, with Harrington Marina visible, including the old WWII 'magnesite' plant pumping station.
Low Harrington and Salterbeck are picked out with the sea behind, ending at Moss Bay. The reservoir at the end of Poole road is full, and can be made out immediately below the southern tip of the slag-bank. This reservoir once provided cooling water for the Moss Bay furnaces. Further over, the sleeper mill and rail-bank still work away, maintaining Workington's tenuous foot-hold in the steel industry.
The housing conurbation at the top RH of the picture is Annie Pit, working up-hill (literally!) left towards the centre of the photograph via Wastwater avenue, the old C & W railway line, Grasmere, Elterwater and Ullswater avenues leading on to Moorclose. Below Annie Pit is Banklands and Bankfield road, with the distinctive white houses of Eldred road (probably named after one of the Curwen family, Eldred Arthur Curwen, son of Alan De Lancy Curwen) running horizontally across the picture. These houses were built by the Distington Engineering Company at Chapel Bank to house their managers. Chapel Bank workers were housed at Westfield, in the area below and slightly to the left of the Moss Bay reservoir.
Below Eldred road is Bankfield woods, then Ashfield Infants' School between the woods and the High street. Ashfield Tennis Club courts can be made out just behind the trees of Bankfield Woods and to the immediate left of Newlands lane, in front of Allan court, the little enclave just off Eldred road.
At the junction of Newlands lane and High street can be seen the old people's home with its distinctive verdigrised copper roof, which is to the RHS of Ashfield Junior School. Ashfield Schools were built to replace St. John's School, which - along with the heart (and soul) of the town centre - was demolished and redeveloped in 1968 / 69.
The foreground of this photograph is made up of the Grammar School sports pitch (hockey and athletics) and Schoose Woods, where many a happy hour was spent as a boy. The housing development 'Ashfield Gardens' abuts on to Schoose Woods, emerging on to High street just below the 'Travellers' Rest' Public House.
---
Return to the Newlands page.