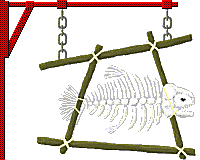 The Drunken Hake
---
Name of the Inn
The Drunken Hake
Location of the Inn:
Just north of Caer Arathel and the Arathel Common
Settlement:
Arathel, Orbaal
Propieter's name:
Liam of Plearat
Size:
8
Quality:
****
Price:
high
Number of floors:
2
Construction material:
Timber
Roof material:
Thatch
---
On this page: Introduction | Description of building | History | Business | Rate of charges | Bar tariff | Menu | Layout of the Inn | Ground Floor | Loft | Cellar | Liam: Owner | Colleen: Cook | Rhys: Freq. Guest
---
"The best inn in Arathel, patronised by Jarin and Ivinian alike. Liam is notorious for his inexhaustibly creative inventory of obscene invective, to which he treats all patrons, regardless of their rank. His equally fearsome reputation as a brawler dissuades most people from taking offence." Castles of Orbaal, p. Arathel 3
Arathel is not on any significant trade routes, but it is the first "civilised" landfall and shipwright facility for Ivinian longships making the long and dangerous journey back from Golotha. The population, an uneven balance of many Jarin and a handful of Ivinians like that found all over Orbaal, is less tense than their more easterly neighbors as a result of Valhakar Tursi Cyeen's policy of tolerance and opportunity. Cyeen, himself borne of a Jarin mother, believes the energies of Ivinian and Jarin alike are better directed toward survival and commerce. Arathel has a surprising number of children of mixed Jarin-Ivinian parentage, a phenomenon rare in racist Orbaal. Arathel is detailed in the Columbia Games publication Castles of Orbaal, #5022.
The building is tall for Arathel, at two stories. The upper story overhangs the lower by about five feet to the north and south. The building is solidly built of fir timbers. The Inn has a few small unglazed windows with small wooden shutters. The main entrance is through a heavy fir-panelled door which faces Northwest, while a smaller door leads out the opposite wall from the kitchen to the garden plot.
Through most of the year there are few patrons at the inn, and the upper story is closed off. Every fall, however, the annual Thing, or Arathel justice-moot brings commoners, criminals, lawspeakers, supplicants, and the inevitable vendors to town, and the Drunken Hake becomes a hive of raucous Jarin activity for a full tenday. The rest of the year, the most common visitors to Arathel are Ivinian traders, who prefer to stay at the rival Haakapik, just a drunk stagger away.
The Plearat clan have held this inn for three generations now, during which time much has happened. When Liam's grandfather built the inn in 668, Arathel was an isolated island outpost of old Jarin blood. In 673, Jurri Canjarl arrived with five warboats and Arathel fell without a battle when the Jarin clanhead Brela Merovyne fell before Jurri in single combat. Since that day, the Canjarls have stayed, and over the years have mingled with the local Jarin population, and Arathel and the inn have grown with the sea trade.
Liam is a lout, but his long-suffering wife Colleen is a fine cook who keeps the customers coming in. The Drunken Hake is known for its namesake dish, an otherwise dull flatfish that attains culinary immortality after Colleen poaches it in Liam's cyser (a mead made with apple cider and honey) and serves it in a trencher of home baked oatbread.
Virtually all of the local Jarin frequent the Drunken Hake, but it is not unknown to the Ivinian and mixed-blood locals of Arathel and the surrounding villages. The Drunken Hake is the sometime home of travelling bard Rhys Tellyn, who keeps the local Jarin abreast of news that might be forgotten or ignored by Ivinian travellers.
It is also the place where the local elders tell their tales to the next generation, an activity known and tolerated by Valhakar Tursi Cyeen, who knows the stories will be told one place or another. He does, however, often and vocally request that storytellers stick to tales of Albarra slaying gargun, and leaving the Ivinians to get along in peace. The climate of intense Jarin-Ivinian tension so prevalent elsewhere in Orbaal is nearly absent in Arathel; Jarin and Ivinians have equal taxes and the Jarin have a voice in an advisory council to the Valhakar.
Liam and Colleen sleep downstairs and their three youngest boys (Fergus (12), Connor (10), Declan (8) and Padraic (5)) sleep in the kitchen. The oldest boy, Matty (16) is apprenticed to the woodcrafter Mikhyl, and has his eye on Helga Kurn, only daughter of Jarri Kurn of the Haakapik. Matty sleeps at Dulain's house so he can be ready for chores the moment Mikhyl needs him.
| | |
| --- | --- |
| Sleeping wherever you can | 1d / night |
| Sleeping upstairs in the off-season | 8d / night and a successful Rhetoric roll |
| Provision of water jug and bowl | free if they have one convenient |
| Provision of a blanket or a pillow | 1d each |
| Provision of a candle | free if they have one convenient |
| Storage in Liam's locked chest | 1d / night |
(All drinks are served in finely crafted cattle horns of varying sizes approximating a pint. There is no way to set one down without it spilling; there may be a market here for glasses of a southern variety.)
| | |
| --- | --- |
| Merovyne Cyser (a mead made from apple cider and honey) | 1d / horn |
| Dark and Stormy Stout | 1d / horn |
| Sitting Bee Cider, very sweet | 1d / horn |
| Hrothgar's Dry Mead, from the Mossy Hru, Wethom | 1d / horn |
| Arathel Dry Rye Ale | 1d / horn |
| Buttermilk | 1d / horn |
(You don't actually get to choose from a menu; you get whatever Colleen made today. During the Thing there are 1-3 items available, all other times roll 1d10:)
| | |
| --- | --- |
| Colleen's Drunken Hake | 1d |
| Liam's Drunk Again (The leftover Hake fried up and splashed with a bit more cyser) | 1d |
| Mussels and Dry Bread | 1d |
| Lamb Stew and Oat Bread | 1d |
| Fish 'n Brewis (Salt cod cooked up in fatback with hardtack, a Jarin favorite!) | 1d |
| Braised Brisket and Rye Bread | 1d |
| Hunter's Goose (Goose roasted, then layered with white beans, mushrooms and herbs) | 1d |
| Ploughman's Special (Assorted cheeses, pickles, and breads) | 1d |
| Cidered Ham and Baked Beans | 1d |
| Grilled Salmon | 1d |
The main floor is just a great hall with trestle tables and benches of mismatched sizes on a floor of fir planks. In the middle of the main hall is a stone fireplace below a smokehole high up in the peaked thatch roof. The fire is often not lit, as hardwood is scarce on the island and the more common pine throws too many sparks to make anyone comfortable under a thatched roof. Charcoal is used in the winter, but the (relatively) warmer summer months often see the fireplace cold for weeks at a time. Visitors are encouraged to buy some of the fine locally made Jarin woollen sweaters and blankets.
At the south end of the main floor is the kitchen, with its own stone firepit and chimney, and separated from the main body of the inn by a central door in a fir-panel wall against which rest the casks of ales, cider, and mead on a stout table. Drinking horns hang from knotted straps above the casks.
Above the main floor are two long lofts running north-south on either side of the fireplace on floors of fir planks. Smoke from the fire sometimes collects up here on stormy nights, but the ceiling is pitched high enough that it is not usually a problem for guests. The lofts are ordinarily only open during the annual Thing.
Below the kitchen there is a cellar with a 6-foot ceiling running the width of the building and north for half the length of the building. A crawlspace extends beneath the floor of the other half of the building, interrupted by the long parallel timbers which support the inn floor. The cellar is where all the inn's food is stored: great stoneware urns filled with brine and pickled meats and vegetables, dried apples hanging on linen threads, cabbages and onions on pine shelves, whole hams hanging from the ceiling, salted fish in pine boxes, 50-pound sacks of rye, oats, and barley on flagstone benches, 16-gallon casks of vinegar, cider, mead and ale, and sometimes some local cheeses wrapped in linen, all in a disorderly jumble of gastronomic ecstasy. During the long winter, the cellar is plagued by mice, so all stored food is protected as best they can, but there is always a chance of spoilage.
NPCs
Name: Liam of Plearat
Sex: Male
Age: 44
Occupation: Innkeeper, brewer, and brawler
Guild Status: Who knows or cares? We're on the edge of nowhere!
Class: Not much
Appearance: Squat and powerful, with a sloped brow and bushy red hair
Clothing: Bluish coarse linen tunic, with white embroidered borders
Equipment: An unruly child, or leg of lamb
Weapons: Jarin hospitality
Personality: Gregarious, lecherous, party animal
Home: Right here
History: A local all his life, and always will be. Loves Colleen and would never leave her.
Skills: Brewing, Brawling, Fiddle, Singing badly
Combat: Get in there and 'old 'im, t'row da bum out!
Remarks: You were expecting Lionel Barrymore maybe?
---
Name: Colleen
Sex: Female
Age: 40
Occupation: Brilliant cook, the brains of this outfit
Guild Status: None
Class: Free
Appearance: Heavyset and harried, but self-confident
Clothing: Bluish coarse linen tunic, with white embroidered borders
Equipment: A wooden spoon
Weapons: Jarin hospitality
Personality: Romantic, stares at sunsets, talks to Doreen (the cow)
Home: Right here
History: A local all her life, and always will be. Loves Liam and would never leave him.
Skills: Cooking, Poetry, Singing
Combat: "Liam! There's a gentleman here to see you!"
Remarks: Colleen is a devoted wife and mother, and a devout Ilviran. She thinks Tursi Cyeen is a great and just man. She worries about Matty's future.
---
Name: Rhys Tellyn
Sex: Male
Age: 54
Occupation: Travelling bard and local Trehaen
Guild Status: N/A
Class: Free in Arathel, wanted in Geldeheim, Quimen, and Lorkin
Appearance: A bit paunchy
Clothing: White woollens with brown trim and brown leather floppy hat
Equipment: Quarterstaff and barncat "Chuff"
Weapons: Sharp wits
Personality: Open handed, friendly, easy talker, quick wit
Home: Arathel and the road
History: Learned young who's in charge of Jara, works to keep hope.
Skills: Storytelling, Amusing children, Jarin Lore, Quarterstaff, Heraldry, Ivinian law
Combat: Fights with his wits and his words
Remarks: More important in maintaining Jarin cultural identity than the locals know. He keeps an uneasy peace with Tursi, who respects his goals but does not actively support them.
---
Copyright John D Sgammato, 1997