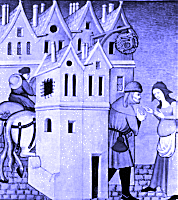 "Inns of Harn"
Project
Posting Inns
Last updated: 05/05/98
---
This page contains links to the various documents which make up the the "writers" pack for guidance on inn and tavern submission
Writer's guide line: This document gives the rational behind this site and also is the guide line for writers who wish to submit material. Please read.
Html Blank Inn template: This is a template recommended for the creation of taverns and inns which contains standard headers and sample html code.
Non-html Blank Inn template: The same document in without the html code.
Please see the writers guide and the example inn for further information. A text file with a few hundred random names is also posted, but please choose the names randomly, don't just take the first few.
I've been asked to provide further ideas about the sort of things that might appear in the "Standard Information". I havn't had time to write a proper document, but this is a extract from part of one of my Eshaven files which I hope will be something of a stop gap measure.
Generic maps: This page contains links to eight tavern and inn maps (in .gif format). These maps can be used as a basis for describing a submitted inn (see writers guide line) [This section will not be up before 3rd March]
All submitted materials herein remain the respective copyrighted works of the individual authors. The name "Harn" and all related names published by Columbia Games are registered or unregistered trademarks of Columbia Games, Inc. of Blaine, Washington, USA. No part of this site may be reproduced for profit without the express written consent of the author and Columbia Games Inc. (CGI), and Harn creator N. Robin Crossby. No intention to break existing copyright is intended by this site.
---
Copyright ©1997-98 Jonathan M.Davidson

and John Sgammato
, 05/05/98