!TITLE SECTION>

Document Summary
---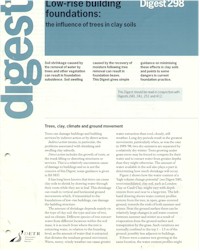 Low Rise Building Foundations: the influence of trees in clay soils.
BRE Digest 298
---
This guide offers simple guidance on minimising the effects of vegetation on clay soils. It describes the relationship and the processes at work between trees, foundations and shrinkable soils. BRE298 should be read in conjunction with BRE240 & BRE241- Low Rise Buildings on shrinkable clay soils, BRE251- Assessment of damage in low-rise buildings and BRE412 - Desiccation in Clay Soils.
BRE 298 has sections for the following:-
Trees, clay, climate and ground movement.
Proximity of trees to buildings.
Damage to Buildings.
Trees in relation to existing and new foundations.
Existing Buildings.

New Tree Planting.
Existing trees.
Tree Older/Younger than Building.

New Buildings.

New Tree Planting and existing trees.
Safe distance.
Design & depth of Foundations.

Preventing Heave Damage to Trench Fill Foundations.
Root Barriers
BRE298. A4 sized, 8 pages. ISBN 1 86081 278 3. Published in 1999 and available direct from the The Building Research Establishment.
---
© 2000 Chris Skellern. AIE. Home | News | A-Z Index | Resources | Contact AIE | Terms of Use