!TITLE SECTION>

Book Summary
---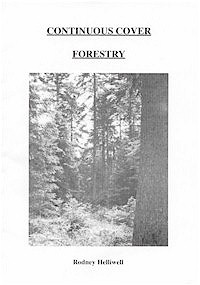 Continuous Cover Forestry
Rodney Helliwell
---
During 1999, Rodney Helliwell produced a small booklet describing the concept and practice of Continuous Cover Forestry (CCF). This introductory booklet is still available from the author and is especially recommended for those that are new to the subject of CCF.
The booklet is divided into the following paragraphs:
Concepts in forest management.
Objectives
Tree Species
Possible Problems and Constraints.
Yield Control.
Transformation of even-aged Woodland to Continuous Cover.
Obtaining Natural Regeneration.
Glossary.
Appendix 1: Extract from sample plot, Schallenberg.
Appendix 2: Characteristics of CCF in Southern Finland.
Continuous Cover Forestry (CCF). Published 1999. A5 sized booklet, 24 pages.
Available direct from Rodney Helliwell. Send cheque or postal order for £3.00 (£3.50 outside UK) to:
Rodney Helliwell, Yokecliffe House, West End, Wirksworth, Derbyshire, DE4 4EG. England.
---
© 2000 Chris Skellern. AIE. Home | News | A-Z Index | Resources | Contact AIE | Terms of Use