!TITLE SECTION>

Book Summary
---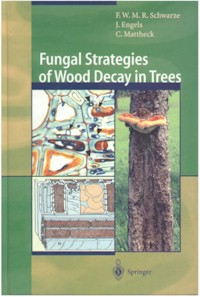 Fungal Strategies of Wood Decay in Trees
by F Schwarze, J Engels & C Mattheck
---
Based upon new and original research, 'Fungal Strategies of Wood Decay in Trees' offers the reader detailed information on the examination and effects of the most important species of fungi associated with failure of infected urban trees.
Section 1. Introduction.
Section 2. Fundamental Aspects. Wood Anatomy, Cell structure, mechanical model for wood, types of wood decay, rots.
Section 3. Examination, Importance and Mechanical Effects of Wood-Decay Fungi in the Living Trees. Fungus identification, reproduction, classification of fungi, colonisation strategies, fungal species, symptoms of damage, individual sections for each principle wood decay fungus.
Section 4. Host-Fungus Interactions: Development and Prognosis of Wood Decay in the Sapwood. CODIT, host response mechanisms, response mechanisms in heartwood, Importance of the CODIT walls, reaction zones, examples of strong & weak compartmentalisation, Xylem rays, importance of the barrier zone.
Fungal Strategies of Wood Decay in Trees. 186 pages. Colour photographs and diagrams. ISBN 3-540-67205-2. Published in 2000 by Springer.
---
© 2000 Chris Skellern. AIE. Home | News | A-Z Index | Resources | Contact AIE | Terms of Use