!TITLE SECTION>

Book Summary
---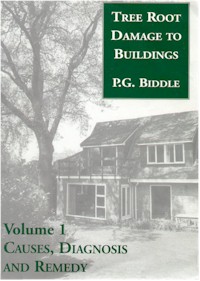 Tree Root Damage To Buildings
P.G. Biddle
---
This book discusses the complex subject of trees in relation to buildings. It provides a comprehensive analysis of how the interaction of trees, soils and water can cause foundation movement and damage to properties. Chapters 2, 3, 4 and 19 offer an excellent general introduction to tree & root physiology, soil structure and trees and the law.
The book is divided into two volumes, and can only be purchased as a complete set. A description of each chapter is available on the Willowmead website (see link below).
Volume 1. Causes, Diagnosis and Remedy
Introduction
Chapter 1. Introduction
Chapter 2. The Tree
Chapter 3. The Root System
Chapter 4. The Soil
Chapter 5. Seasonal Changes in Soil Moisture Content
Chapter 6. Persistent Moisture Deficits
Chapter 7. Interaction Between Trees and Buildings
Chapter 8. Influence of the Weather
Chapter 9. Comparative Effects of Different Species, and of Individual Trees and Groups
Chapter 10. Other Forms of Damage by Tree Roots
Chapter 11. Strategy for Investigating Damage
Chapter 12. Site Investigations I) The Building
Chapter 13. Site Investigations II) The Soil
Chapter 14. Site Investigations III) The Tree
Chapter 15. Monitoring Building Movement
Chapter 16. Heave and Recovery - Diagnosis and Prediction
Chapter 17. Remedial Action After Damage
Chapter 18. Prediction and Prevention of Damage
Chapter 19. The Legal Framework
Chapter 20. A Revised Role for the Professions
Volume 2. Patterns of soil drying in proximity to trees on clay soils.
Results of three projects designed to determine the patterns of soil drying.
Includes description and use of the Neutron Probe.
Tree Root Damage To Buildings by P.G. Biddle. Volume 1: Causes, Diagnosis and Remedy. A4 size, 376 pages. Colour photographs, diagrams etc. Volume 2: Patterns of Soil Drying in Proximity to Trees on Clay Soils. A4 size, 300 pages. Colour photographs, diagrams etc. Two Volume set. ISBN 0-9533086 0 X. Published in 1998 and only available from Willowmead Publishing Ltd, Icketon Road, Wantage, OX12 9JA.
Link to Willowmead Website. Reviews, chapter descriptions, subsidence news.
---
© 2000 Chris Skellern. AIE. Home | News | A-Z Index | Resources | Contact AIE | Terms of Use