!TITLE SECTION>
Document Download
---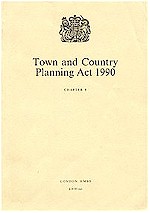 Town & Country Planning Act (c.8) 1990.
This Act of Parliament is available as a bound document direct from the HMSO. Alternatively the contents can be viewed directly on the HMSO web site. However, the terms of copyright allow for the reproduction of this document in any form providing the contents are not changed and its source is acknowledged.
So, as a service to arboriculturists parts of this document is now available as a Microsoft Word file for direct down load from the AIE site and subsequent printing on your own printer. Please note that only the sections relevant to trees have been converted and that this file is over 50kb in size so will take 1-2 minutes to download.
Click here to visit the HMSO On-Line Document: Town & Country Planning Act 1990.
Click here to Download part of the same document as a formatted MSWord file. Download MS Word version. Once this file has loaded into your browser use File-Save to save it permanently to a folder within your hard drive.
---
Last file update : 6th January 2001
---
© 2000 Chris Skellern. AIE. Home | News | A-Z Index | Resources | Contact AIE | Terms of Use