!TITLE SECTION>
Deep in the Savernake Forest
---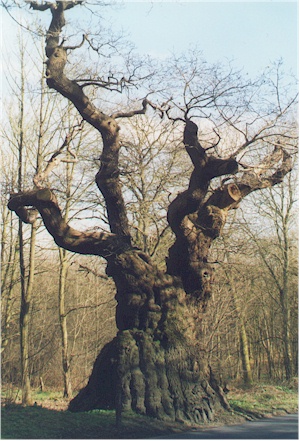 Like a great lumbering triffid this ancient Oak tree (Quercus rober) was spotted wandering along the A346 road approximately 3 miles south of Marlborough, England.
The photographs were taken within a section of woodland called the Savernake Forest which contains a mixture of tree species and a number of ageing veterans.
The circumference of the tree measured 10.8m (at a height of 1.5m, March 2000).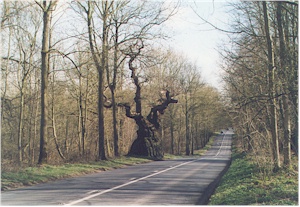 Ganoderma fungal fruiting brackets and cavities can be found in several places. Foliage is scarce and judging by the pruning wounds its encountered some form of reduction process.
A little management on the neighbouring trees would provide an increase in light and space for further growth.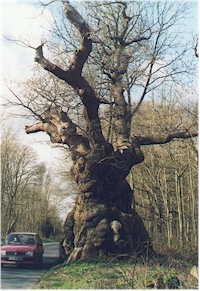 It will be interesting to see how the highway engineers deal with its encroachment into the road in years to come.
---
© 2001 Chris Skellern. AIE. Home | News | A-Z Index | Resources | Contact AIE | Terms of Use