!TITLE SECTION>
Tar Spot (Rhytisma acerinum)
---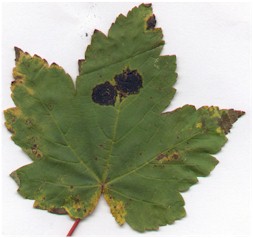 Common Name(s):

Tar Spot

Scientific Name(s):

Rhytisma acerinum

Type:

Fungus
---
Principle Host Trees & Shrubs

:

Sycamore and other Maples (Acer species).
---
Description, Development & Diagnosis:
The fungus overwinters on fallen leaves. Fresh spores are produced in Spring which have a sticky coating. The spores attach themselves to the new leaves as they form. A raised, shiny black spot appears on infected leaves.
---
Significance:
Common. Can cause premature leaf drop but the vigour of the tree is rarely affected. Rarer in cities due probably to fewer fallen leaves left under trees.
---
Control:
Generally unnecessary. If a problem on ornamental species dispose of fallen leaves in Autumn to reduce spore levels in Spring.
---
© 2001 Chris Skellern. AIE. Home | News | A-Z Index | Resources | Contact AIE | Terms of Use