Okey, so it's great that you have your own taste in music and moviestars, etc. and you definitely should not model your opinion after what someone else thinks. But before you, during your once in a lifetime chance to talk to Shirley, go up and ask her "So what do you think of my other favorite band SPACE?" you might want to take a look at this list. It could save you from getting smacked over the head by Rita the guitar... (This list is obviously by no means complete)
Garbage likes:
Chrissie Hynde and Siouxie Sioux - Big role models for Shirley when she was growing up.
Frank Sinatra - "There is no one like him!" - Shirley, The Face, February 1998 (and on countless other occasions) "Queer" is dedicated to him.
Roxy music - Big influence for Butch. He used to hold weekend Roxythons...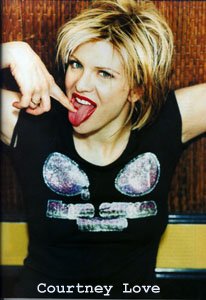 Courtney Love - "I talk about her too much, but seeing as she's the equivalent of 50 average people it evens out. How could anyone not worship the woman?" - Shirley, Select, May 1998 (as well as in countless other articles)
Tricky - "We're huge fans of Tricky. We hung out together in New York and he turned out to be the total opposite of what we expected: he's very gregarious and funny, and really wise." -Shirley, The Face, September 1996 (Plus they remixed Milk together with him so that should tell you something...)
The Beatles - "The Beatles are still the standard by which all other bands are to be measured." From Garbage Zone #1
Fun Lovin' Criminals - Butch has played this [the Scooby Snacks remixes] so much that Steve tried to bribe him with $100 to stop playing it. He refused." - Garbage Zone #1. The bands have also done remixes of each others songs (Korean Bodega and You Look So Fine).
Billy Corgan - "Billy's a great songwriter and, contrary to popular belief, they [Smashing Pumpkins] have been sweethearts." - Butch, Juice magazine, October 1996
Radiohead, the Verve, Chemical Brothers - "I love Radiohead. I love the Verve's record. I love the Chemical Brothers, but what am I gonna bring to them? They're fucking way smarter than I am. I'm not gonna be able to do anything for them." - Butch, Raygun August 1998
Beck - "I love Beck. I did that remix for "Jackass" from the last album, and I'd love to be able to work with him, because I love his sensibility. I love what he's doing." - Butch, Raygun August 1998
U2 - "It was sci-fi millenium pulp at its best. I threw myself at Bono's feet. He's one sexy motherfucker." - Shirley, Details, September 1997
Chris Evans - "Another very complicated and, for me, poignant character. His public persona is this ultra-confident, obnoxious lad, but I think there's a lot more issues going on in Chris Evans. There's a total air of melancholy about him. He's a redhead, so I can't help but feel a certain compassion for him..." -Shirley, Sky magazine, August 1998.
The Beach Boys - "Because we all love the Beach Boys, we thought it would be 'cute' to sample them as a harmony." - Shirley, Hot press, May 13, 1998.
REM - "We went to see REM in Chicago, and they were absolutely brilliant." -Shirley, Pulse, May 1998.
The Carpenters - "There's actually a couple of Carpenters moments on the record [Version 2.0], I think; listen to the middle section of 'You Look So Fine.' We're unabashed Carpenters fans." - Duke, Pulse, May 1998.
Brad Pitt - "Brad Pitt came over and introduced himself to me. A)How the fuck does Brad Pitt even know who I am? And B) This is BRAD PITT, whose stomach I swooned over in Thelma And Louise. By God he was divine." - Shirley, NME, July 11, 1998
Tori Amos, PJ Harvey - Artists whom (along with Courtney Love) Shirley "feels an affinity". From The Telegraph Magazine.
Stephan Jenkins (Third Eye Blind singer) - "He's hot!" -Shirley in Spin, December '98.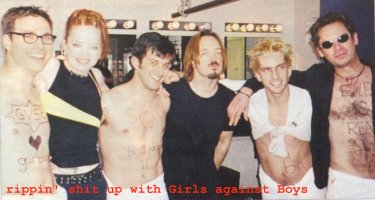 Girls Against Boys - This band opened for Garbage all autumn in the States (as if you didn't know!). "Damnů they are so good-looking." - Shirley in Select, February '99.
Alanis Morrisette - "Over time, I've become enamoured with what she stands for. She's a tremendous female role model, and she's given the male-dominated industry a real jolt." - Shirley in Rolling Stone.
Madonna - "Madonna is very smart, unbelievably smart, but somehow she never seems to be happy, that makes me sad. She is so talented and has such a sharp mind, but somehow she doesn't seem to be able to find happiness. I think she has emotional problems." - Shirley in Circus magazine
Jennifer Jason Leigh, Bridget Fonda, Cameron Diaz, Claire Danes, Holly Hunter, Gene Hackman, Adam Sandler, Tom Sizemore - Shirley's favourite actors of 1998 - Alternative Press
The Beta Band, Purity, and The Donnas - Shirley's pick as "Brightest hopes for 1999" - Alternative Press
PJ Harvey, Lauryn Hill - Shirley's picks for best recording artists of 1998 - Alternative Press
The Flaming Lips - Steve called their last album "beautiful" in a chat recently.
Garbage dislikes:
The Spice Girls - "Feminist designed by men is a bit of an oxymoron, don't you think?" - Shirley, Select, May 1998.
Chumbawumba - "What was it that someone did that was so terrible that the gods decided to inflict Chumbawumba on us? That record ['Tubthumping'] is like a curse on modern humanity. It's truly awful. That woman[Lou]'s vocal... that voice is like a fucking headmistress. It is Miss Jean Brodie! And that song's everywhere, all over the fucking world. You can see why the jocks have latched onto it in America. It's because it's so dunderheaded. It's just sweat, shorts, bad bloody hair, big teeth and... burgers! Horrible!" - Shirley, Melody Maker July 11, 1998.
Space - "I truly believe Space are the worst British pop group of all time. They're actually worse than Chumbawumba, which is quite an achievement. That bloke [Tommy Scott] has a voice so nerdy he wouldn't get into cartoons. He's horrible. The band's horrible. And their lyrics! 'Kick ass angels'. I tell you Tommy Scott, I'd like to kick your ass and I'm no angel." - Shirley, Melody Maker, July 11, 1998.
The Eagles, Steely Dan - "Now you have insulted us." - Duke, when a journalist compared Garbage to them. "I hate Steely Dan. I hate the Eagles." - Shirley, Pulse, May 1998.
Whitney Houston - They call her "Twitney".
Barenaked Ladies - specifically the song "One Week". "That drives me fucking crazy! That makes my toes curl! Rap, my ass." - Shirley in Spin, December '98.
Goo Goo Dolls - "Thumbs down. Can you please play something good?" - Shirley in Spin, December '98.
Hootie and the Blowfish - Shirley's pick for worst recording artist of 1998 - Alternative Press
The Backstreet Boys - "They are truly scary" - Shirley in Alternative Press
Dudley Moore, Demi Moore - Shirley's picks for worst actors of 1998 - Alternative Press
Some famous Garbage fans:
Chrissie Hynde, Debbie Harry and Siouxie Sioux - Some of Shirley's role models who have turned out to be big fans of her and the band. At Wembley Arena in January 1999, Chrissie Hynde came onstage and duetted with Shirley on Only Happy When It Rains.
Jamie Lee Curtis - Ran up and sang "Only Happy When It Rains" to them at the MTV Awards in 1996.
Echo and the Bunnymen - Wanted Shirley to sing backup vocals on their latest album.
Madonna - Went to see their concert in New York.
Courtney Love - Told MTV interviewer that Shirley was the best rock star there is right now.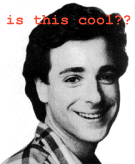 Cher - She said so at some point (I don't remember when or where).
Bob Saget -According to Butch, he is a huge fan of the band. He went to their concert in L.A. and Duke met him. The following conversation took place: Duke: "You're..." Bob: "Yes, I am." Wow.
Jean-Paul Gaultier - At the VH1 Fashion Awards in 1996, he introduced them as "one of my faaavorite groups". Then again, that might be what the tele-prompter told him to say...