Private - Rifle Brigade 1855.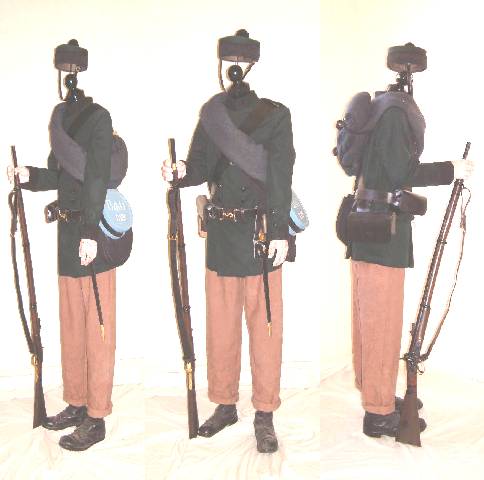 Click on image for full size
The rifle was a musket with a "rifled" barrel which was lined with twisted grooves to make the soft bullet spin and become more accurate. As a more expensive weapon than the smooth bored musket, it was available only to a few soldiers in the eighteenth century. On the continent the German Jaegers or French Chasseurs - the huntsmen of the rich nobility- were specially trained and wore the woodsman's traditional green costume
In 1797 a special battalion of riflemen was added to the 60th Regiment comprising about 400 men, and for the first time, a green uniform was worn in the British Army.
It proved a success and very quickly the green was adopted by riflemen in the other battalions
The success of riflemen in the 60th Regiment must have inspired the authorities to find a corps of riflemen. Thus in 1800 the Rifle Corps was formed from the 95th Foot and some other regiments. In 1802 it was renamed 95h (Rifle) Regiment and from 1816 until 1862 was called the Rifle Brigade
During the Crimea War the Brigade earned no less than eight Victoria Crosses
The uniform of all Rifle regiments has always been made of a very dark, almost black, (rifle)green material with black buttons.In 1855, as well as his new style double-breasted tunic, which replaced the coatee, our model is wearing the linen "sandbag" trousers which were issued as a working dress in the summer of 1855, together with a tunic of the same material. From the pictorial evidence of the period, the linen uniform seems to have been chiefly worn on working parties or off-duty. However, a water-color of Riflemen parading in the trenches shows the linen trousers being worn with the new rifle-green tunic. The waistbelt, shoulder belt, and various accoutrements are made in black leather and he is carrying his greatcoat "en-banderole" . He is wearing the undress Kilmarnock bonnet in Rifle green with a black woolen torrie. The rifle is the Enfield 3 band rifle with a black leather sling.

Thin Red Line
Thin Red Line, PO Box 65, Seavington, Ilminster, TA19 0WE. UK