---
The best in folk music and song every Thursday evening
OTHER INFORMATION
BIOGRAPHY OF RESIDENT SINGERS
WILL DUKE
Will Duke plays the anglo-concertina and sings, often in the company of Dan Quinn.
They made a CD called "Wild Boys" in 1996 ( copies still available!). This has been followed up by "Scanned". Will enjoys listening to English folk song and southern English tune playing, all from traditional sources. He is lucky to own and play a concertina once owned by Scan Tester. He gets to folk festivals when he can, sometimes as a guest with Dan, and occasionally plays in barn dance bands. He also plays on "The Tale of Ale" CD and (briefly!) on the "Etchingham Steam Band""CD.
---
Dan Quinn
---
DAN QUINN
Dan helped to form the seminal English country dance band Flowers and Frolics in 1976 and, with them, was resident as singer and musician at the Islington Folk Club at the Empress of Russia until the mid-eighties, enjoying Bob Davenport's eclectic booking policy. From the ashes of Flowers and Frolics arose the phoenix of Gas Mark 5, a band in which he played for five years before his re-settlement in Sussex.
He continued to play with Ken Lees and Sue Bainbridge from the Islington folk club days as The Dan Quinn Trio and, with additions to the line-up, as The Dan Quintet. He now plays in the dance band Used Notes and sings in a duo with Will Duke, specialising in unaccompanied unison singing. He has toured Sweden (with Gas Mark 5) and has performed at major British folk festivals from Shetland to Sidmouth. The CD "Wild Boys" by Dan and Will (HebeCD 001) is available fron Dan at 87 St Andrew's Rd, Portslade, Brighton BN41 1DD for £ 11 p&p.
The CD "Reformed Characters" by Flowers and Frolics is now available from the same address priced £12 inc p & p as is the new Will & Dan album "Scanned".
---
TINA SMITH
Tina has been involved with folk music for over 30 years, both as a musician and an organiser. She was co-resident and organiser at two London folk clubs in the mid-sixties and at clubs in Brighton, Isfield and Lewes from 1968 onwards. She was one of the organisers of the popular Lewes Folk Days and has been involved in many other Sussex folk events both as performer and organiser. She was one of the residents at the Coppersongs folk club in Peacehaven. Up until 1975 she was one of the founding presenters of the BBC Radio Brighton folk music programme, "Minstrels Gallery".
Tina sings and plays English concertina. She has been in two concertina bands - Nigel Chippindale's "Creepy Crawley Concertina Combo" and "The Dodgy Button Band". She has played in several barn dance bands including "The Lewes Band" and "Four Piece Suite". Her current band is "The Sussex Pistols" formed in 1992. This band has a cassette "No Fushias" available from Tina, price £ 4.00 plus 50p post and packing. Address on "Contact" page.
Apart from being resident performer at the Royal Oak in Lewes, she does a lot of behind-the-scenes work which contributes to the smooth running of this successful club. She can also be heard singing and playing the concertina at various sessions in the area.
---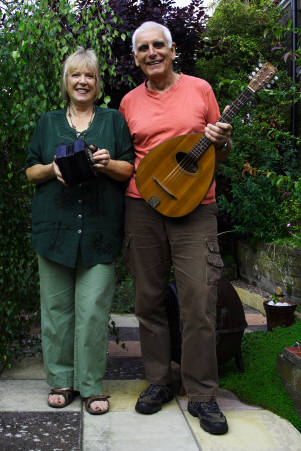 Vic and Tina Smith
---
VIC SMITH
Vic has been involved in folk music activities for more than 30 years as singer, folk dance band musician and caller, club, festival and event organiser, broadcaster, journalist, critic and writer and magazine editor Along with Tina, he has been running folk clubs in Woolwich, Blackheath, Brighton, Isfield and Lewes. The current very successful venture at the Royal Oak has been running since 1992.
He has played and called with a number of successful folk dance bands and for the last eight years he has been playing mandola and guitar with a very busy band, "The Sussex Pistols".
Along with Jim Marshall, he organises and edits "The Sussex Folk Diary" and has been doing so for over 30 years. Again in partnership with Jim, he was presenter/producer of "Minstrels Gallery" the weekly local radio programme which catered for folk music enthusiasts in the south of England for 25 years. He writes for a range of folk and traditional music publications including "Musical Traditions" and "Folk Roots".


---
GUESTS AT THE ROYAL OAK DURING 2004
The Copper Family celebrating Bob Copper's 89th birthday

Claudia Gould & Ben Paley

Martyn Wyndham-Read, Iris Bishop, Garry Holder & John Dipper

Kathleen O'Sullivan, Joe Whelan, Liam O'Farrell & Reg Hall

Ian Kearey

Peta Webb, Ken Hall & Simon Hindley

Martin Carthy & Chris Parkinson

Judy Cook

Abdul Tee-Jay

Tony Hall

Gordon Tyrrall

The City Waites

Joe Whelan, Liam O'Farrell & Reg Hall

Tam Spiers, Arthur Watson & Peter Shepheard

Bayou Seco

Pete Morton

Bing Lyle

Michael Marra

Jim & Lynette Eldon

Shirley Collins presents "America Over The Water"

Sara Grey & Kieron Means

Dick Gaughan

Oliver Mulligan & Brendan McGlinchy

Bob Lewis presents "Songs We Used To Sing"

Jon Boden & John Spiers

Rosie Davis

Andy Turner & Mat Green

Jim Ward

Kevin Barber & Mark Taylor

Kevin & Ellen Mitchell

Andy Irvine

Karine Polwart

John Foreman

Jim Woodland

Anna Tabbush

Roger Brasier

Roisin White

Alison McMorland & Geordie McIntyre

Rattle on the Stovepipe (Dave Arthur, Pete Cooper & Chris Moreton)

James Fagan & Nancy Kerr

Pete Morton's "To Be A Farmer's Boy" Christmas Show