If You're All Going To.....
(The WALOC Guide To Away Travel)
Routes, Pubs and anything else I can think of!
Bournemouth - Saturday 18th October
Route to Bournemouth
With thanks to the Jon Ladd book "Guide To Football Grounds"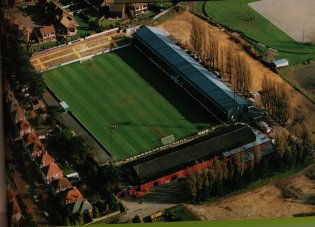 By Car
(from North)
M1 to M25. M25 to Junc 12 then onto M3, M3 to M27, and then A31. From the A31 join the A338 to Bournemouth. Turn left off the A338 at the Kings Park exit - signposted "Football Traffic". Take the first left off the mini roundabout into Littledown Ave (do not take the exit signposted Kings Park and Parking), then turn immediately right into Thistlebarrow Road. The ground entrance is at the bend of the road.
Parking
There is street parking around the area, and several large car parks round the ground, try and avoid the South Stand Car Park, it makes Sixfields seem quick!
By Train
Bournemouth Station is the nearest, but its quite a hike to the ground which is situated in Boscombe
Away Enclosure
Beach End Terrace. Open ended terrace which holds approx 2600. There are about 150 seats available for away supporters in Block A. If I remember correctly the fence has been taken down.
Pubs
If you can blag your way into the Social Club, then go for it. It is a regular in the Good Beer Guide. There are other pubs in the vicinity and they seem to be OK towards away fans.

Our Record At Bournemouth:
P40 W7 D12 L21 F39 A74
Wins at Bournemouth November 1st 1924: 2-1, Needham, Pease; Att: 2000 December 6th 1930: 3-1, Wells (2), Bowen; Att: 4850 September 29th 1934: 1-0, Boyle; Att: 3641 April 8th 1950: 2-1, Dixon, Mitchell; Att: 12540 August 23rd 1952: 1-0, English; Att: 14771 April 11th 1955: 1-0, Newman; Att: 8759 April 20th 1968: 2-0, Fairbrother, Brown; Att: 6148
---
Links To Bournemouth Sites
---
Return To WALOC Start Page