Alexander Pope and Pope's Grotto now feature on The Twickenham Museum website.
Alexander Pope in Twickenham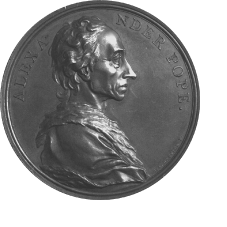 Alexander Pope's life and interests still claim wide attention, yet only recently have the origins of his VILLA, his GARDEN and his GROTTO been explored in detail. No longer does myth have to be embroidered by invention.
Using contemporary records, the shape and size of the villa have been established, showing how it displaced earlier dwellings, transforming local artisan life. The garden was created out of various pieces of land in several ownerships deriving from ancient manorial tenure. Its shape and size was determined by the topography of the mediæval open field system. The grotto, its actual position and changing extent has now been surveyed and its development analysed, both in Pope's lifetime and subsequently.
Work continues towards a detailed identification of the mineral and geological material which adorned the grotto. Over 130 specimens of material have been recorded: a unique collection. Much of this remains today, though much has been removed in the past to other collections.
If anybody knows where souvenirs from Pope's grotto are kept today I should very much like to hear.
Anthony Beckles Willson
There are four current publications available at The Twickenham Museum or from the address given below.
Mr POPE & OTHERS, at Cross Deep, Twickenham in the 18th Century, Anthony Beckles Willson, 1996. 154 pages, 19 maps and plans, index.
Pope's neighbours are described: both Trade and the Quality. Later residents nearby included Henry Fielding, Samuel Scott and Thomas Hudson the painters and William Hickey. Horace Walpole was very conscious of the long shadow cast by Pope.
£15.00 collected or £16.50 mailed in the UK; £20.00 mailed worldwide.

ALEXANDER POPE'S GROTTO in Twickenham

, Anthony Beckles Willson, 1998, The Garden History Society & The Twickenham Museum. 36 pages, 16 illustrations and plans.
How Pope created a classical nymphæum and later converted it into a museum of mining and mineralogy.
£5.00 collected or £6.00 mailed in the UK; £6.50 mailed worldwide.

MASTIFFS & MINERALS in the life of Alexander Pope

, a study in two parts. Anthony Beckles Willson, 2005, 51 pages, illustrations, index.
A history of Pope's succession of dogs with a detailed account of the conversion of his grotto into a geological "cabinet of curiosities".
£6.00 collected, £7.00 mailed in UK, £11.00 worldwide.

ALEXANDER POPE'S TWICKENHAM, 1719-1744

, Anthony Beckles Willson, 2007, 34 pages, illustrations, index.
A survey of Twickenham and its residents during the 25 years of Pope's life here.
£7.50 collected, £8.50 mailed in UK, £11.00 worldwide.
Payment by sterling cheques, please, payable to The Twickenham Museum.
Obtainable from:
Anthony Beckles Willson, 44 Pope's Avenue, Twickenham, TW2 5TL, UK
tel/fax +44(0)20 8894 6342
email: Anthony Beckles Willson