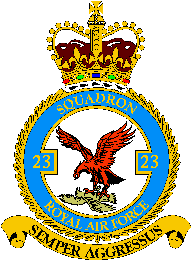 No 23 Squadron (RAF) Association
This page will cover the No 23 Squadron (RAF) Association, which is a 'club' for ex and serving members of No 23 Squadron, Royal Air Force.
Association Membership
Membership of the 23 Squadron Association is now FREE provided you have been a past member of the Squadron! For details of all current Association members please click here.
Newsletter
The Association newsletter is in the process of being published - expect it to be released April / May 2004.
No 23 Squadron History
If you read and enjoyed the potted version of the No 23 Sqn History and would like to read the full story of the 'Red Eagles', you will be pleased to know that there is a book available entitled 'The Red Eagles - A History Of No. 23 Squadron, Royal Air Force, 1915-1994', authored by Mr Peter Rudd.
The book costs £13.50 plus £1.45 p&p (within the UK - overseas rates on request). Please email me for details of how you can order a copy.
89th Anniversary Reunion Weekend - 24-26 September 2004
The 2004 No 23 Sqn Association Reunion Weekend will be held at RAF Waddington over the weekend of 24-26 September 2004. All enquiries about the forthcoming weekend should be directed to Flt Lt Matt Lawrence - either through the email address listed below or by calling 01522-726686. For updates on anticipated attendees please click here.
Links
www.lightningpilots.com Gp Capt (Retd) Ed Durham's site - an Ex Flt Cdr on 23 Sqn (1968-70) - Led the first Lightning trans-Atlantic flight August 1968.
---
Maintained by: 23 Squadron
EMail: 23sqnwad@globalnet.co.uk

Last revised: - 7 Jun 04