BRITISH ASSOCIATION FOR MONETARY REFORM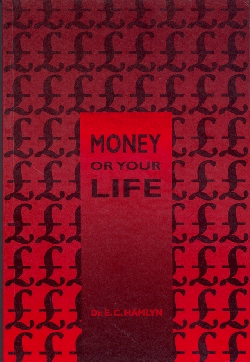 Money Or Your Life
by Dr Edward C. Hamlyn M.B.Ch.B.
Money Or Your Life is a fascinating new look at the subject of money.
Here are some excerpts:
Quote from the Bank of England "Bank of England money is not money" 29th July 1996 - Confusing ?
I will make you a promise. When you persevere and come to understand money clearly, without passion or confusion, you will have enough understanding of economics to ensure freedom from poverty for every man, woman and child on the planet .
What is wrong is so complex that it cannot be seen. What needs to be done to put it right is so simple it cannot be true.
The peoples of Earth have come to believe that debt is ordained by God and the world cannot exist without it.
This book is a very serious attempt at exposure. When enough people read this book and understand it, the cat will be out of the bag and there will not be enough hit-men to repair the damage.
Every skill under the sun will be needed, every form of expertise, will be required to renovate this old planet of ours, which is getting a bit second hand. Unemployment is a completely unnecessary problem.
All it needs is one good orator who has proven himself or herself to be safe to appear on television, and who can let the cat out of the bag before anyone can stop him, and the war is won.
Available from BAMR (South East) or Cross Publishing, Walpen Manor, Chale, Isle of Wight, PO38 2JE. Tel/Fax: 01983 551057
MAIL US WITH YOUR COMMENTS AND RECEIVE BI-WEEKLY NEWSLETTER.