WVisio2/Information file

I changed these maps around from WolfSF2, because I felt that WlfVisio should be given more prominence, and also because WlfVisio and the Spear demo looked better with the original Wolf3D graphics.
Anyways, thanks to A. Nonymous for converting these files so that they work on the shareware 1.4 version.
Wvisio2 is a real tough set (Hans Grosse makes many appearances).
Here's a screenshot.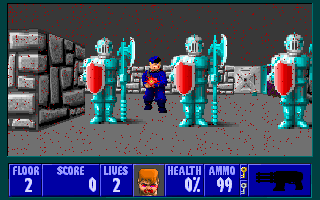 This is how I changed the levels around -
Levels 1 thru 3 (WVisio 1/3)
Levels 4/5 (as previous)
Levels 6/7 (Spear demo)
Level 8 (Street Fighter)
Boss Level (WVisio 10)
Secret Level (WVisio 9)
This sequence puts the WVisio secret level back where it was originally.
This set should be played with the original shareware 1.4 Wolfenstein 3-D set.

3/22/99
Brian.
Download WVisio2 here.

Back