---
WELCOME TO MY FULDA ZWEI-TAGEMARSCH PAGE
---
[ Home Page ] [ The A - Z of Amiga Games ] [ The A - Z of Spectrum Games ] [ The International Marching League ] [ Collectable Goodies for Sale! ] [ What's New at This Site ] [ Links to Other Sites of Interest ] [ Sign the Guestbook ]
---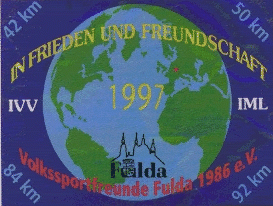 Location
Fulda is located roughly in the centre of Germany with Frankfurt being the closest major city. Germany is famed for its motorways and the rail system is also of a very high standard so there are few problems in reaching this part of the country.
---
How to get there
I have not completed this walk and so cannot give any details. As mentioned above, it should be easy to get to but I will post more details here as and when I find them out.
---
What is the Fulda Zwei-Tagemarsch?
Germany is famed for its "Volksmarches" and walking is extremely popular throughout the country. Many Germans, like the Dutch, take part in the other IML walks all around the world. It is therefore surprising that Germany has only been part of the IML since 1996.
---
Distances
Distances covered are either 25 km or 42 km a day on either or both days. You only need to cover the 25 km routes to receive the IML award. For a medal, you need to complete the march on both days.
---
How do I take part?

For more details and an entry form, contact:
Wolfgang Wagner
Richard-Wagner-Str. 54
D-36043 Fulda
Germany
Tel. ++49 661 9338878
Fax: ++49 661 9338879
E-Mail: Wagner-Fulda@t-online.de
Note that the details above are new for 1999, as there has been a change of address (with thanks to Steffen Wagner for the information).
There is no official web site as yet, although I have been told one will be up soon.
---
Accommodation
When you send off for an entry form you should also receive a brochure from the tourist board. Hotel accommodation is available or you choose to sleep in a nearby hall. For this you will need to book in advance and take a sleeping bag.
Military personnel should contact the organisers for further details.
---
[ Home Page ] [ The A - Z of Amiga Games ] [ The A - Z of Spectrum Games ] [ The International Marching League ] [ Collectable Goodies for Sale! ] [ What's New at This Site ] [ Links to Other Sites of Interest ] [ Sign the Guestbook ]
---