---
WELCOME TO MY MARCHE DE L'ARMEE DIEKIRCH PAGE
---
[ Home Page ] [ The A - Z of Amiga Games ] [ The A - Z of Spectrum Games ] [ The International Marching League ] [ Collectable Goodies for Sale! ] [ What's New at This Site ] [ Links to Other Sites of Interest ] [ Sign the Guestbook ]
---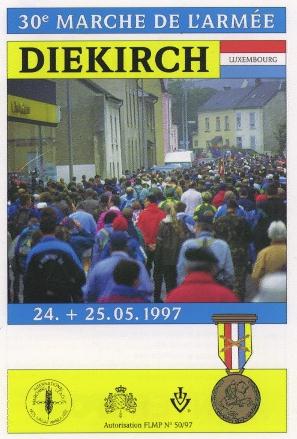 Location
Diekirch, despite its small size, is one of the principal towns of Luxembourg, situated in the east of the country close to the German border. With picturesque hills and sweeping valleys, the walking route takes in some beautiful countryside but also represents the walker with a tough challenge as there are rarely any flat sections, especially on day one. Fortunately, the route changed significantly in 1997 and cut out a particularly nightmarish uphill section that brought many an experienced walker to their knees the previous year (I know, I was one of them!)
---
How to get there
Luxembourg is a very small country but has numerous road and rail links. Diekirch has a railway station that connects to Luxembourg city and trains operate on a regular basis. If buying a ticket in Luxembourg itself, remember to stamp it using one of the machines on the platform. Prices are by zone and you receive a ticket for each zone.
---
What is the Marche de L`Armee?
The walk is organised by the Luxembourg army along similar lines to the Nijmegen marches in the Netherlands, albeit on a much smaller scale. 1997 was the 30th event so it is well established on the marching calendar and Luxembourg was one of the founder nations of the IML.
---
Distances
Distances covered are either 12, 20 or 40 km a day over one or two days. To receive an IML award you only need to complete the Cat II route. Individuals or teams can enter and military participants receive a crossed cannon pin for the rather smart medal awarded at the end.
| | | |
| --- | --- | --- |
| CAT I | 2 x 40 km | = 80 km |
| CAT II | 2 x 20 km | = 40 km |
| CAT III | 1 x 20 km | = 20 km |
| CAT IV | 1 x 12 km | = 12 km |
In the categories I, II and III, one may participate individually or as a member of a group. Category IV is for individual participation only.
Starting times: CAT I: 0700 - 0900 hrs, CAT II, III and IV: 0700 - 1300 hrs.
---
How do I take part?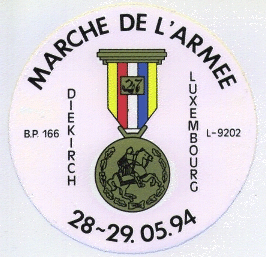 For more details and an entry form, contact:
Section de MARCHE DE L`ARMEE
Boite postale 166
L-9202 DIEKIRCH
Luxembourg
Alternative Contact: Mr. Marc Streng
Telephone: **352 - 80 88 44 - 1
E-Mail: mmuller@hermesnet.com
---
Accommodation
Diekirch is quite large and there are a number of hotels and pensions but book early as they tend to fill up rather quickly. There is also a camp site located very close to the start point. One point to note is that the beer tent is also close to the camp site so expect to put up with loud music into the early hours of the morning. Also, I know that a few people have complained about the standard of the food and accommodation provided by the official organisers but have personally not used these facilities, so cannot comment on this.
Military personnel can be accommodated at the nearby barracks. Food is provided, the blocks are of a good standard (similar to those found at British basic training units) and the pricing is reasonable. Contact the march organisers for further details. Note that the barracks are located high up a hill so it is recommended that you have your own transport, although a bus service does operate for the weekend.
If you require a hotel room or other accommodation you can contact the Diekirch tourism office on: (local) 80 30 23.
---
[ Home Page ] [ The A - Z of Amiga Games ] [ The A - Z of Spectrum Games ] [ The International Marching League ] [ Collectable Goodies for Sale! ] [ What's New at This Site ] [ Links to Other Sites of Interest ] [ Sign the Guestbook ]
---