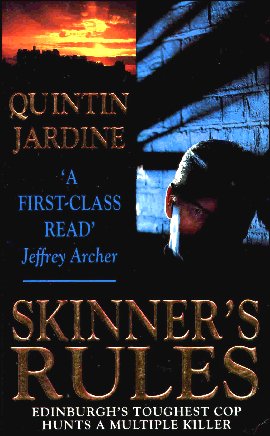 Robert Skinner is the hero of (so far) nine detective novels written by Quintin Jardine. The reason I started to read the first of these can be seen on the cover (left), it mentions the magic word - Edinburgh! As you've penetrated this far into my website you've realised that I'm very fond of my home city. This alone, however, would not have kept me coming back to this series of books, what actually persuaded me (a scotsman!) to part with my hard-earned money was the fact that they're a damn good read.
The author has set these books well and truly in Edinburgh and has stayed true to the geography of the city and surrounding area except for inventing a few street names for the sake of anonimity. The development of the characters throughout the series is extremely well done and really involves the reader in the domestic life of Skinner and his squad.
The difficulty with writing about detective fiction is that you have to be very careful not to give away any more of the plot than is absolutely neccessary. As I'm no expert at this, the outlines below are basically the blurbs from the back of the books. Incidentally, as I said above, I'm a Scot and no spendthrift, so all this is of course based on the paperback editions of the books.
Quintin Jardine was born and raised in the West of Scotland. He worked as a journalist in Lanarkshire for seven years, and in 1971 joined the Government Information Service in the Scottish Office, where he spent nine years as a Senior Information Officer, advising Ministers and senior civil servants.
He worked also, for a spell, in the Scottish Office Publicity Unit, where he had responsibility for media coverage of Royal Visits. He moved into political PR, but in 1986 he 'privatised' himself, and is now an independant public relations consultant and writer. He has also written two thrillers featuring a hero named Oz Blackstone, the first of which was published under the name Matthew Reid.
Quintin Jardine lives in East Lothian.


Skinner's Rules Headline Books ISBN 0-7472-4139-2
As head of Edinburgh's CID, Detective Chief Superintendant Bob Skinner has seen it all...but even he is shocked by the savagely mutilated corpse discovered in a dark alleyway. The victim is identified as a successful young lawyer, and the motive for his brutal death remains a mystery.
Then further seemingly random killings in the city begin to suggest a vicious serial killer on the rampage. But when the lawyer's fiancee is also murdered, Skinner's suspicions are aroused.
What eventually emerges is an elaborate smokescreen shrouding a deep-rooted and intricate conspiracy. Now, whatever the danger to himself, Skinner is determined that in Edinburgh, at least, folk will abide by his rules.

Skinner's Festival Headline Books ISBN 0-7472-4140-6
Each August thousands of tourists and performers flood into Edinburgh for its famous Festival. But this year, on the very first day, an explosion rocks Princes Street and one man is killed.
Assistant Chief Constable Bob Skinner, head of CID, soon learns this was no accident. For, a few hours later, a threatening letter is delivered to the Secretary of State - supposedly from a freedom group demanding political seperation from England.
Skinner quickly assembles his team, with SAS back-up, and organises a news blackout to avoid widespread panic. Yet, despite a huge security check, on the following afternoon an American opera singer becomes the second victim.
As the atrocities escalate, Skinner realises this is no gang of bloodthirsty fanatics, but a highly professional international team with access to the most sophisticated armaments available. And behind the nightmare scenario lies a hidden agenda which threatens the ancient honour of Scotland...

Skinner's Trail Headline Books ISBN 0-7472-4141-4
First the joyous birth of Skinner's son...
Then the grim reality of murder in one of Edinburgh's prosperous suburbs. A man has been found knifed in a luxury villa.
The victim had run a chain of laundrettes, saunas and pubs throughout the city, but for some time the police suspected these to be the front for a drug-distribution network. As the murder investigation continues without result, it seems the killer was particularly cunning in covering his tracks - leaving no clues or leads to pursue.
But then another, seemingly minor, crime - involving property fraud - takes Assistant Chief Constable Bob Skinner in a new direction. Moving from Scotland to northern Spain, then back to a chilling climax in Edinburgh, this complex and suspenseful thriller follows a tortuous and bloodsoaked trail involving vice, corruption and the merchants of death.

Skinner's Round Headline Books ISBN 0-7472-5041-3
By the blade, by water, by the fire, by lightning, shall the desecrators perish...
A four-day tournament involving the world's leading golfers is being staged to mark the opening of Witches' Hill, a new country club created on his East Lothian estate by the Marquis of Kinture. But on the Sunday afternoon preceding, one of Kinture's business partners is found dead in his private jacuzzi in the clubhouse - with his throat cut.
The next day an anonymous letter is received by the local newspaper, containing a fragment of a legendary witches' curse upon anyone who desecrates their place of worship.
For Assistant Chief Constable Robert Skinner, the key to the murder is surely to be found in the here and now rather than in East Lothian's grisly past as a notorious centre for witchcraft. But then a second murder occurs, this time by water, and soon Skinner is facing the most challenging case of his career.

Skinner's Ordeal Headline Books ISBN 0-7472-5042-1
A mid-air explosion, and a plane plunges to disaster from the Scottish skies, the British and American Defense Secretaries among the victims. Out of the blue, Edinburgh's Deputy Chief Constable finds himself leading the biggest investigation of his career.
The means of destruction is apparent from the start, but the investigation quickly grows more puzzling - for once, they have an embarrassment of suspects with motive and opportunity. Then sudden random violence wrenches Skinner himself out of the picture. While his colleagues struggle with the mass of clues, he lies on the brink of death, trapped with the horrors from his own hidden past.
As Skinner's ordeal reaches it's crescendo, the police pursue their suspects one by one, until at last they are brought to a dramatic, thrilling, but tragic conclusion.

Skinner's Mission Headline Books ISBN 0-7472-5043-X
When an Edinburgh car showroom is torched, leaving a charred body among the burnt-out luxury cars, Deputy Chief Constable Bob Skinner wonders if a life of crime has finally caught up with one of the city's most elusive villains.
But the corpse turns out not to be that of Jackie Charles, the owner of the showroom, but his wife Carole. Skinner now finds himself on the same side as his old enemy in the search for Jackie's wife's killer.
However, Skinner's number one priority is a murder much closer to home. Ever since memories of his first wife Myra's death resurfaced under hypnosis, the question of how she really died has become an obsession which could threaten his career, his marriage and even his sanity.
As Skinner and his daughter Alex unlock the hidden secrets of Myra's past, they discover a woman neither could have imagined. A Myra whose bloody fate is linked inextricably across the years with the fiery death of Carole Charles and the murderous events which it triggers.

Skinner's Ghosts Headline Books ISBN 0-7472-5665-9
Deputy Chief Constable Bob Skinner could be forgiven for thinking that someone is out to get him. With his marriage already on the rocks, he suddenly finds his private life plastered across the pages of a sleazy tabloid. And then a woman already linked to Skinner by tradgedy is found battered, raped and strangled, with her young son a kidnap victim.
As a second brutal crime and new allegations about the detective himself, make simultaneous headlines, Skinner finds himself at the centre of a deadly maze of conspiracy.
Unless he can clear his name, and uncover the secret behind the series of shocking events, he stands to lose everything: his family, his career, and even his life.

Murmuring the Judges Headline Books ISBN 0-7472-5962-3
In Edinburgh's old Parliament House, an armed robbery trial is about to take a macabre turn. While the lawyers tussle over the evidence, the judge suddenly collapses in mortal agony - the victim of an apparent heart attack.
For Deputy Chief Constable Bob Skinner, with his life finally back on track after the near-collapse of his marriage, the last thing he needs is to be faced with the most baffling case of his career. But as the wave of brutal robberies continues, it emerges that Lord Archergait's death may have been murder - and he's not the only judge whose life is in danger.
With a gang of ruthless killers still at large, it's down to Skinner to piece together a puzzle of sinister complexity.

Gallery Whispers Headline Books ISBN 0-7472-5667-5
With his boss recovering from a heart attack, Deputy Chief Constable Bob Skinner is filling his shoes - and that means more time than he'd like sitting behind a desk. But he's about to be provided with more drama than he could ever want. One of the world's most ruthless terrorists is on his way to Edinburgh - and he can only have one thing on his mind: the forthcoming conference of world Heads of Government. If Skinner doesn't pick up his trail fast, he could have a global disaster in his backyard.
While all eyes are focused on the terrorist threat, a terminally ill woman is found dead - an apparent suicide. But a policewoman sees the subtle marks of an assisted death - and therefore, according to the law, murder. It is the beginning of an ominous pattern.
For Skinner, the desperate race to find a heartless terrorist mixes uneasily with the search for a mercy killer - a search which takes on a poignant personal significance. One thing's for sure, Skinner will soon be staring death straight in the eye...