This is ...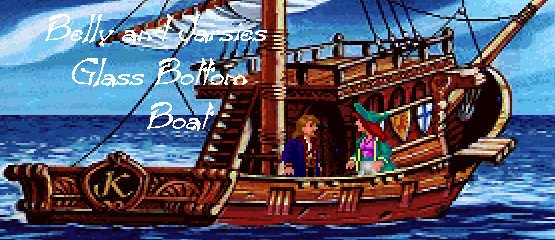 Picture of Guybrush in Monkey2 on Captain Kate Capsizes Glass Bottomed Boat. Kindly donated by Josh the Pirate.
Welcome aboard! I'm Captain Jarsie and my first mate Belly is helping with this Monkey Island page. We hope you enjoy your stay on our boat as passenger number
. Read our page quickly before it gets kidnapped by a ship of three headed monkeys!



Whats in the Treasure Hold?
View the LucasArts newsletter.

WHATJATHINK?
We asked you: Does this site need a makeover? :you replied...
100% said they enjoyed reading our site
81% said they liked the format
77% said they liked the colours
64% said it didn't need to be re-designed

Pets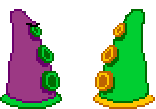 These our our pet Tentacles. On the left is Jarsies pet, Rhubarb and on the right is Bellys pet, Custard. They are actor tentacles and they both featured in the hit LucasArts game, Day of the Tentacle. Rhubarb says he enjoyed playing the evil Purple Tentacle but wants to assure his fans that he's not like that in real life. Custard, who played the sane Green Tentacle, disagrees with this claim and says Rhubarb is like that in real life.

Picture of the month

LeChuck in Monkey Island 2

Monkey Island Webring
Click on 'Random' for the computer to choose another Webring site for you or 'List sites' to choose your own.



Click on the 'Monkey Island Pirate Club' logo to find out about how to join etc. or on the 'Brimstone Beach Club' logo to visit that site. We support the Murray campaign and belong to the 'Three Headed Monkey Clan' that gave us our pet Tentacles. The John's MI page banner has a link to this site.

Herman Toothrots Funny Fact
Word up Herman! If you remember Herman from games such as Monkey Island 1 and Monkey Island 2, you may also remember him annoyingly saying 'Hee hee hee' all the time. This annoying habit is why this section belongs to him. This month:
Max of 'Sam and Max Hit the Road' fame has appeared in all three MI games

If I Saw Guybrush Today I'd Ask Him...
'What's the secret of Monkey Island?'

Awards
Both our awards are from Josh the Pirate from Guybrushs Grog Gallion. The awards have direct links to his site.

A Message to LucasArts

Thankyou LucasArts for making such great games. We don't do stuff like giving away free MI games. We're very sorry if we've done something on this site we aren't aloud to do. We didn't know. Please don't sue us. Thankyou.

Credits
We would like to thank Josh the pirate for his picture of the glass bottomed boat,
All the people who told us about hypersnap,
Mr. Threadbare for sending us newsletters (if you would like a LucasArts newsletter, E-mail Mr. Threadbare and say you heard about the newsletter from Belly and Jarsie)
and every one who entered our competition