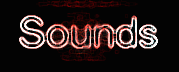 ---
Welcome to my sounds page, here you will find various different sound clips of whatever I felt like putting on....enjoy! By the way, must of these sound clips are compressed using Mpeg Layer 3 and can be played via Microsoft's new Media Player. Check their web site for the latest info....
---
The quality isn't exceptional, I must admit, but it lets me fit more on.

Humour :
Two samples taken from Blackadder Goes Forth:
A sample from Police Squad...see if you can work out who killed who!
One Swedish Penis Enlarger...Austin Powers of course.
Little joke from Steven Wright, American Comedian.
A clip from Friends...snakeman.
Music :
Themes :
More will be added in time...maybe.
---
[Home]