Cliffe Fort - the Hans Egede

Photos courtesy of Alan Jackman and Dave Smith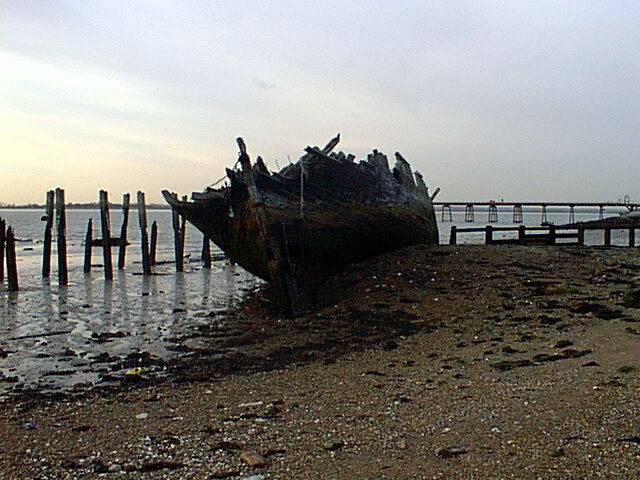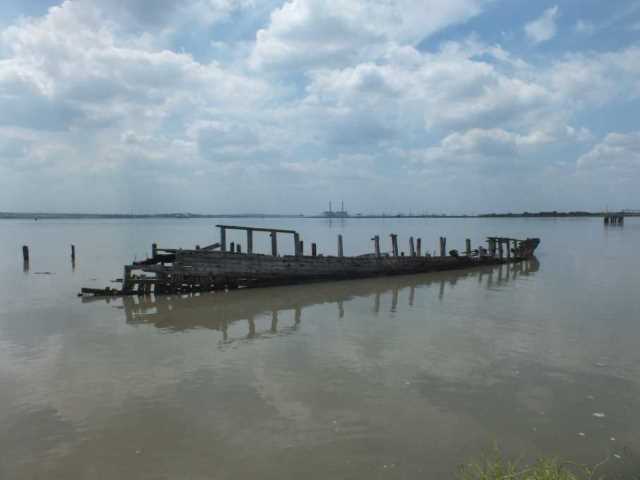 Allan Green has kindly provided the following information on the Hans Egede:
"I often wondered what the vessel was and it was not until last year, when back in the village for a visit, that I came across a book "A Pictorial History of Cooling and Cliffe" by Allan Cherry, published by Martins News of 168 Church Street, Cliffe, and found the answer.
"The vessel is the
Hans Egede
. A wooden, auxiliary 3-masted vessel, built in 1922 by J. Th. Jorgensen at Thuro, Denmark. Apparently, she was reported damaged by fire 1
3
/
4
' west of the North Hinder light vessel on the 21st August 1955. She was towed to Dover where the fire was extinguished. In 1957 she passed into the ownership of the Atlas Diesel Co. and was towed out of Dover by the tug
Westercock
. She then spent some years in the Medway as a coal and/or grain hulk.
"She was then towed to Cubits Town on the Thames. Unfortunately, as the tug Fossa from Gravesend was towing her up Sea Reach the strain on the structure, which had become weakened over the years, proved too much causing her to take in water and sink. After grounding on the Blyth Sands she was beached at Cliffe.
"In the book there is a picture of her under sail at sea."
Nikki Wood remembers the
Hans Egede
when it was moored at Whitewall Creek opposite the Chatham Dockyard. Her father took a photo of it around 1962 (below). This must have been when it was a coal or grain hulk.