Cliffe Fort
<![if !vml]>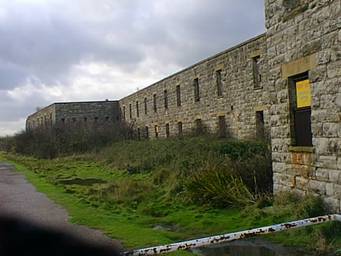 <![endif]>Cliffe Fort, near the village of Cliffe on the Hoo peninsula in Kent, was built in the mid-nineteenth century as a defence against the invasion of London via the Thames estuary.
The fort is derelict and not open to the public, although you can walk around outside the walls. Since 1999, it has been owned by Robert Brett & Sons Ltd, whose aggregates works adjoin it.
It is still impressive, and notable as the site of an early guided weapon system.
More photos of Cliffe Fort here.
How to get to Cliffe Fort here.
---
<![if !vml]>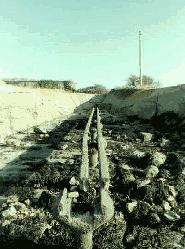 <![endif]><![if !vml]>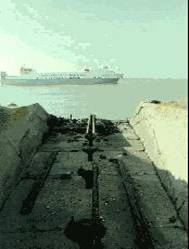 <![endif]>
The Brennan Torpedo
Left - the remains of the 100-year old torpedo installation at Cliffe Fort, visible at low tide.
The Thames is about a kilometre wide at this point.
These photos were taken in October 1997.
The Irish-Australian Louis Brennan invented the guided torpedo which was the "state of the art" coastal defence weapon from 1887 to 1903. The torpedo had two propellers, rotated by wires which were attached to winding engines on the shore station and which played out after the torpedo was fired. By varying the speed at which the two wires were extracted, the torpedo could be steered to the left or right by an operator on the shore.

Only one example of the torpedo itself exists, in the Royal Engineer's Museum at Chatham. A number of launch installations survive apart from that at Cliffe Fort, including one at Garrison Fort, Sheerness, one at Fort Meagher (formerly Fort Camden) in Cork Harbour, and some in former British colonies in the Far East.

More about Louis Brennan and the Brennan Torpedo here.
For some recollections of Cliffe Fort in past years, click here.
To listen to the BBC's "Land Lines" programme on Cliffe Fort and its surroundings, click here.
---
If you have any recollections or information about Cliffe Fort and the Brennan Torpedo, or about the surrounding area, please e-mail me.


Read more information on the wreck of a large wooden sailing ship, the Hans Egede, which lies beached a few hundred yards south of the Fort.
<![if !vml]>

<![endif]>
Last updated on May 25, 2010
Created on ... August 16, 2003