How to get to Cliffe Fort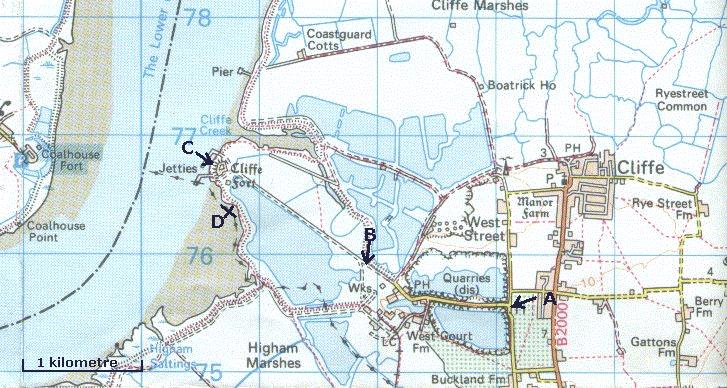 The road to Cliffe Fort is not signposted, so these directions may be helpful.
You are likely to approach Cliffe Fort either through Higham (from the A2 from London) or through Wainscott (from Rochester). You will then either approach Cliffe Village on the B2000, or on West Street, which is a parallel road, a little to the west.
You need to find Salt Lane (A), a turning off West Street. The road name is not easy to see, but there are signs for Brett and Omya.
Drive down Salt Lane, past entrances to industrial premises on your left, until you reach a row of cottages on your right. The road bends to the right here and there are closed metal gates straight ahead. Park here off the road, on the left. Go in through the new pedestrian gate into the RSPB Cliffe Pools nature reserve, and immediately turn left, climbing over the low metal fence, to get onto the concrete road. Walk along the road. 100 metres further on, there is a "bridge" over the conveyor belt for aggregates (B).
Walk under the barrier and then straight on, for just over a kilometre. The flooded gravel pit on your left belongs to the Blue Circle Sailing Club. If you are very lucky, you may see the flamingoes here. You will see Cliffe Fort appearing straight ahead of you.
When you reach the Fort, take the path to the left, past the Sailing Club. Climb over or under the gallows gate, and follow the path around the Fort. When the path reaches the river path, turn right. The Brennan Torpedo station (C) is where the steps down and up are found. The station itself may be covered at high tide.
Continuing onwards on the coast path takes you to Cliffe Marshes, made famous by Dickens in Great Expectations. If, instead, you retrace your steps and continue down the river path in the other direction, you will reach the wreck of the Hans Egede (D).
The interior of the Fort is closed. You can however get a glimpse of it through the windows on the south side, or the gun emplacement slits to the north-west (this involves going into the wooded part).