Sir Douglas Black 1913 - 2002
Some Personal Reflections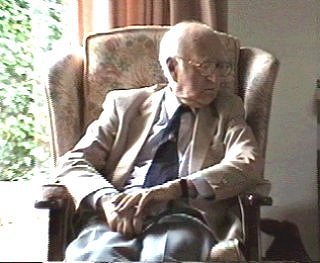 Some say that a picture is worth a thousand words. But which picture? A glance through the obituaries appears to offer plenty of choice. The Guardian depicts my father launching the NHS Lottery in 1988, a somewhat bemused figure, half-submerged by lottery tickets. The Times offers a similar scene, along with four smiling colleagues apparently suffering a similar fate.
The British Medical Journal opts for a more formal approach, although an unfortunate choice of background, along with a slight drizzle, (my father hated any rain falling on his head!), gives the impression of someone who has become distinctly grumpy whilst waiting too long in a queue for the Gents.
Long experience taught me that the only reliable way to catch my father on camera, in natural mode, was to do so without his informed consent.
Biographical details are available at the links provided at the bottom of the page, for those who are interested in his many remarkable contributions to the advance in medical knowledge, and to the National Health Service.
A few years ago when talking with him on the telephone about some minor upheaval in the grand scheme of things, we agreed that a sense of humour was necessary at all times, to which he thoughtfully added the words "throughout life". He seems to have managed to exceed his remit to some extent. Not only did he have the sense of occasion to die on Friday 13th, he also marked the day of his funeral (the 23rd) by being not too far from the epicentre of a Magnitude 4.8 earthquake less than twelve hours before the service. We all felt that this was entirely appropriate!
My father was born in Delting in Shetland on May 29th 1913 at 10 am. He was brought up in Fife, and trained at St. Andrew's University. Fortunately he retained his love of Scotland, and we were introduced to holidays in the Scottish highlands and islands from an early age. In retrospect, it is a miracle that the car did not disappear over a precipice when using the "single track road with passing places" during the frequent thunderstorms. Not a journey for the faint-hearted during the 1950s.
Obituaries