---
GROUPIE GROUPIE
---


Groupie: The book about the sixties.
The reality of the 1960's with its legendary sex, drugs, and rock 'n roll, in a book co-written by two authors who experienced all aspects of this truly great era: Jenny Fabian, and Johnny Byrne. This book earned cult but universal enjoyment and interest for its abilty to depict the setting of the 60's in a simple, readily comprehensible style like no other. To demonstrate the diversity of the book's following, the guitarist Richey Manic from the successfull 90's British band "Manic Street Preachers" was sometimes seen wearing a 'Groupie' T-Shirt!
---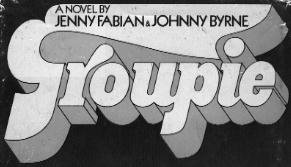 ---
Find out more about Groupie by clicking on any of the following links.
WHAT IS GROUPIE?




MEET THE AUTHORS




THE FIRST REVIEW




THE BANDS IN GROUPIE




SCENES FROM THE SIXTIES




HOW CAN I BUY GROUPIE?




OTHER SIXTIES RELATED SITES
---
If you would rather be somewhere else, then use this search form courtesy of Yahoo.
---
GROUPIE GROUPIE
---