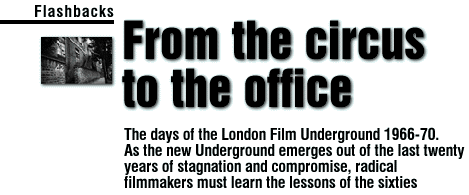 In 1966 London counter culture was gearing up for the revolution the mods were mixing it at the coast, the radical student movement was beginning a cycle of sit-ins and occupations, drug use was becoming a form of rebellion, there was a steady influx of militant draft dodgers from the U.S. and liberational movements were coalescing around radical feminism, black power, gay liberation, ecology, squatting and the commune.
At the Better Books bookshop on Charing Cross Road the poet manager Bob Cobbing began screening American Underground film as part of a series of events that included work from the Destruction In Art Symposium and readings by poets including Alexander Trocchi. Out of these screenings emerged the London Filmmakers Co-Op on the 13th October 1966. The Co-Op based its structure on the New York Co-Op an open screening, open distribution collective formed in 1961. In its formative stages the London Co-Op was a coalition of disparate interests; U.S. film makers including Steve Dwoskin and Simon Hartog and British journalists, poets and would be film makers including Cobbing, Raymond Durgnat and Dave Curtis. Two weeks after its formation the Co-Op teamed up with I.T., the International Times London s first weekly Underground newspaper, and counter cultural organiser Jim Haynes to hold the Spontaneous Festival of Underground Film at the Jeanetta Cochrane Theatre from Halloween to Bonfire Night.
Meanwhile there was a night of Underground film at the first Notting Hill Gate festival and this festival initiated the U.F.O. or Underground Freak Out Club, an all night psychedelic acid venue on Tottenham Court Road. Until it closed in October 67 the U.F.O. served as a rallying point for the expanding counter culture, there the first London light shows took place and Dave Curtis and others screened film loops and cut-ups to the music of Pink Floyd, Procul Harum and the Soft Machine. Under U.F.O. influence three vast 24 hour happenings took place fusing live music, lights shows, film and thousands of stoned youth. The first event at the Roundhouse launched I.T., the next Technicolour Dream took place at Alexandra Palace and the last Christmas On Earth Revisited at Olympia.
The L.F.M.C. held regular screenings at Better Books until October 67 when new management sacked Cobbing and kicked out the Co-Op. During this period the Co-Op was riven with factionalism and personality clashes and this conflict eventually polarised around a split between those members who believed Underground film culture could be most effectively developed through screenings and distribution, and this included Cobbing, Durgnat and Dwoskin, and those who maintained that the Co-Op should concentrate on providing production equipment and facilities for filmmakers: this faction was based at the Arts Lab on Drury Lane.
The Arts Lab was set up by Jim Haynes in September 67 as a counter cultural arts complex housing a gallery, theatre, restaurant, bookshop, studio and workshop space and general crash pad. Following this example Arts Labs were set up all over the country, by 1969 over 150 were operating...
Duncan Reekie
(The Exploding Cinema)
Full article published in Filmwaves - Issue 1, August 1997. Subscribe now!