PRAG VEC - ANOTHER STRANGE, NEW AND ENTICING POP GROUP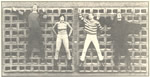 A NEW extended play record to enthuse about. A new band to sell to you. Their name' is prag VEC; the four tracks they've recorded are "Existential", "Bits", "Wolf" and "Cigarettes". A record self-financed with help from a close friend in the Honest John's empire.
The members of prag VEC are: Sue Gogan (vocals), John Studholme (guitar), David Boyd (bass), Nick Cash (not the 999 Nick Cash) (drums).
Firstly, why the 'curious' name? prag VEC?
Sue: "It's just just two words shortened. I read it somewhere and just liked the Sound of it."
Nick: "There's no instant connotations. . . people can come in with an open mind."
And the songs. "Existential"??
Nick: "That song is about arty Europe and capitalist America, and it's done tongue-in-cheek French detective style. The reason it was done in French though was because of the sound of the music... a bass riff.
"Our bass player was listening to Ornette Coleman... and I was watching French detective movies - raincoats and beatniks. I'd also stolen a tape from the bookshop where I worked - a tape of a Francoise Sagan book, A Certain Smile - the true existentialist love affairs!"
And "Bits"?
Sue: "The first verse is a glamour thing - fantasy - then it goes into a sort of perverse sex fantasy - everybody childlike - and that's where the American thing comes in... 'I eat frosted pop-tarts all day...' and ends with the desire for commercial viability."
"And if I was a man, let me think/What would I do if I was a man?/Oh! Let me think now what I'd do to you/I'd probably fuck you/Go down hard/'Cos we're so hard."
Hard words, but a pleasant band. Waiting for work...
"A&R at Virgin didn't like us, said we were 'too progressive'... they'd just signed
Penetration, and said, 'Sorry - you're too like Pauline'."
The management agencies of Albion, Asgard, Cowbell, DJM, and A&M were approached, but all agreed: "You're not commercial enough. Come back in a year (when you are)."
"We don't have a manager. A friend is helping us organise, trying to get gigs around the country, but that's very tentative because he doesn't have any money either..."
And finally prag VEC's origins...
Sue and John started in the debatedly Trotskyite R&B band The Derelicts... "Which folded in 1976. Coming out of that gave us the impetus to form another band. In The Derelicts we weren't doing our own material, so we ended up trying to write songs together and spent about a year doing that. We went to see a lot of bands in that time, and kept very much in touch with the punk thing all the way through it.
"We've been together since February... me and John started the band, met Nick last May and finally persuaded him to join in February."
The problem is... "Our rehearsal space was a squat in North Kensington, but we've been evicted from there and rehoused for a flat 15 floors... so we can play in the lift."
They're finding it immensely difficult to get gigs, anywhere. And you thought it had all changed for the better?
Anyway, two exceptions to the rule: they supported an atrocious headline band at the Marquee on Tuesday, and headline themselves at the worthy Acklam Hall on Friday.
Go and see them rehearse.
IAN PENMAN