Steve G - Scrappy Races
Chronological History of the Information Newsdesk Update
History page 3 - for Scrappy Races series-3 in 2006
return to

The Steve G Scrappy Races Homepage

_____________________________________________

21st January 2007 –

The saga of the Channel 4 Scrapheap forum

As you will already be aware from my posting below dated 12th January 2007 my log-in was revoked from the C4 forums. One of their moderators decided to get out of the bed the wrong side that day and felt that even though I had been making reference to this Steve G Scrapheap website for almost six years, without any problems to anyone, they decided that I should now be banned from the C4 forum. Their removal of my log-in permission has also removed almost every post I have made to the forum, and the only traces of my being there are located as 'quotes' within replies from other members. Having read the 'terms & regulations' in full I cannot find any reference that say this is not allowed. I also wonder why C4 allowed my weblink to remain as part of my default forum signature. I confirm that at no time did C4 ever pre-advise me of their concerns …….. then out of the blue they just took away my log-in permissions.

Anyway, after I contacted the C4 forum administrator, and also C4 received a call from RDF Television the makers of Scrapheap Challenge, the C4 forum administrator did re-instate my log-in permission. Last week I logged onto the forum to post the following message in the 'Steve G' thread started by Craig (many thanks Craig), this was going to be my message to you all ……………..
Hi everyone ....... I'm back !
It does seem that the C4 forum became a little over enthusiastic and locked me out due to my promoting my own website. This means you will have to look me up yourselves in the future to keep up with some news I cannot post here. I have promised to be a good boy and therefore the issue has now been resolved and I would like to thank Craig for his help in informing you all with this thread, Trikerjack for your hint of my return (good luck to your other half when he finally gets on-air with SHC series-9), RDF Television who made a little call to C4, and of course those who contacted me regarding this unfortunate event. I am glad my log-in has been reinstated as it appears the forum now requires compulsory log-in which means no more guest visits.
I also heard today that our old friends Andy & John from the Chaos Crew, are in training for the build up to their taking part in the 2009 Paris Dakar on a pair of 450cc bikes.
Looking forward to a vibrant Scrapheap forum
Steve G
Unfortunately after writing the reply text in the box, as soon as I clicked the button to post my message to you all the system returned a window that said my post has been forwarded to a moderator for checking before posting. As my post did not appear after two days I tried again with the same result. As at today my C4 forum posts have still not appeared. It is clear that
Channel 4 are employing moderators that are creating their own destiny of doom. If anyone can spot what I may have written in the post above that upset the moderators I would be pleased to here your comments, maybe I might even hear from the actual moderator that suppressed my posts.

I therefore regretfully inform everyone that Steve G will no longer participate the C4 Scrapheap forum, as if I could anyway

J , this is because I no longer wish to be embroiled in the childish and dictatorial actions of the C4 forum administrator or moderators.

The sad news as detailed below on 17th January really puts everything into true perspective, and silly matters such as the C4 forum can be disposed of without loss to anyone.

Still very much looking forward to the artistic work of

RDF Television and the many series-9 teams whenever they do finally appear on our television.

regards to everyone

Steve G

17th January 2007 –

The loss of a Scrapheap legend.

This is without doubt the most difficult post I have made to these pages since this website began. Today, Thursday 17th January 2007, I have been informed that Kev of the legendary Megalomaniacs team has died in an accident whilst at work. This news came as a great shock to everyone as Kevin's wife only recently gave birth to their third child. Kev was a founder member of the Megalomaniacs along with Nosher and Daz and has appeared in many Scrapheap episodes since 1999 when the team first won Scrapheap Challenge with their fantastic 'walking machine'. Kev will indeed be sadly missed by all Scrapheap fans. On a personal level myself and my partner Tina have many times been out with Kevin and his wife Allie for social evenings and these times of fun and laughter will be greatly missed. On behalf of everyone we express to Kevin's wife and family our sincere condolences and thoughts, along with many great memories of those fantastic moments in history that will remain with us forever.

12th January 2007 –

Steve G is banned from the Channel 4 forum …… Arrrrgh !

Hello all you Scrapheap fans I trust that you are all well. Today brings bad news because it appears that the Channel 4 Scrapheap forum administrator has shut me out of the Scrapheap Challenge forum. The main given reason was that I am not allowed to promote my own Scrapheap website using a links, even though I have been doing so for almost six years now. I have fully read through the forum 'terms and conditions' and can find specific mention of this. Maybe I have said too much about C4 holding back on the transmission of series-9. A real shame after all the work and time I have spent promoting Scrapheap for the last six years. I have written back to Channel 4 and copied my reply to the Scrapheap Challenge Executive Producer, Bill Hobbins at RDF Television so we shall see what happens. This was the e-mail C4 sent to me.
----- Original Message -----
From: C4 Forums
To: Steve G
Sent: Friday, January 12, 2007 12:10 PM
Subject: C4 Forums Membership Information
C4 Forums Membership Information
Dear Steve G,
The site administrators have removed your access rights for the following reason:
PROMOTING YOUR OWN WEBSITE/BUSINESS We're sorry but we do not allow users to promote themselves or their business in the Channel 4 forums. If you would like to dispute this suspension please email chat@channel4.com and include any information related to this issue. Your account will then be reviewed.
As I can no longer post on the C4 Scrapheap forum maybe someone can make a post on the C4 forum on my behalf to let everyone know that Channel4 have removed the possibility of me participating. Thank you to everyone but it seems that there will be even less information on the C4 forum as I cannot tell you what come to my ears from the program makers.

Steve G

7th January 2007 –

'Strange Vehicle Games' on Men & Motors'

Well we may be having to wait for Scrapheap Challenge to return but this evening in the UK we witnessed an alternative Chinese show called 'Strange Vehicle Games' showing on Men & Motors tonight on Sky. I was contacted about this venture by Richard a long time back as the event was linked up with teams from throughout the world by our well known friend Richard (aka Lisa's little helper) who chats to camera a few times during the show. The event was attended by our other good friends the 'boat buoys' and the ' megalomaniacs' as well as a team from Wales and many other teams from around the world. We had Nosher, Daz (in a great crash), Toby and of course Richard etc.

The program was strange indeed, however it was also very interesting. There were almost no tools available on-site and what they did get provided were pretty useless. In all everyone seemed to have a good time. The program was a

New Zealand production and boy did them guys take it all serious........... and the program ended with their team leader right up his own arse stating how the Chinese people thought so much of him that they are asking him back to help organise the next show J ......... but hey, it's stuff like that that make a show. Well done to all the teams and great to see you UK guys on the screen again.

Two of the USA teams I found are, June Moxon & Ken Beidelman in

Team Ramshackle, and Daune Flatmo, Jerry Kunkel, Scott Cocking and Marcus Schaible with Rabid Transit

In all not bad but it certainly makes Scrapheap Challenge's operation a slick show with the great

RDF production team behind it. It just shows how much the RDF Media 'set design' and 'costume' departments play in the big picture.

Looking forward to the return of Scrapheap Challenge. Although I have not personally heard anything direct, one of the

Channel 4 Scrapheap forum members, a lady named Jackie who's husband is in the missing series-9 episodes, wrote to Channel 4 and has received an e-mail reply from them that indicates Scrapheap will not be back on our UK screens until Sept 2007. I have not received any confirmation of this but thought you may be interested. I feel deeply for the many team members and their families at this time, having been there you get yourself all built up for everyone to see your fun and efforts …………. then nothing. I have noticed a few new members registering on the chat forum lately that are clearly team members from the yet to be screened series-9 episodes, and I would be very interested in receiving any photos and short (or long) stories you may have in preparation for the screening that could be used for this website. Any such photos will be treated in strict confidence and will not be put up for public viewing until after the show concerned is screened. If required please contact Bill Hobbins or Hadrian Spooner to verify my credentials. You can either e-mail your pictures to me direct by clicking here, or if you wish you can simply e-mail me with your team name and team members first names which I will first check out with Hadrian and then send you my home address for you to send in your images on a CD. Looking forward to seeing all you new guys and gals on screen.

20th December 2006 – NO MORE Scrappy Races to be filmed ………….
I have been in contact with a series producer at RDF Media and their on-set engineering crew. I regret to inform everyone that this time, there are no further Scrappy Races planned to be filmed. Even though 2006 did not see any new Scrapheap Challenge or Scrappy Races episodes screened on television, there is still a complete series-9 'in the can' ready to televise but Channel 4 cannot commit to a firm transmission date and this mean that mid-to-late 2007 is quite possible.
18th December 2006 – SHC series-9 in 2007, but no more Scrappy Races to be filmed

Due to the ongoing speculation regarding the next transmission date for Scrapheap Challenge I have been in direct contact with a series producer at RDF Media and their on-set engineering crew. The good news is that Channel 4 Television do still intend to show the missing UK series-9 episodes, but the bad news is that this is now unlikely to happen until spring 2007. The earliest dates mentioned are April 2007 but this could be as late as May 2007. There is still no reason for the delay but we can assure all you avid fans that the RDF Media remain fully committed to Scrapheap Challenge and although series-9 is yet to be seen they are to begin the filming next year for UK series-10. With good news there is often bad news and on this occasion the bad news is that sadly, at this time, there are no further Scrappy Races planned to be filmed.

So staying on a positive note, YES series-9 will air in the UK in spring 2007, and YES series-10 will also begin production in 2007. Our friends in the USA have been without Junkyard Wars for some time now, but you lucky UK fans are more fortunate as you do still have Scrapheap Challenge and long may it live.

Keep your eye on the local press and bookmark this website for April 2007.

7th May 2006 – Scrapheap Challenge series-9 begins filming

Just to keep you all informed that Scrapheap Challenge series-9 began filming within the last couple of week. No details at present due to reduced communications this year with the program makers RDF Media. The transsmison dates are not yet agreed with Channel 4 television in the UK but it is expected that this new series-9 will begin later this year around September 2006. As usual I will keep you informed of things as I hear. On my sister website at

The Steve G - Scrapheap Website

23rd February 2006 -

Re-Run of Scrappy Races series-2 (2005)

Hi Ya All,

In case you are interested it does appear that C4 are re-running the second series of Scrappy Races (2005) this coming Sunday Feb 26th 2006 at 4.50pm on UK Channel4 television. This re-run is interestingly titled "The Scrappy Races: Home Builds" so is it a simple repeat or is it a revamp ..... I have no idea, we shall as they say "soon see !".

Chaos Crew

Knuckleheadz

Tartan Starlets

Cops 'N' Bodgers

If you wish to visit the section of scrappyraces.com that details this past series then visit my history pages at

Chronological History 2005 series-2 but if you have not yet seen this excellent earlier series-2 then better to wait until after the screening.

What are your thoughts on this earlier series compared to the latest series-3 that finished last week, let me know by

e-mailing me your comment here.

19th February 2006 -

and the Scrappy Races Rally 2006 winners are .............................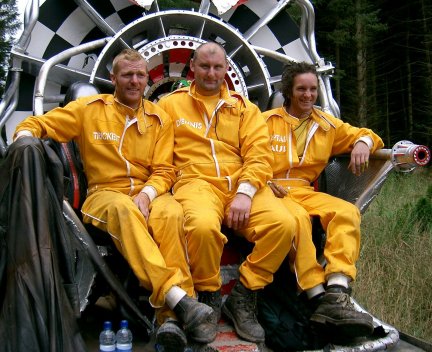 This Sunday the UK viewers were treated to a brilliant episode-5 final round when the four Scrappy Races Rally teams battled it out for the final positions. This week the teams were asked to complete an ALL TERRAIN challenge involving them to first collect a whiskey barrel located just off-shore from the Loch edge, and then continue along the forest track being diverted into the forest for a severe rough climb before the final race to the finishing post. The race was run in reverse order of the build finish times to add that little extra to the event.

Forth out of the build area after using the full allocated 8hr build time was the Chainsaw Clan. These guys have provided a really good effort during this series with ambitious builds throughout and I am sure the viewers were cheering them along at all times. Like the other teams they choose to make a winch system driving it from their hydraulic system from the earlier challenges through a reduction gearbox assembly. They found a good reduction gearbox but took far too long when a bad decision was made to remove the existing cast wheel from the unit, as they ended up having to cut it away using a grinder wheel. As they were fourth to finish the build they were first to begin this weeks challenge. Their method to obtain the whisky barrel floating in the Loch was using a constructed pontoon eased out and back in via a long steel pole extension, this worked smoothly but slowly and the whiskey barrel was retrieved without problems. The Clan then moved onto the forest uphill detour but the large heavy truck just could not make it into the woods enough for them to get to the base area of the hill climb section. This was really sad news for the Clan and due to the immense weight of their vehicle they could not simply push it as did the Dragons. This meant that for the Clan their race was over as they did not finish this challenge.

The Rally Dragons were third out of the build area 20 mins behind Maximus after installing a complete plated skid pan under their Capri to assist it over the boulders of the hill climb section. As they were third to finish the build they were second to begin the challenge. The use of two barrels allowed Dave to paddle out to collect the whisky barrel and then be pulled back ashore with a rope by the team members. The Dragons team members Dave and Steve disembarked the Capri as it entered the forest section to provide additional human power in the form of a push along until they reached the base of the hill section. They made a winch system using the double-rim wheels from an earlier challenge by constructing a winch rim onto one side at the rear and using the rear drive to winch themselves to the top of the hill .... AND DID THAT WINCH WORK FAST OR WHAT ! To be honest it was really too fast to control but luck was on their side and the Capri shot to the top of the hill without hesitation allowing them to then race to the finish in an overall build and challenge time of 8hr 4mins.

Maximus were the second team to complete the build after constructing a winch system from an old read axle assembly. They opted for a small diameter shaft design to ensure they had the torque they need to pull the camper van up the hill, however like all gearing systems the increased power-pull also left the system slower to operate which in this situation can also be an added benefit as it allows for better control. As they were second to finish the build they were third to begin the challenge. Maximus were swift to retrieve the whisky barrel using a boat constructed from a section of their camper van roof being towed back to shore by rope. They entered the forest detour with ease and an excellent smooth drive to the hill-climb left them unflustered and ready for the winch pull to the top the was a smooth well controlled operation. They completed this round with an overall build and challenge time of 7hr 28mins.

The Staffordshire Bulls were the first team to leave the build area in an attempt to claw back some time as they begin only 1hr 26mins behind Maximus overall. The Bulls are to use their lo-gearing and add an additional motor to the rear flat-bed of the Tata pick-up. Using a transfer gearbox they stripped out the rear end of the truck built a winch system to haul them up the hill section. As they were first to finish the build they were fourth to begin the challenge as the final was run in reverse order. They stopped to retrieve the whisky barrel using the small boat they built and a rope to pull them back to shore, they then moved onto the uphill climb .................but DISASTER STRUCK when the Bulls Tata engine decided to give up the ghost and blew itself. This was the worst possible news for the only real contenders for the title up to now which meant they were clearly out of the running for the title, and the race was over as they did not finish this challenge.

Therefore the brilliant winning team for Scrappy Races Rally 2006 is

MAXIMUS

Maximus not only won this years series but were also the only team to complete all the challenges. Excellent !

The times for this fifth and final challenge are:

1st Maximus 7hr 28min

(build time was 7hr 10min)

2nd Rally Dragons 8hr 4min (build time was 7hr 30min)

3rd Staffordshire Bulls 'Did Not Finish Challenge' (build time was 5hr 28min)

4th Chainsaw Clan 'Did Not Finish Challenge' (build time was the full 8hr period)

The series-3 FINAL OVERALL TIMES and POSITIONS are therefore .........

1st Maximus 35hr 48min 11sec

2nd Rally Dragons 38hr 52min 8sec

thereafter based on the previous standing times as they did not finish the final challenge

3rd Staffordshire Bulls

4th Chainsaw Clan

Well done to all the teams and a big thank you to everyone involved in the making of the program. A special thank you to David Johnson (Scrappy Races Rally - Series Producer) for his help and information, and especially his enthusiasm for his work. I would also like to take the opportunity to personally thank Dennis of team Maximus whom provided the vast majority of the images we have shared over the last few weeks on this website.

New pictures have added to the

Photo Gallery for the ALL TERRAIN final challenge. A complete new additional photo gallery BEHIND THE SCENE from Scrappy Races Rally - series 3 containing over 80 pictures has also been added. If any other team members wish to share their pictures with the viewers via this website then please e-mail them to me here for inclusion in the series-3 Photo Gallery.

Well that pretty well rounds up this 2006 series-3 of Scrappy Races Rally. The

Viewers e-mails - Questions and Answers section will continue to be updated as questions come through, and any new pictures received will be posted in the series-3 Photo Gallery

See you all later in the year when Scrapheap Challenge series-8 should arrive on your screen around September 2006. Watch my sister

Steve G - Scrapheap Website and local press for details.

Have a great summer break.

Steve G

12th February 2006 -

Episode four - BOULDER PUSH and SHEEP DIP challenge

The challenge for Sunday 12th Feb 2006 required the teams to again modify their vehicles so that this time they could push a steel boulder up a hill climb and then collect a quantity of sheep dip and transfer it safely into the receiver container that was located across a rough terrain course. Tonight episode was the best so far in my personal opinion as the show ensured a smooth timeline whilst keeping you on the edge until the final team cross the line. The new format did tonight prove it's metal and using the 'rally' format has certainly now changed thing a little.

Maximus were first to complete their build and leave the build area after just '4hrs 41mins' after completing an A-frame assembly at the front of the camper van to guide the boulder along it's path, and the sheep dip container was mounted on the rear area using foam sponge as a stabiliser for the sheep dip liquid. Unfortunately the foam was cut to fit the containers shape and our judge Dick Strawbridge ruled that it was .. " just to lid like". Not put off Maximus therefore simply changed the shape of the foam into smaller chunks and continued along to use their original idea .... job done. When it came to the challenge Maximus did well to guide the boulder however thing went a little wrong during the transportation of the sheep dip liquid. First they had a pretty rough ride over the quarry but a puncture meant that valuable time was used to replace the wheel/tyre, then they were further knocked back when it was ruled they did not have sufficient liquid at the target container and they had to return for more. Final time for the build and the challenge was '5hrs 33mins 44secs'.

Just 50 seconds after Maximus the Rally Dragons finished their build in second place and left the build area after just '4hrs 31mins 50secs'. The Dragons pulled out the plug this week and moved along to construct a suspended frame over the rear of the Capri so they could use the rear boot compartment to hopefully catch any spillage. They made a simple bulldozer blade design at the front with support arms to guide the boulder up the hill, but they to were delayed when the whole container fell from it supports and ended on the floor, hasty repairs and a returns for more sheep dip meant that their final time for the build and the challenge was '5hrs 3mins 49secs' meaning they have passed team Maximus for this challenge. It is now up to the Clan and the Bulls ........... read on.

The Bulls were the third team to complete the build after another wonderful build where they created a bumper style front bar with side guides for the boulder section, and suspended a container on the rear bed of their Tata pick-up for the sheep dip. They masterpiece was they decided to installed a reduction gearbox in the drive train to allow the pick-up to slowly and steadily climb the hill section when pushing the boulder and also to make a well controlled drive over the rough terrain. It has to be said that the installation of the reduction gearbox in record time by tipping the Tata pick-up onto it's side was wonderful and will be a scrapheap moment that may mean we se these guys again in the future. They manage to complete everything as planned and the challenge was completed in an overall time of '5hrs 31mins 5secs' meaning that they have also passed Maximus on the challenge.

The Clan were last to leave the build area just 20 mins behind the Bull so everything is up for grabs. The Clan made a box section guide bar assembly to the front for the boulder hill climb, and the liquid container was spring suspended and damped using bungy cord on the underside. They also fitted chains to the rear wheel/tyre for added grip during the hill climb. As with all teams the boulder push was good but unfortunately during the rough terrain section the Clans lost their container completely just as the Dragons before them. After repairs they completed the challenge in an overall time of '6hrs 39mins 10secs' leaving them in last place for this round.

This means that this week all teams did complete the challenge round and the round winner are the Rally Dragons.

The times for this forth round challenge are:

1st Rally Dragons 5hr 3min 49sec

2nd Staffordshire Bulls 5hr 31min 5sec

3rd Maximus 5hr 33min 44secs

4th Chainsaw Clan 6hr 39min 10sec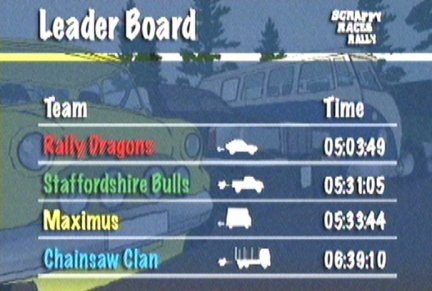 making the TOTAL OVERALL TIMES and POSITIONS after EPISODE FOUR
1st Maximus 28hr 20min 11sec
2nd Staffordshire Bulls 29hr 46min 19sec
3rd Rally Dragons 30hr 48min 8sec
4th Chainsaw Clan 32hr 51min 22sec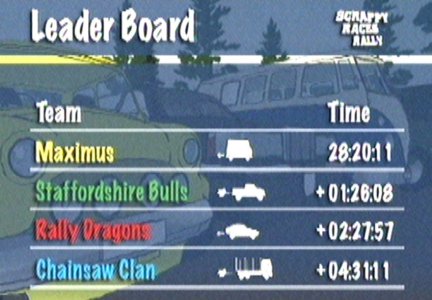 The leaders therefore for the forth week in a row remain yet again as Maximus, but as you can see from the true overall times above that there is now a smaller '1hr 26mins' gap than ever separating first and second position, and with just four and a half hours difference from even the last team place at present it means the field is still wide open.

Entries have been added to the

Viewers e-mails - Questions and Answers section.

Some new pictures have added to the

Photo Gallery Four for the BOULDER PUSH and SHEEP DIP challenge. After next week episode the photo gallery will be updated to include not only a fifth challenge gallery but also a sixth gallery filled with general images from this series.

See you all next week for the exciting final 5th round of Scrappy Races Rally 2006.

Steve G

11th February 2006 -

update of the Links section

A small number of the web addresses in the

Links section have been updated due to changes by the originators. One specific link is for the previous series Scrappy Races 2 (2005) that Channel4 changed for no known reason from it's original address. The present series can still be found at Scrappy Races Rally series-3 (2006)

10th February 2006 -

Updated Viewers e-mails - Questions and Answers section.

5th February 2006 -

Episode three - MOORLAND SHEEP challenge

The challenge this week is for the teams to convert their vehicle to first catch a sheep (well a metal and foam sheep anyway) and then move onto a sheep pen where they must launch their sheep into the fenced holding pen area. This weeks show was an excellent mix of machines and the pace of the teams was non stop throughout. A very well edited show that kept viewers undecided right until the end. The only person that seemed to correctly predict the outcome from the start was the Judge for this series Colonel Dick Strawbridge MBE who guessed the winners as being .........................well read on and find out.

First to finish the build was the Chainsaw Clan after constructing a wonderful air-suspension-bag powered throwing arm. They made a good catch of the sheep and moved on to make an excellent throw of the sheep towards the pen but the direction was a little too far to the left and they missed. A second attempt was nearer the goal but still they missed. The third attempt to fling the sheep resulted in a broken throwing arm that meant they had to retire to the pits to use up some of the allowed one hour tinker/repair time. They did return for another attempt but this unfortunately again resulted in a broken throwing arm. Game over they will receive a one a hour time penalty for not completing this challenge.

The present overall leaders Maximus were quick off the mark with their decision to build an air powered cannon to launch the sheep into the pen area. The compressor found in the build area had a very bent pulley (Dennis thought this may be when it fell of his quad-bike trailer earlier) but kept quiet in case. They were second to finish the build and leave the build area for a well earned wash and rest. Their idea to use a simple spike to catch the sheep ran into problems during the challenge when they could not at first get the spike to hold into the sheep (poor thing) enough to lift it from the ground, however one final hard throw cured this and they moved onto the next section. Their air cannon was brilliant and in fact completely overshot the sheep pen on the first attempt, however the next attempt successfully sent the sheep clean into the scrapbook history files with a good clean strike.

The Dragons decided to construct a noose to grab the sheep and a catapult bungy powered launch rail to send the sheep into the pen. Unfortunately although this was possibly the easier build the Dragons did not seem to get into gear and this led half way through the build to an air of mild disagreement between Nikki and Steve as they both sensed thing were not proceeding to plan. The Dragons finally ran out of build time and had to leave the build area after the allocated 8 hours. During the challenge they were first to leave the line as rumour has it that no-one wished to be around too close to the Bulls with their machine (see below) when it went off. The Dragons made a good net catch of the sheep but the bungy launch rail system let them down when the sheep did not launch cleanly and worse still the launch trolley left the end of the rail swing underneath and destroying the windscreen of their already worse for wear Capri. Pit-stop repairs allowed them to return for a second go when the sheep did launch from the rail but the energy was clearly not enough and the sheep to not reach the sheep pen. Finally they decided to throw in the towel, or shall we say "throw in the sheep" (literally) into the sheep pen meaning they will receive a one a hour time penalty for not completing this challenge.

The Bulls made a really challenging build by deciding upon a centrifuge throwing arm driven by a vertically mounted rear axle assembly mounted to the rear of the Tata pick-up truck bed. This was driven by the same engine they used in episode one to cut down the tree trunk. During the challenge they caught (of camera) the sheep and moved onto the sheep pen where the issue was 'SMOKE'. Now if the challenge was for smoke signals then they were up there at the front but as it was supposed to be sheep throwing then this spelled trouble. The launch mechanism for the Bulls design was based on an electrical relay to press the release button of a seat belt clamp that was holding the sheep in place, unfortunately the wire harness for the system was 'short-circuit' to the ground connection and without any fuses being installed (well this is Scrapheap style Scrappy races) the wire burnt instead. However they made fix-it-quick repairs and attempted the launch and the centrifuge was excellent to watch if not even scary to be close to, but still the launch mechanism did not work due to the already mentioned electrical system failure. Finally the Bulls also "throw in the sheep" meaning they will receive a one a hour time penalty for not completing this challenge.

This means that this week the only team to complete the course and get their sheep into the pen as per the rules are team Maximus. For this reason they come first with all the other three teams getting a plus one hour time penalty added to the Maximus finishing time.

The program makers keep changing from using a 'round time' and 'overall time' score board method that one week refers to +(plus) time behind the leaders, and other weeks they use an actually real time score. Therefore below I list ALL the times in true time readings with a screen shot of the episode times as seen during the program. I feel the use of real time only will ease the real understanding of the teams positions.

The times for this third round challenge are:

1st Maximus 7hr 29min 43sec

2nd Staffordshire Bulls 8hr 29min 43sec

3rd Rally Dragons 8hr 29min 43sec

4th Chainsaw Clan 8hr 29min 43sec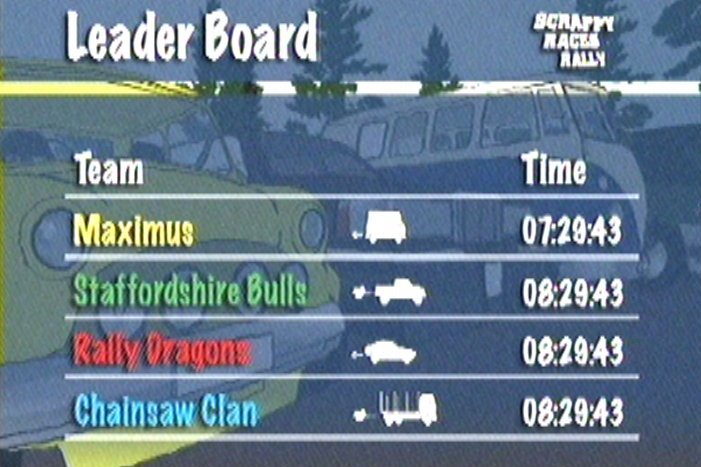 making the TOTAL OVERALL TIMES and POSITIONS after EPISODE THREE
1st Maximus 22hr 46min 27sec
2nd Staffordshire Bulls 24hr 15min 14sec
3rd Rally Dragons 25hr 14min 19sec
4th Chainsaw Clan 26hr 32min 12sec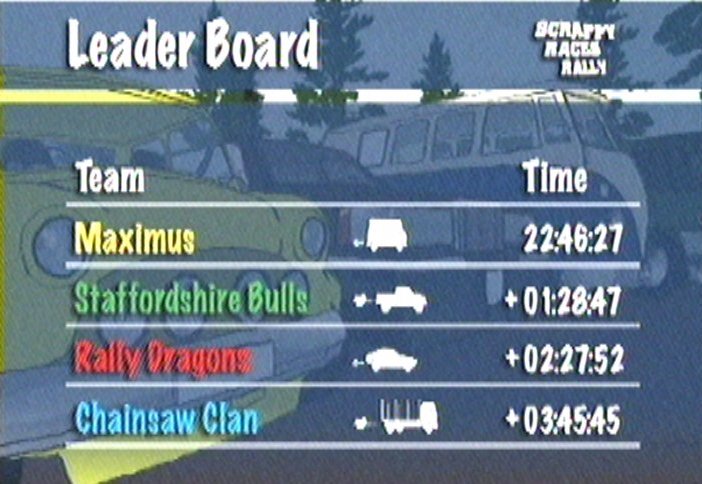 The leaders therefore remain yet again for the third week as Maximus, but as you can see from the true overall times above that there is less than four hours that seperate the leaders from the last place team at this time and with two rounds still to go anything can happen.

Some new pictures will also be added to the

Photo Gallery Three for the MOORLAND SHEEP challenge.

Entries have also been added to the

Viewers e-mails - Questions and Answers section.

See you all next week.

29th January 2006 -

SAND DUNES are the challenge for episode two

The challenge for today was for the teams to modified their vehicles to first search for a key hidden in the sand, and then use the key to open a gate allowing them access to the remaining rally site where they were required to climb a large sand dune before they could cross the finish line. The Staffordshire Bulls, who made a wire-mesh sifting tray with an vibration motor to find the hidden key, were the first to finish their build and leave the build site but their lead was short lived as they returned very soon afterwards with a puncture to their additional rear left-side wheel/tyre. A repair was found using an inner tube from a nearby water bowser when they found that the right hand side was also in need of repair. They battled with the puncture repairs hard against Maximus but still managed to leave the build site just 20 mins in front of Maximus. Maximus modified their machine by adding two bicycle frames to drive a human pedal powered rotating rake to collect the key, and they also fitted a large reel to the front of the camper van that was wound up with carpet to deploy under the wheels as the climbed the sand dune. The rotating rake unfortunately suffered from a a deep cut for the rake spikes causing them to use only one man to pedal while the other held the bicycle frames up from the ground to reduce the dig depth. The Rally Dragons created a simple rake to drive over the sand and search for the key as did the Chainsaw Clan and they both worked perfectly finding the hidden key in next to no time at all. The Rally Dragons went on to the sand dune where they initially became stuck but a second go at the sand hill got them over the top to the finish. The Chainsaw Clan came thundering around immediately behind them and first tried to climb the sand dunes but the heavy Volvo truck could not make it, this meant that they had to deploy their track plates using the hydraulic crane they had built but even this was not enough to get them anything more than forth place for this challenge so finally all the other team members helped out and unloaded the track plates to allow the Chainsaw Clan to climb the mighty sand dune to the finish line. This meant that all four teams vehicle did complete the second round challenge.

The times for this second round challenge are:

1st Staffordshire Bulls 7hr 36min 28sec

2nd Maximus 7hr 49min 43sec

3rd Rally Dragons 8hr 6min 38sec

4th Chainsaw Clan 8hr 53min 6sec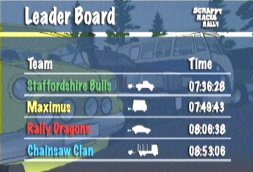 making the TOTAL OVERALL TIMES and POSITIONS after EPISODE TWO
1st Maximus 15hr 16min 44sec
2nd Staffordshire Bulls 15hr 41min 31sec
3rd Rally Dragons 17hr 14min 36sec
4th Chainsaw Clan 18hr 2min 29sec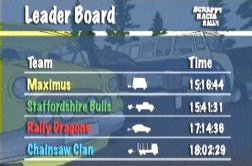 The leaders therefore remain Maximus for the second week but this also means that there is now just 24mins 47secs separating the Bulls and Maximus compared to 42min 3sec gap last week. The Bulls are hard on the tail of Maximus. The Rally Dragons have clawed they way into third place over one hour in front of the Chainsaw Clan. But Hey, this is Scrappy Races Rally and as we all know anything can still happen.

Some

additional pictures and images have been added to the Photo Gallery.

22nd January 2006 -

Scrappy Races Rally hit the UK screens for TREE FELLING.

Finally we have been blessed with the third offering of Scrappy Races from RDF Media and Channel4 television. Now known as Scrappy Races Rally, tonight you met the four teams involved in the 2006 battle around the Galloway Forest Park in Scotland.

Rally Dragons:

One of the first faces you may have recalled is that of Nikki Woolmore as captain of the Rally Dragons along with Dave and Steve. Nikki had previously appeared on Scrappy Races series-1 during 2004 as a part of the Green Goddesses. In this series they rally their way around in a 1980 Ford Capri that will need modification for each challenge as will the rest of the teams.

Maximus:

Another team name from the past is that of Maximus who previously all appeared in Scrapheap Challenge 2004 when they won the preliminaries Dam Buster round and then fell in the quarter final round to the later Scrapheap 2004 winners the Anoraks. Maximus consists of team captain Paul McGarry, with Dennis Mapp and William Trickett who take on the challenge in their camper van based vehicle.

Chainsaw Clan:

New to the screen are the Chainsaw Clan with their FL6 Volvo truck. Captain Michael with team members Ken Coupland and Ronnie Curran better know as Big Ron due to his 6' 4" personal build specification.

Staffordshire Bulls:

Another new team are the Staffordshire Bulls with their unusual Tata pick-up truck from India, it had the Mercedes badge on the front due to the tie up with the Tata manufacturing plant. The team consists of captain Rob along with Mark 'Cot' Cotterill and Pepp .

The major change for this latest series is the manner in which the score is kept. In the past each team had a fixed amount of time to modify their machines and then it was only the challenge that made the score board. In this new series it is BOTH the build time and the challenge time that forms to total time for the point scoring system. If a team rushes to finish the modifications required during the build then they risk a machine that may not stand up to the challenge............ it is this time a mind game in all respects.

The first part of today's challenge is to rescue the 'Wacky Wildcat' from the tree top, then proceed on to cut down a tree using a device modified on their vehicles. Maximus used a rope cutter made from sharp screws in a rope (see the

Photo Gallery for a close up of the rope) and their final overall time for the build and the challenge was 7hrs 27mins 01sec. In second place using a brilliant rotary wood saw blade mounted to the rear of their Tata pick-up was the Staffordshire Bulls who despite their cutting through the tree in just seconds left them overall 42mins and 3secs behind Maximus. Equal third place at 1hr 42mins 3secs behind the leaders are the Chainsaw Clan and the rally Dragons. The Clan constructed a hydraulic powered shear device that was supposed to cut through the tree truck but the immense power of their cutter unfortunately destroyed their shear before the tree trunk gave way. The Rally Dragons (nice crash Nikki) constructed saw blade device that was driven from the rear wheel of the Capri but unfortunately like the Clans their modifications destroyed themselves due to the forces involved. This may prove interesting in the next round to see if the other teams follow the Maximus method of reduced build time ................ a risk that may make things very interesting indeed.

making the TOTAL OVERALL TIMES and POSITIONS after EPISODE ONE

1st Maximus 7hr 27min 1sec

2nd Staffordshire Bulls 8hr 9min 4sec

=3rd Chainsaw Clan 9hr 9min 4sec

=3rd Rally Dragons 9hr 9min 4sec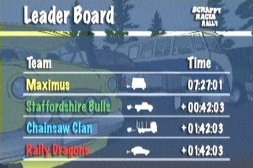 We must not forget the return to the scrapheap screen of the Judge for this series Colonel Dick Strawbridge MBE. It does appear that one challenge could be to modify the teams machine to attempt to trim Dick's moustache ............ now that is a challenge.

You may have heard the cheers from the viewing crowd during the challenges, these were mainly local people who read about the show in the Galloway News way back in Sept 2005 when this series was filmed. You can also have a look at

this article and also this article to find out a little more.

Looking forward to round two next week.

12th January 2006 -

Scrappy Races Rally, the series-3 show dates are released.

Well all you Scrappy Races and Scrapheap fans do not have long to wait now for the start of the next fantastic series of Scrappy Races, or should we say SCRAPPY RACES RALLY as it is named this year for reasons that will become apparent. Those of you who frequent these page will have already read previously that this years series include some brilliant new aspects to the show that add that spark to the fuelled excitement of the teams that take place in this years challenges.

That bring us to the teams. Of course Steve G will not be revealing the teams details but just to say that you will have four teams and between them there will be a few faces you identify from previous TV appearances. Those eagle eyed spotters out there may have noticed the small 'teaser' images at the head of this webpage that show a small area of each of the teams vehicles .......... can you tell what make they are ? if you think you know the answers give it a go and

e-mail me with your guess.

So when do we get to see all this action ?

The new series Scrappy Races Rally begins on UK

Channel 4 television

Sunday 22nd January 2006 at 4.50pm.

Also after the show why not get on the web and visit the C4

Scrappy Races chat forum where you could find like minded fans discussing the show and you may even find some teams members there to join in.

As the show progresses, this website ScrappyRaces.com will answer where possible your specific questions about the episodes and the show in general. I have been very lucky to make direct contact with Mr David Johnson the Series Producer for Scrappy Races Rally, and I have so far been in contact with all but one of the teams and they have offered to assist ScrappyRaces.com with answers to your question where possible. If there is anything you would like to ask the teams or the makers of the show

RDF Media then e-mail me your questions here.

Finally for now we do have a selection of extra images that depict some of the behind-the-scenes action for you to enjoy after the episode concerned has aired. You find these in our

Photo Gallery below.

17th November 2005 -

NEW exciting information.

I am pleased to take the opportunity to inform you that the next 'Scrappy Races *****' has a complete new look and format compared to previous two series that will keep the pace going throughout both the builds and the challenges. I will be posting more details on this

Steve G Scrappy Races Website nearer the transmission dates in 2006 but for now all I will say is that teams who are fast in the build area in a hurry to get on with the actual challenge may suffer their own consequences.

Whilst we are talking about 2006 also set a tentative date in your diary for January 8th 2006 when your screen should be blessed with a special Scrapheap episode involving three past scrapheap veterans.........Andy (Barley Picker) Barnes, Nosher (Megalomaniacs), and Hadrian (past Scrapheap expert, and Scrappy Races judge) Spooner. Now all you have to guess is what they get up to and that will keep you thinking over your Christmas turkey !

Finally for now, have you spotted the teaser images on this webpage that depict a small area of the forthcoming Scrappy Races vehicles ?

Steve G

14th October 2005 -

Re-Run of Scrappy Races, UK series-1 on UK Discovery Channel

The original Scrappy Races series-1 is due to be shown again on UK Discovery Channel (Sky 551) from this coming Monday 17th October 2005 at 8pm, and also at 9pm on Discovery +1 (Sky 552). This is series with the Chaos Crew's Ice Cream van, the Boat Buoys ....... well boat, the Barley Pickers truck, the Green Goddesses VW Bug, and the Megalomaniacs home brew trike. The series runs for four weeks. Enjoy.

I am also pleased to advise that I have now heard from a couple of the teams from series-3 due to be shown early 2006 on UK channel 4 television. This means that I will indeed be able to provide a little more insight to the wonderful new series thanks to the help of the teams themselves. More later ............

9th October 2005 -

Scrappy Races, UK series-3 finish filming

RDF Media the makers of the Channel 4 hit series Scrappy Races have now finished the filming of the next series and the show is in the editing room being prepared for your enjoyment. I am pleased to inform you all that the next series will have four excellent new teams contending for the title, and if you are really lucky you may see a few faces you know within some of the new teams. The show has undergone a slight format change that will definitely add an additional spark to the events providing the viewers with a faster paced show. It is possible that the title of the show may be a 'little' different but this has not yet been confirmed. You know me by now and understand that no build or challenge details will be revealed until the show airs around January 2006 using the same Sunday night Channel 4 slot we all know. Watch the local press and this website for transmission dates and times after Christmas.

Via RDF Media I am presently making contact with the teams inviting them to participate and answer viewers questions, and also to provide the teams with a website to make their comments about the challenges when they air and maybe provide short diaries of their own favourite event. Some of the teams may have some behind-the scenes pictures they would like to share, or simply have a great short story to tell like 'why that part really fell/broke off that vehicle'.

If possible before the show airs it would be good to get some intial comments from the teams about how they felt when they knew they were going to take part in the next Scrappy Races and how they prepared themselves for the challenges that lay ahead.

So watch this space and also keep your eye on the press for Scrappy Races 2006

Steve G

9th September 2005 -

Scrappy Races series-3 begins filming

My Scottish rumour mill informs me that Scrappy Races series-3 begins filming next week in the south-west of Scotland. This year there are four teams and I understand that all the filming will this time take place in the Galloway area of Scotland in the Galloway Forest Park between September 14th and September 27th 2005. The location details can this year be released to the public as the program makers

RDF Media are inviting audience participation. Filming will generally take place for the events between 11am and 6pm on the 14th, 16th, 20th, 27th September 2005. Audiences should be there between 10am and 1pm for the morning session, and 2pm to 6pm for the afternoon session. If you are interested in coming to the filming then you MUST contact RDF on 07941-072551 for the location details, or 020-7751-7372 for general details regarding attending the event.

As soon as any new information is received I will be sure to let you know whilst at all times never giving out anything that would spoil your enjoyment of the show.

If anyone does attend the filming to watch the teams in action and you would like to have you pictures featured on the ScrappyRaces.com website, or if you know any of the teams then please send your pictures and letters to

ScrappyRaces.com.

The Scrappy Races series-3 is due to be screened on Channel 4 television during 2006.

Have fun !

_____________________________________________
History page 3 - for Scrappy Races series-3 in 2006

return to

The Steve G Scrappy Races Homepage