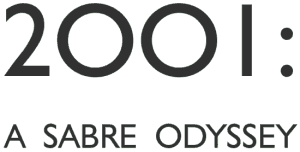 Our display stand at Scale Modelworld 2001,
Telford, England, 3rd & 4th November 2001.
---

We are very proud to announce that this display won the award for the

"Best S.I.G. Display of Scale Modelworld 2001"

Clicking on any of these pictures will show a much larger, higher resolution version, which will then allow you to view from different angles, close-ups, etc.



The central theme for the display, focusing on Sabre-equipped aerobatic teams -
"2001 : A Sabre Odyssey".


To the left, half of the 'main body' of the display - concentrating on UK and European teams.


To the right, the other half of the 'main body', continuing with U.S. and 'rest of the world' teams.

The display was staged on an area of approximately 18 feet x 4.5 feet (5.8m x 1.5m) of table space. There are a total of 142 models on the entire display, including four 1/48th scale Sabres, one 1/32nd scale Sabre and all the rest in 1/72nd scale. They were all built by 15 of our members.