To win our Battle Trophy you must first command a mighty army and crush all who oppose you. Then you must wipe out all who do not blindly obey you. Crush them under the wheels of barrows, undress them and skin them alive or fry your opponents over glowing embers placed under them. Run them through with stakes that would impale their heads, or you could just e mail me your site address which would be much easier. Also if you know where I took the first method from, that will get you my Trophy. What I look for in a site is one that loads up quickly, is intresting, has nice graphics, doesn't cause netscape to crash and no sites still under construction. Also needs to have intresting content and that doesn't make me bored. You also need to sign my guestbook. If you have not done this just go to the Great Hall where you will find it.
---
---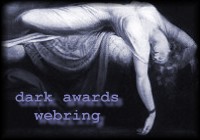 This Dark Awards Webring site owned by jasen.
[ Previous 5 Sites | Previous | Next | Next 5 Sites | Random Site | List Sites ]

the dark serene banner exchange

Join the morbid visions banner exchange free!
---