Patsy Palmer speaks
We recorded this with Patsy, Charley and Layla in their East London home in January.
In order to listen to these clips, you need to have the audio application called 'winamp' installed in your system. If you not sure if you have this, do a search in the find file using all lower case letters. You can link to www.winamp.com to download the application if necessary.
Whether you save these files to disk or open them in location, your winamp should kick in automatically. This will however, work differently on some PC's. If you do encounter a problem, download it to C:\Program Files\Web Publish (or similar location), highlight the saved file in windows explorer, go to file and then play.
Finally, I would like to apologise for the sound quality, this is due to sound card restrictions which we are currently in the process of updating. I hope you enjoy it, with your help, it'll only gets better.
Q. So Patsy, tell me about your trip recently on the QE2?
A: Click for the answer and look at the pictures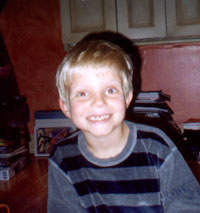 Q. How did you spend Christmas, what did you do, what special stuff do you buy for our little Charley there?
Q: Tell us about Layla, your newest member of the family, how old she is, her pedigree?

Taken by freelance photographers
Ellis O'Brien & Jason Mitchell


Photogenic Layla

And the bowls from Harrods
Q: Switzerland, I spoken to Sid recently and he has told me about what happened once you left Elstree, tell us what happened when you arrived.

The ski instructor who wants to be a presenter,
'LOOK OUT JOHNNY'


Here's one the photographer's didn't get.
Q: How do you cope with the inquisitive public? I have to say, of all the celebrities that I've ever met, you seem to cope the best with everyday people, you've got a good reputation for being friendly, you've never seem rude. I remember an evening we were at a show at Wembley, during the interval, when the other celebrities had finished signing autographs, you still had a huge queue, and as the lights went down for the second half, the usher tried to chase everyone away, but you said " no, it's alright" and continued until the queue had ended.
A: Click here to listen to the story about when she met George Michael...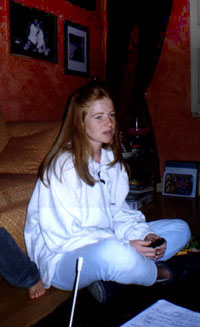 More audio interviews next month
To the Top
Home] [Media News] [Media Archive] [Comic Strip] [Star's update] [Competitions] [Mailing Lists] [Jokes] [Contact us]
[News Flash] [Suggestions] [Feedback] [WWW. Links] [Bits to Buy] [Sign Guestbook ] [View Guestbook]