with two wires coming out of the plug.
3. Attach a suitable plug to the loose wire. Its type will depend on the sort of sound input socket on your VCR/TV.
4. Push the new plug into the Sound In socket on your equipment. When you select Video the sound should come through the Tv/monitor speaker.
I hope your readers will find this interesting. All the best.
NE Salt, Crayford
A PEEK BEHIND
Having just read the third issue of Your Spectrum, I felt compelled to write regarding the masterpiece of journalistic misprint on page 29, entitled 'A PEEK in Time ...'.
First of all, the traditional method of PEEKing 2-byte system variables appears to have been extended in your opening paragraph:

PEEK n+1*256*PEEK(n+1)

One multiplied by 256, anyone? A minor point perhaps, but since the whole point of the exercise is to save time and use, 'two less bytes of precious memory' (not a major consideration, I'd have thought, even on a 16K Spectrum) but perhaps one still worth mentioning.
This little gem is immediately followed up by the real killer:

PEEK n+1*256+PEEK n

Let me see now ... by my reckoning, that reduces to:

2*PEEK n + 256

which is not the same thing at all!
Turning now to that listing with the wonderfully spaced line numbers, the first routine translates to the general form:

PEEK (n+1)*256 + PEEK n

... and the second to:

PEEK n+256 * PEEK (n+1)

Oh look Daddy! The clever man has written the line backwards. That's bound to make it faster, isn't it?
Captain Critical, Dartford

OK, humble pie all round (again). Mr Mada's theories are obviously slightly off- track. But, as Ian points out at the end of that piece, the only reason the routine is slightly faster is because the brackets have been removed, not because it was written backwards. Anyway, consider yourself given a Silver Train-Spotter award.
Troubleshooting Pete. There seems to be some confusion in your article on the Spectrum RS232 Interface (Page 29, YS issue three). The problem must have occurred because of the non-standard labels that Sinclair Research has used. Your reviewer claims that the interface is non-standard, but this is not the case - he's just wired the RS232 back to front (I made the same mistake myself). The Interface 1 manual states the
following connections for the RS232.


| | | |
| --- | --- | --- |
| Pin number | Sinclair name | Normal RS232 name |
| 2 | TX | RXD |
| 3 | RX | TXD |
| 4 | DTR | CTS |
| 5 | CTS | DTR |
| 7 | GROUND | GROUND |
| 9 | +9v | +9v |

As you can see from the table Sinclair Research has named its connections according to the place they go, not what they are. These unusual names have confused everyone I've met who has tried to use the RS232.
I've had a Speccy talking to a CP/M type computer for a couple of months now and communication is bi-directional at 9600 baud. The only problem is that the expensive machine has a non-standard handshaking arrangement, which forced me to make up my own lead rather than be able to use Sinclair Research's.
Jon Ritman, London N13

Hmm, the Bear Bovver person, if I'm not very much mistaken. Thanks a lot, Jon, for pointing out the error of our ways. Ed.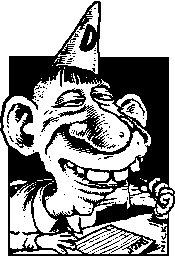 NURD OF THE MONTH
Please, I am interested in your magazine Your Spectrum.
Please forward the magazine Your Spectrum for 1983 numbers 2, 3, 5, 6, 8, 10,11 and 12.
L Vilfan, Bled, Yugoslavia

We'd love to send you the missing copies from 1983 - trouble is, we weren't around then. By the way, what's wrong with issues 1, 4, 7 and 9? Ed. I must first congratulate you on the production of an excellent magazine devoted entirely to the Spectrum. I welcome such a magazine as other Sinclair mags tend to be aimed at a slightly younger readership who wish to spend time keying in programs and nothing else. However, I digress.
My main reason for writing this letter to you was to highlight a point arising from reading your excellent Issue 3.
There was an article on page 9 about the new Kempston printer interface in which Peter Shaw said that apart from the Fuller Printerface, the Kempston
was the only one with software built-in. Not so!!! Euroelectronics produce an interface LPrint III which not only has all its operating software built-in but includes an RS232 as well as a Centronics interface as part of the package. Even better for those of us who, after buying a dot matrix printer are a little short of those green things, is the fact that it costs only £36.00. Admittedly that does not include a cable but for those who are not able to make one up they will provide one for a charge which still does not bring it up to the cost of the Kempston.
Steve Brokenshire, Bridgend

Sorry Steve, when writing that piece on the Kemmy interface, the LPrint III had not been brought to my attention. Point taken. You know, I'm rapidly going off this humble pie.
Troubleshooting Pete. I would be grateful if you could supply me with the following information. Are there any software packages for the ZX Spectrum which enable the user to produce screen displays of 42, 46 or 51 characters in each row and, if so, where would it be possible to purchase such apackage? I really enjoy your magazine and I am glad to hear that you have gone monthly.
Dermot Connelly, Co. Londonderry

Timedata have recently released a utility called HI-T which gives various screen formats for the Speccy. See Frontlines for more details.
Troubleshooting Pete. I have recently seen a number of comments in the Spectrum orientated press about the values returned from the keyboard input ports. That the 'unpressed' value in some machines is 255 and in others is 191. I decided to investigate my own machine which is a Series 3 model, so my findings may not apply to other Spectrums.
Rather than just use PRINT IN 32766 (or whatever) I wrote a little program which initialised the screen and then, from within as fast a loop as I could devise, continually updated the value read from all eight keyboard ports as well as the current PEEK 23560 value and INKEY$.
The results were not what I expected. Sometimes the 'unpressed' value from all ports was 255, sometimes 191; and sometimes the values flickered between 255 and 191. The variation (of 64) has to be due to Bit 6, which (if I read my Spectrum book correctly) represents the EAR socket. Is the CPU continually testing it? The flicker seems to be the same as the red/cyan border change that you see when about to LOAD and the tape has not been started.
Mike Minchin, London W11

This is a problem which a lot of software houses kicked up a fuss about when Sinclair released the issue 3 machines last year. The problem cannot be cured however, unless anybody out there has some suggestions?
Troubleshooting Pete.